Features
Best New TV Shows of 2018
Hitmen, haunted houses, and homecomings highlight our list of the best new television in 2018.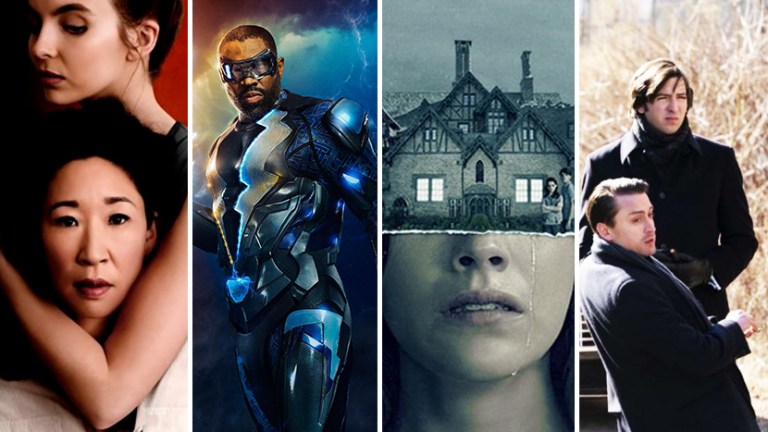 Who doesn't like new things? Well television, historically.
TV is the rare medium that often prioritizes consistency and age. TV observers and critics delight in pointing out how old things are or how long they've run. The Simpsons has been on air for 30 seasons! It's Always Sunny in Philadelphia is about become the longest running live action comedy! Greys Anatomy is…still around!
But despite how friendly we all are to our elder TV statesmen, no one is immune to the allure of the shiny new (sharp) object. Television in 2018 had plenty of shiny new objects for us. Netflix worked hard to bring the days of the charming bingeable reality show back with properties like Queer Eye and Nailed It! HBO continued to be HBO by debuting brilliant comedies like Barry, brilliant dramas like Sharp Objects and brilliant comedy/dramas like Succession. Then there's just the stuff that came out of nowhere to blow us away, like BBC America's Killing Eve.
That's the appeal of the new. A new TV series is like J.J. Abrams' beloved mystery box. It can be anything…perhaps even the next show to last 30 seasons. Here are our 15 favorite new shows of the year.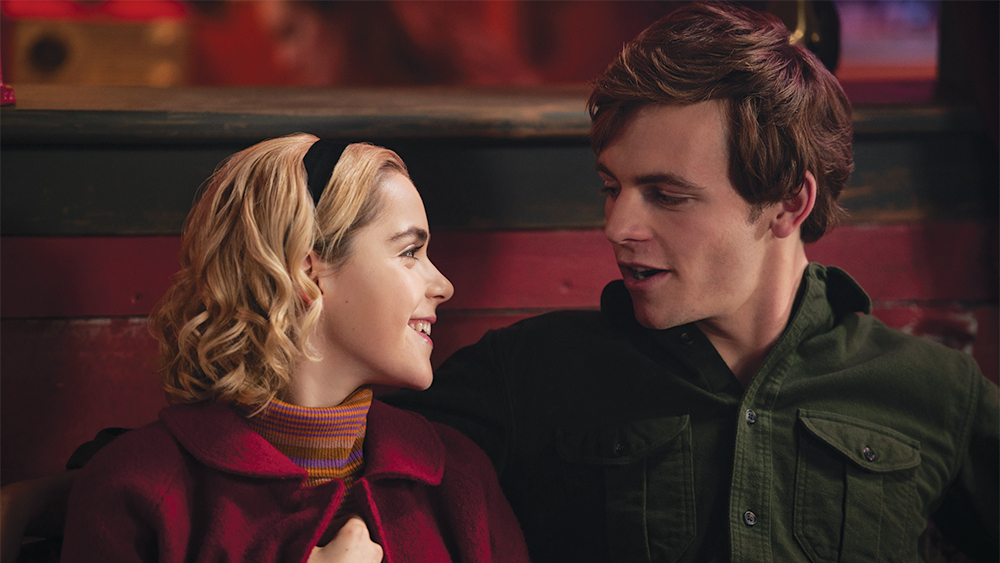 The Chilling Adventures of Sabrina
Bursting onto the scene just in time for Halloween, The Chilling Adventures of Sabrina didn't make us choose between the eerie trickiness of the fantasy-horror genre and the delightful treats of a female-led teen drama. Sabrina is reminiscent of that other great adult fantasy currently on TV, The Magicians, but, as it comes from Roberto Aguirre-Sacasa, the man who blessed us with Riverdale (not to mention the comic book series on which Sabrina is based), the show has its own visually-distinct language and look.
further reading: Chilling Adventures of Sabrina Archie-verse Easter Egg and Reference Guide
Darker and more morally-ambiguous than we're used to seeing our teen-centric dramas, Sabrina isn't afraid to let its petite blonde protagonist (played with fierce determination by Mad Men's Kiernan Shipka) make some bad, possibly evil decisions. Add in some joyously campy performances from veterans Miranda Otto as Aunt Zelda and Michelle Gomez as the scene-stealing Miss Wardwell, and you've got one of the most fun shows on TV (or, er, Netflix)… not to mention one that isn't afraid of leaning into its distinctly feminine energy.

Maniac
It seems like every year provides more evidence that television and film are converging in their own splendidly weird way. 2018's prime example was Netflix's grandiose Maniac. Maniac was loosely adapted from a French series by True Detective maestro and future Bond director Cary Fukunaga. It starred two capital "S" movie Stars in Emma Stone and Jonah Hill. And while it sometimes stumbled as a miniseries, no one can knock the ambition and hustle.
Hill and Stone play Annie and Owen, two chronically depressed individuals in a weird, corporate sideways New York universe with little street cleaning robots. Annie and Owen each elect to undergo an experimental drug treatment therapy at NPB Pharmaceuticals led by the Dr. James Mantleray (Justin Theroux) and his sad supercomputer, Gertie. Annie and Owen are thrust into many adventures into their own subconscious to find themselves but all they can seem to find is each other.
There's a lot going on in Maniac and the show is not shy about flexing its budget and the creative talents of those in front of and behind the camera. The real magic trick, however, is what the show has to say about intimacy and how important it is to find and to hold in a world increasingly gone mad. Plus it features Jonah Hill in a mullet and Emma Stone in a perm with thick Long Island accents in a drug-fueled fantasy right out of early Coen Brothers shenanigans. So there's that…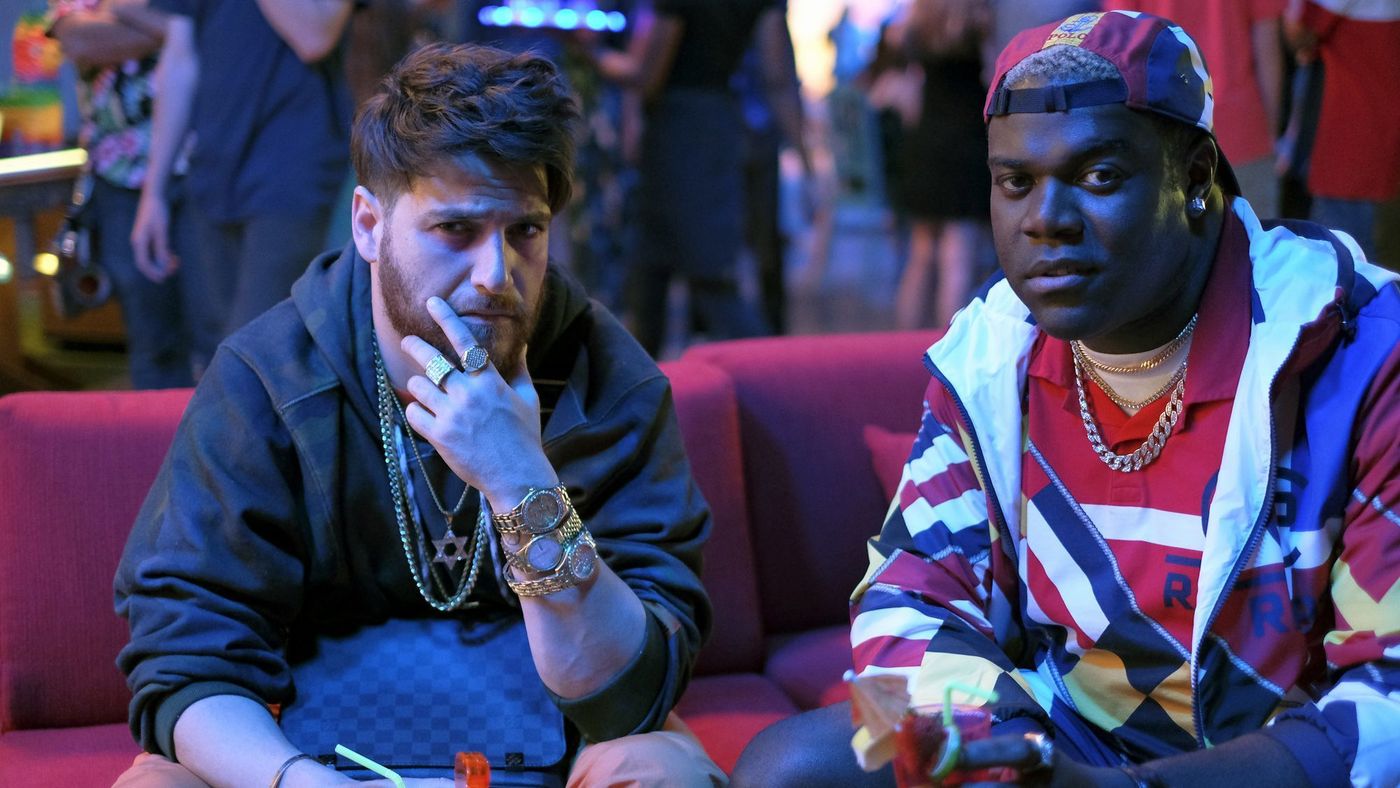 Champaign ILL
YouTube has been throwing around piles of cash like a prop in a hip-hop video shoot in an effort to bolster its original programing and compete with the likes of Netflix and Amazon. Though YouTube is yet to find its Stranger Things or Mrs. Maisel, 2018 was the year it started to change the narrative with its breakout hit Cobra Kai.
YouTube's original comedy Champaign ILL should be the latest addition you'll see on any "Best of" list in 2018. Having just debuted on Dec. 18th, the series caught our attention because it stars Adam Pally (Happy Endings) and Sam Richardson (Detroiters, VEEP). If we stopped describing the show right there, it would still be worth the time investment. The actual premise of the show lives up to the top billing: Two jet setting, entitled manchildren who spent the last 15 years of their lives mooching off their rapper best friend (Jay Pharoah) are forced to move back home to Champaign, Illinois and figure out their lives after a major twist in the pilot.
further reading: Best TV Comedies of 2018
Pally's Ronnie and Richardson's Alf are almost completely unlikeable and unrelatable to anyone around them. That could get old fast in a fish-out-of-water story, but Pally and Richardson have such an undeniable chemistry and love for the material that it redeems any shortcomings of their characters. From the mundane suburban life to showing off a rented yellow lamborghini at funeral, the comedic duo is the driving force behind YouTube Originals' best series to date. PSA: The first three episodes are available to stream for free.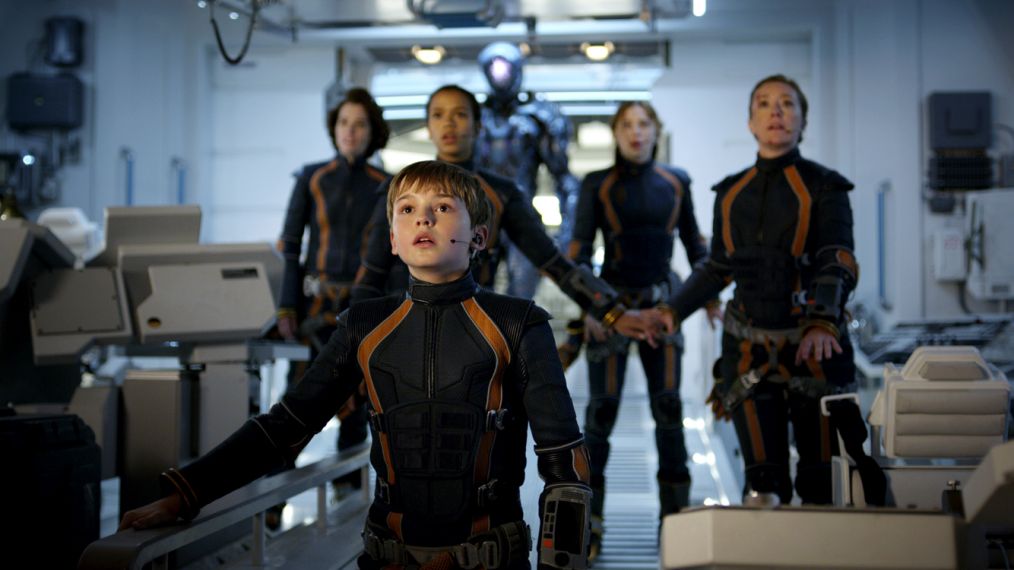 Lost in Space
Netflix's modern adaptation of the beloved (if corny) '60s TV classic was one of the most refreshing things a TV show can be in 2018: perfectly above average. Lost in Space takes a simple, apocryphal story of a family that must work together against all odds and turned it into some fun, sleek-looking family entertainment. 
further reading: Lost in Space Season 1 Review
In season 1 of Lost in Space, the Robinson family find themselves marooned on a mysterious planet after an alien attack on their colonist ship. While there, the Robinsons meet up with other lost colonists, including the roguish smuggler Don West, and the mysterious psychologist Dr. Smith. Then there's the Robot…the very, very sexy Robot. Lost in Space worked quite well in its first season because it played to its strengths: cool tech, fun story, big budget, and under-appreciated TV icon Molly Parker.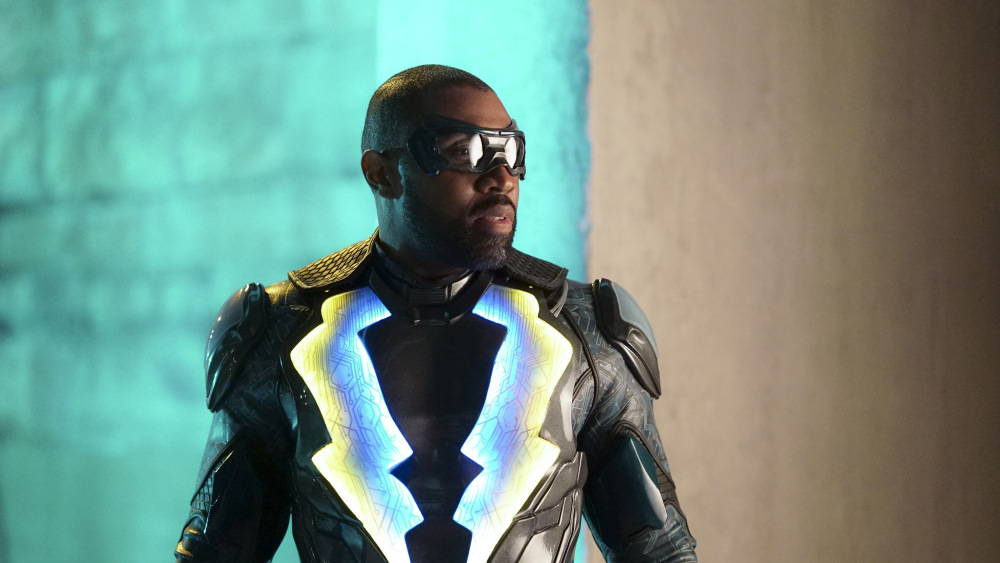 Black Lightning
In a year that also brought us the universe-halving stakes of Avengers: Infinity War, The CW expanded its superhero offerings with a TV show that recognizes you don't need to look off-planet or to the fantastical for stake, struggle, or consequence. In the first episode of Black Lightning, we see the show's superpowered protagonist arrested in front of his two scared daughters for "driving while black." It doesn't matter that he wasn't doing anything wrong. It doesn't matter that he is an upstanding member of the community. It doesn't matter that he has superpowers… not when Jefferson Pierce (Cress Williams) wants to change the world for the black youth and community he fights for in his day job as a principal and not just his own life and comfortably middle-class family.
further reading: Black Lightning's Depiction of Superhero Mental Illness is So Important
In a year when it is becoming increasingly frustrating to see media makers that argues any story can be apolitical, Black Lightning went all in, addressing the very real issues facing black communities throughout the country and contextualizing that struggle in a history of oppression and opposition. In a sea of superhero fare that works solely in metaphor when it comes to the bad guys, Black Lightning articulated that having physical might is different from having systemic power, and it takes more than a well-placed punch to a bad guy's chest to change the world for the better.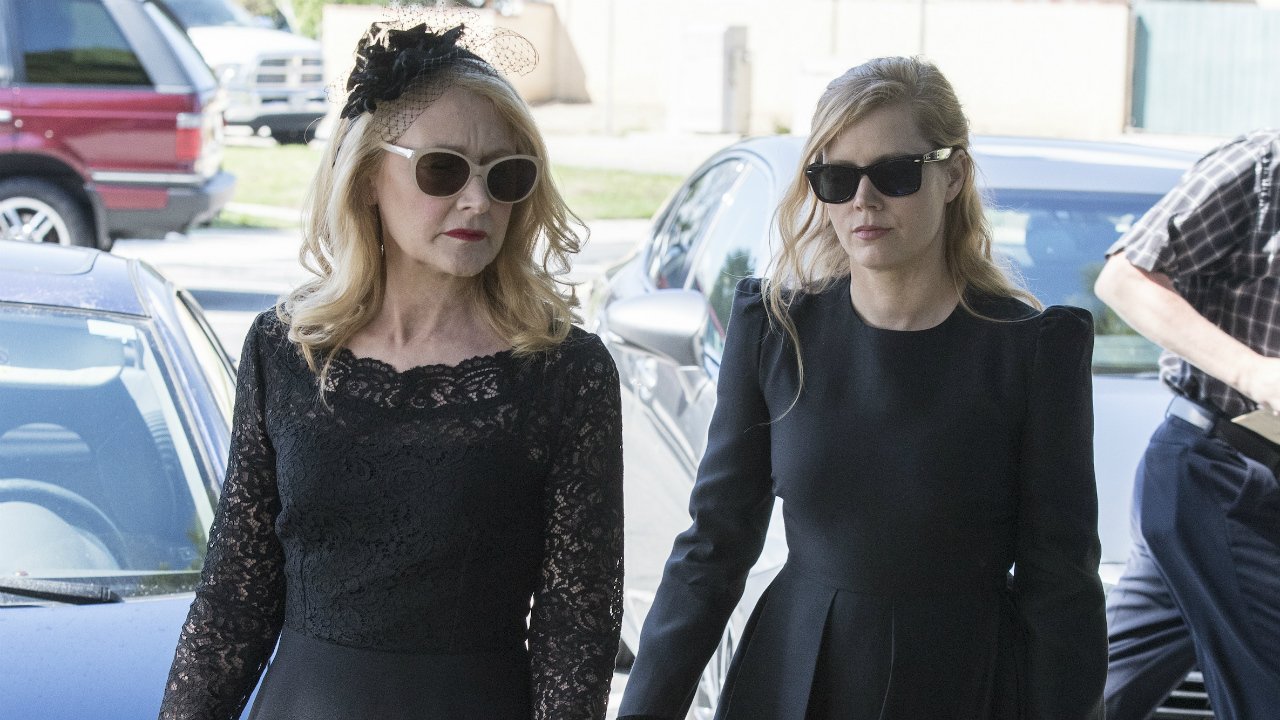 Sharp Objects
A Southern gothic slow-burn, HBO's Sharp Objects was the most atmospheric show on television in 2018. A sense of unease and dread crept into every sweeping, languid shot of Wind Gap, Missouri, and a Led Zeppelin-heavy soundtrack exasperated the feelings of swampy doom. Director Jean Marc Vallée, coming off of the success of Big Little Lies, creates a pace that may be too sedate for some, but expertly channels the haze of a dream, one where at any moment a nightmarish flash could jolt you awake. That's a lot of words to say that Sharp Objects is a mood. 
Sharp Objects finds an unstable journalist, Camille Preaker (Amy Adams) reluctantly returning to her hometown to investigate the murder of a young girl and confront the demons of her past. Adams is unnervingly raw in the role, barely restrained and seemingly ready to explode at any moment. Equally great are Patricia Clarkson, as Adams' domineering, Southern belle mother, and Eliza Scanlen, as her teenaged, manipulative, mean girl of a half-sister. The murder may be what brings Camille back to Wind Gap, but the unsettling relationship between the three women is the show's real draw, as it explores denial, trauma, and passed down mental illness. Plenty of shows surprised me in 2018, but nothing shocked and stayed with me longer than Sharp Objects' ending, which can still send a chill down my spine months later.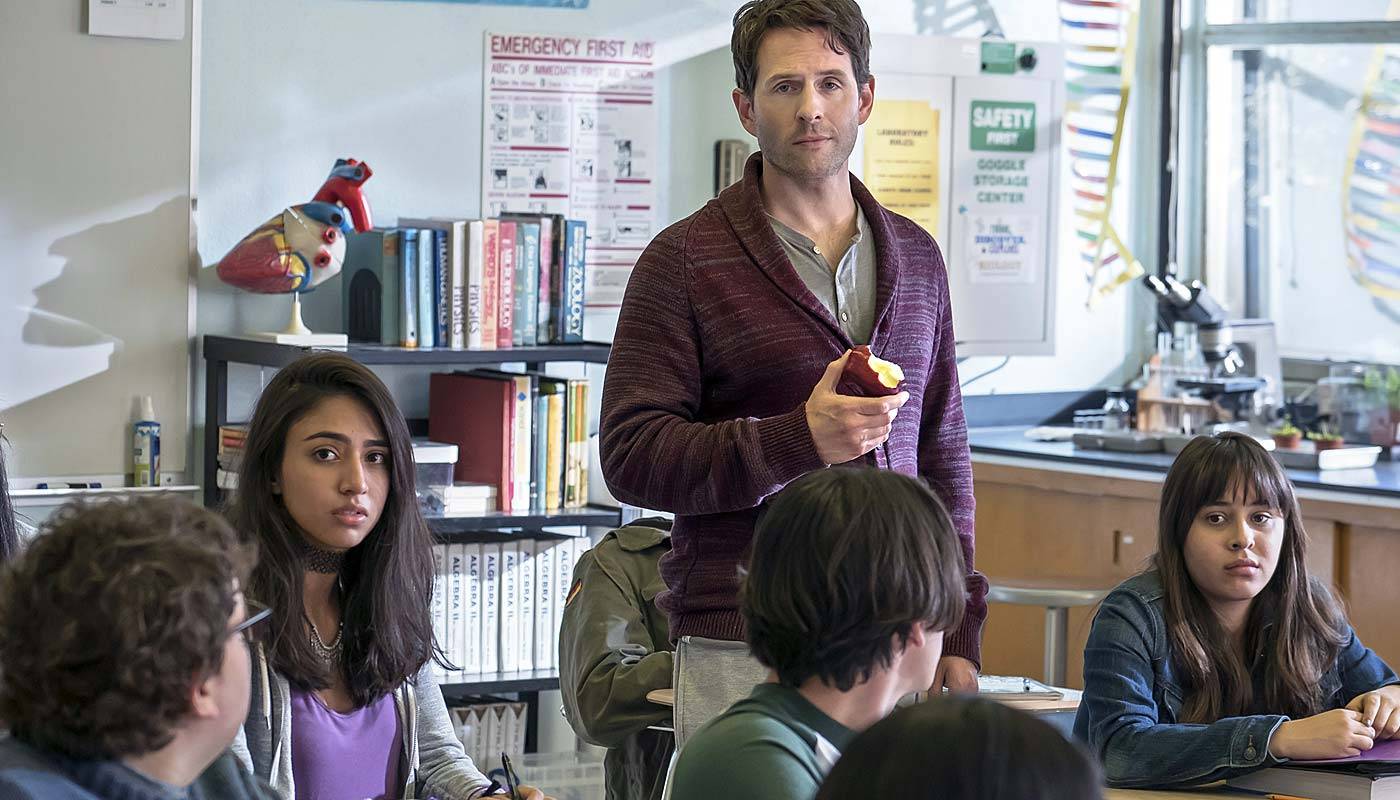 A.P. Bio
Despite coming from talented SNL writer Mike O'Brien and featuring two legitimate TV stars in Glenn Howerton (of It's Always Sunny in Philadelphia) and Patton Oswalt (of….lots of stuff), NBC's A.P. Bio didn't necessarily light up the critical or popular community in 2018. And that's a shame. A.P. Bio certainly wasn't perfect and probably at times far too nihilistic for network consumption but this was a strong first season of television for a little comedy that could.
further reading: A.P. Bio Season 1 Review
Howerton stars as disgraced Harvard philosophy professor, Jack Griffin, who is forced to move back to his hometown of Toledo following a very public meltdown. Jack gets a job teaching A.P. Biology at nearby Whitlock High School and makes it very clear from day one that he will not be teaching his students anything of note, and no, this is not some ploy to get the overachieving honor students to work harder or try to reach Jack's cold little heart. He really is just a butthead. 
A.P. Bio is fun because it upends the typical "how do I reach these keeeeds?" spirit that we've come to expect from this type of story.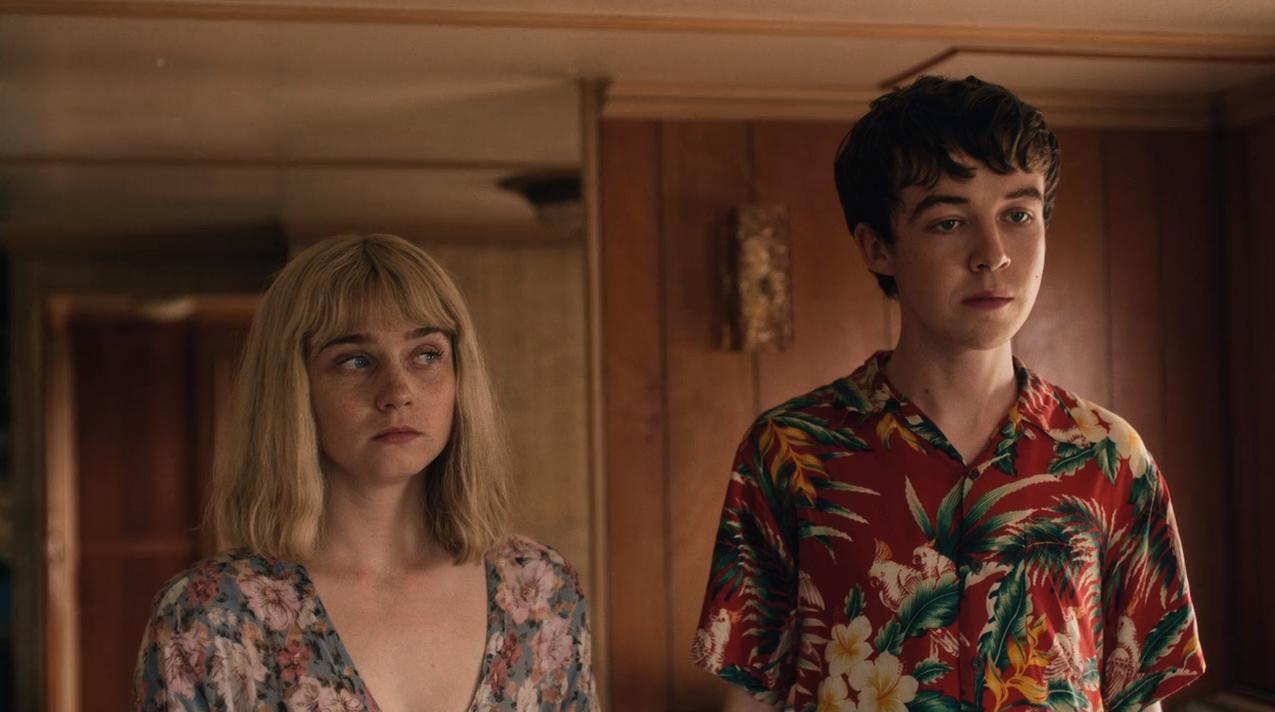 The End of the F***ing World
A planned second outing threatens to ruin a perfectly compact first season of The End of the F***ing World, but if we're being fair, this show shouldn't have worked to begin with, so what's another gamble? Based on Charles Forsman's graphic novel of the same name, The End of the F***ing World is a pitch-black comedy that somehow takes two of the most unlikable leads, a sociopathic wanna-be serial killer and capital-T capital-M Too Much teenage girl, and crafts a tender, sweet love story.  
The End of the F***ing World
takes familiar genres, the teenage coming-of-age story, the road trip movie, the screwball romantic comedy, and pours them on top of a crime drama, with bleak jokes added for fun. The fact that it isn't a complete tonal mess is a small miracle in and of itself, but that series creator Jonathan Entwistle is able to make you genuinely care about these two adolescent oddballs and their personal journeys is an absolute marvel. A lot of credit also should go to stars Alex Lawther and Jessica Barder, who anchor this mad little tale with pathos and impeccable chemistry.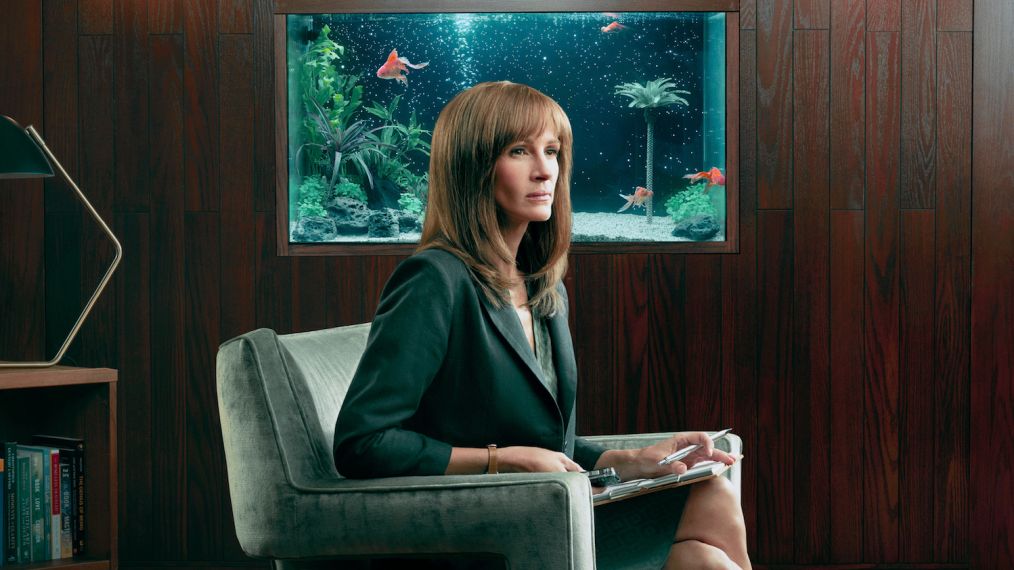 Homecoming
The first thing most podcast adaptations do is strip out as much of the podcast as possible. See: Lore, Amazon Prime. What makes Homecoming (also of Amazon Prime) unique is how doggedly passionate and supportive it is of its source material…right down to all the same classic music cues.
Julia Roberts stars as Heidi Bergman, a caseworker at the government-supported Homecoming Transitional Support Center. Homecoming is designed to help combat veterans reacclimatize into society with the help of some harmless pharmaceuticals…or is it?
Honestly, the most thrilling part of Homecoming is Sam Esmail's capable, stylish writing, directing, and editing, which goes a long way to prove that his mastery of the Mr. Robot kinetic aesthetic isn't merely just a flash-in-the-pan one off.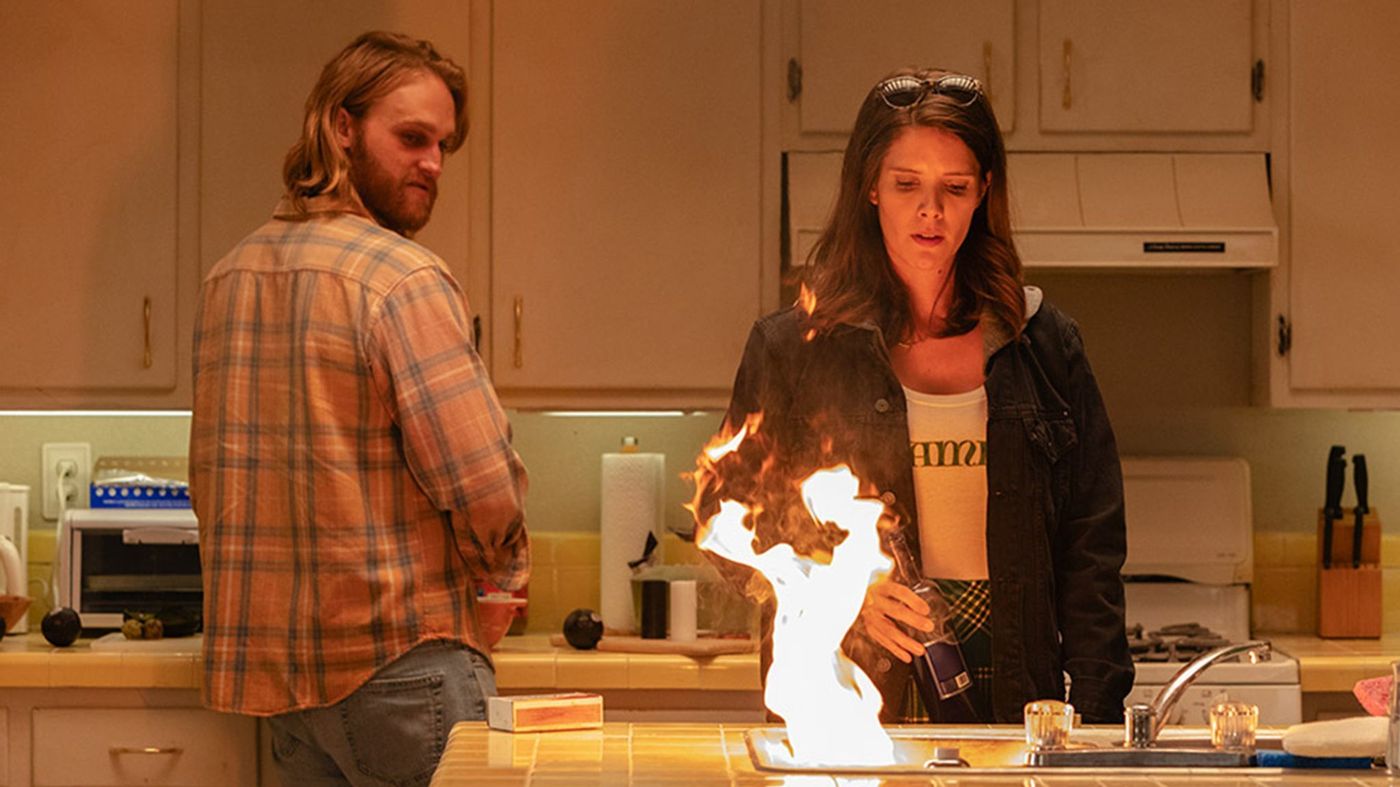 Lodge 49
The hardest thing for a new television show to establish is tone. In that regard, AMC's Lodge 49 comes out of the gates like a ten-year television veteran. The world of Lodge 49 is incredibly rich and lived-in. The show's pilot immediately creates a believably sun-soaked California middle class world of beaches and strip malls. And then has the audacity to place an equally successful and interesting mythological world on top of that. 
Dud (Wyatt Russell) is a simple surfer bro trying to regain his passion for life following the mysterious disappearance of his father. Dud's path takes him to a fraternal order known as Order of the Lynx, Lodge 49, where he is able to establish some relationships and gain some direction as the company town around him falls apart. Very few new hour-long dramas are able to pull off a mystical concept or a crushingly realistic one with real economic disparities and stresses. Lodge 49 somehow does both in its very first season.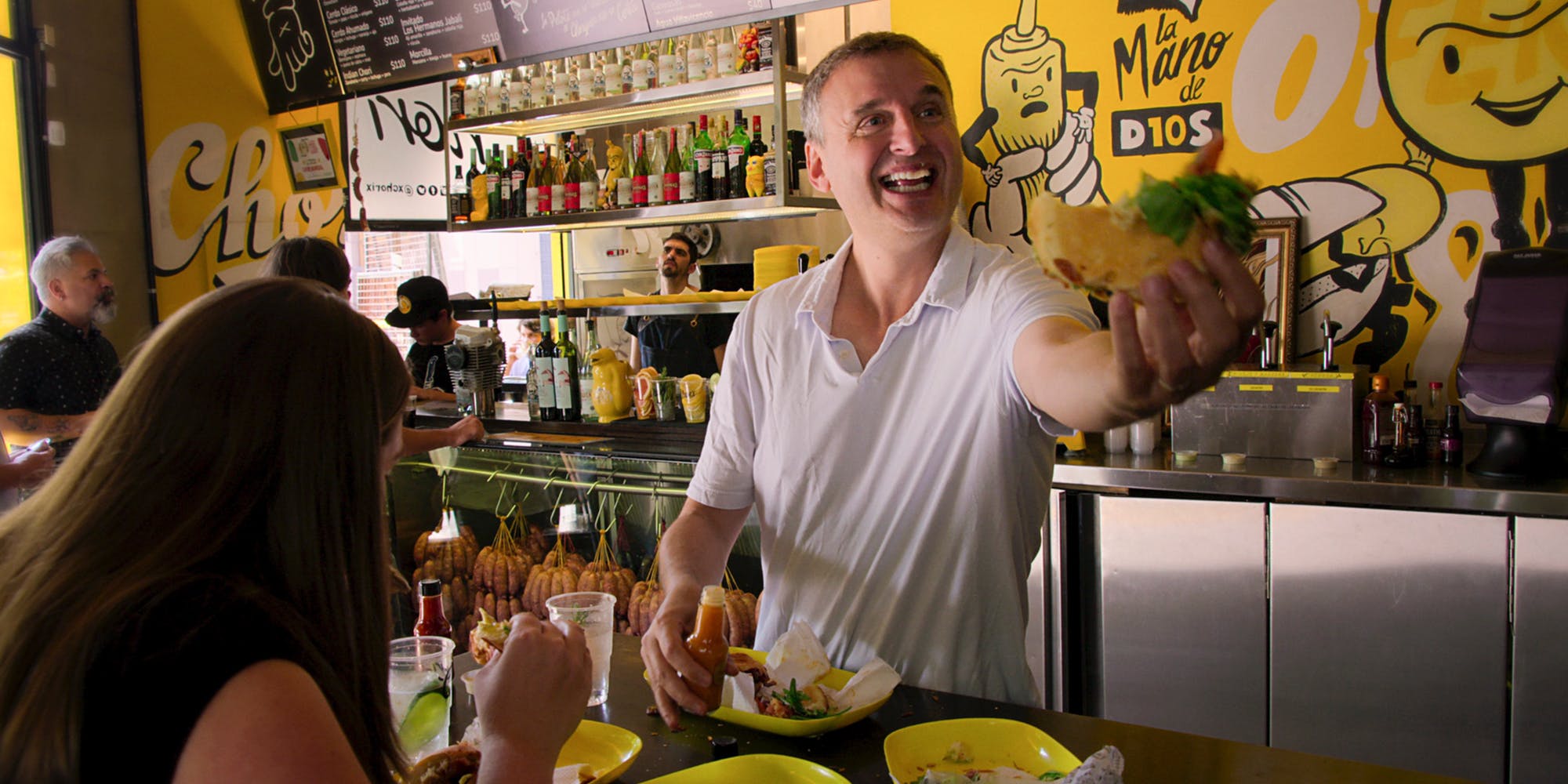 Somebody Feed Phil
Phil Rosenthal has described his food travel show as "Parts Unknown but if Anthony Bourdain was scared of everything." Phil's self-deprecating humor and repeated deference to his food-travel forefathers (R.I.P. Anthony. Seriously. R.I.P., friend) is only part of what makes the Phil Rosenthal experience so appealing.
Rosenthal is the endearingly goofy co-creator of Everybody Loves Raymond and one of pop culture's most talented and welcoming mensches. He started his new career as a food travel TV host with PBS's I'll Have What Phil's Having but he perfected it in 2018 with Netflix's Somebody Feed Phil. The appeal is so transparent that sometimes it throws people off. Wait, so we just watch this charming (and undoubtedly wealthy) man go places and eat things? Yep, that's exactly what you do with Somebody Feed Phil. But oh, the places you'll go and the people and food you'll see. 
Through two short seasons that aired in 2018, Phil took viewers to Venice, Mexico City, Bangkok, and so many other places that have been well traveled within the genre. But something that those other shows never had was Phil, himself. Phil is an unpretentious goofball who really just wants us all to have a good time. The TV landscape needed that desperately in 2018. It's far too grandiose to call Somebody Feed Phil the democratization of food and travel shows..but it's not not that either.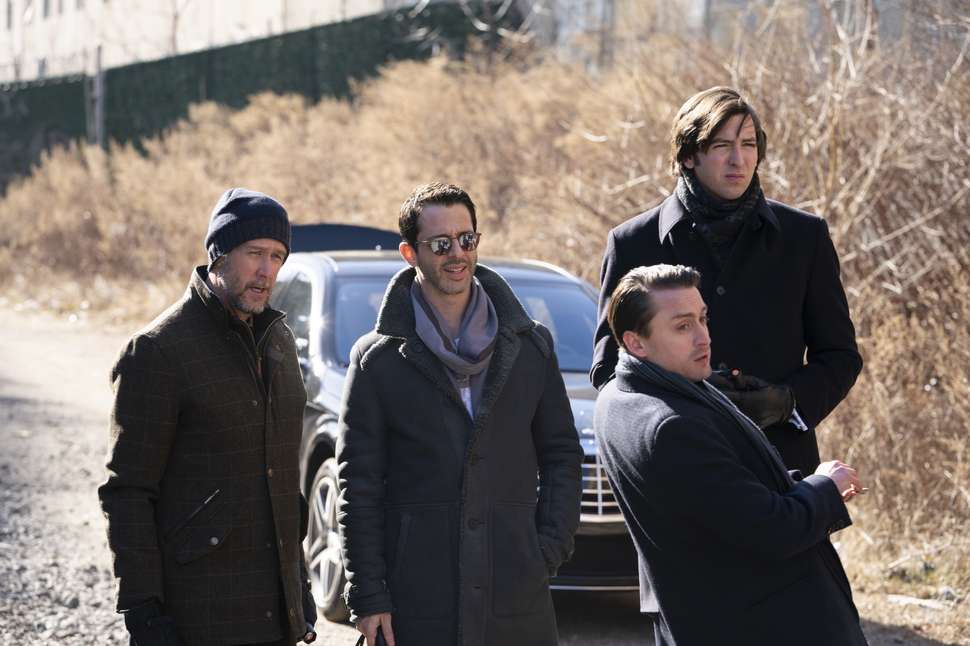 Succession
At first Succession seemed like one of the more disposable and imperfect summer TV shows HBO had trotted out in quite a while. The concept – a family of privileged heirs to a multimedia empire striving to replace their ailing father as CEO – seemed like a kind of warmed-over attempt at capitalizing on the success of Showtime's Billions. 
The first few episodes were enjoyable enough but unspectacular. If nothing else they were watchable. So you keep watching…and watching…and watching. Before you know it, the experience of watching Succession puts you five or six episodes deep and the idea of ever missing another episode again is laughable.
As helmed by British comedy writer Jesse Armstrong (Peep Show) and produced by Adam McKay (Vice, The Big Short) and Will Ferrell (yep, that Will Ferrell), Succession is a ludicrously entertaining comedy and drama mash up. The Roy family is equal parts intriguing and disgusting. They're like if the Bluth family suddenly found themselves in a one-hour drama. The story itself is propulsive and fun, fast moving with plenty of unexpected twists and turns. Everyone's initial impression of Succession wasn't necessarily wrong. It is a kind of disposable and imperfect HBO summer show. But damn it all if it wasn't so fun. Thank you, cousin Greg and Mr. Wamsgans.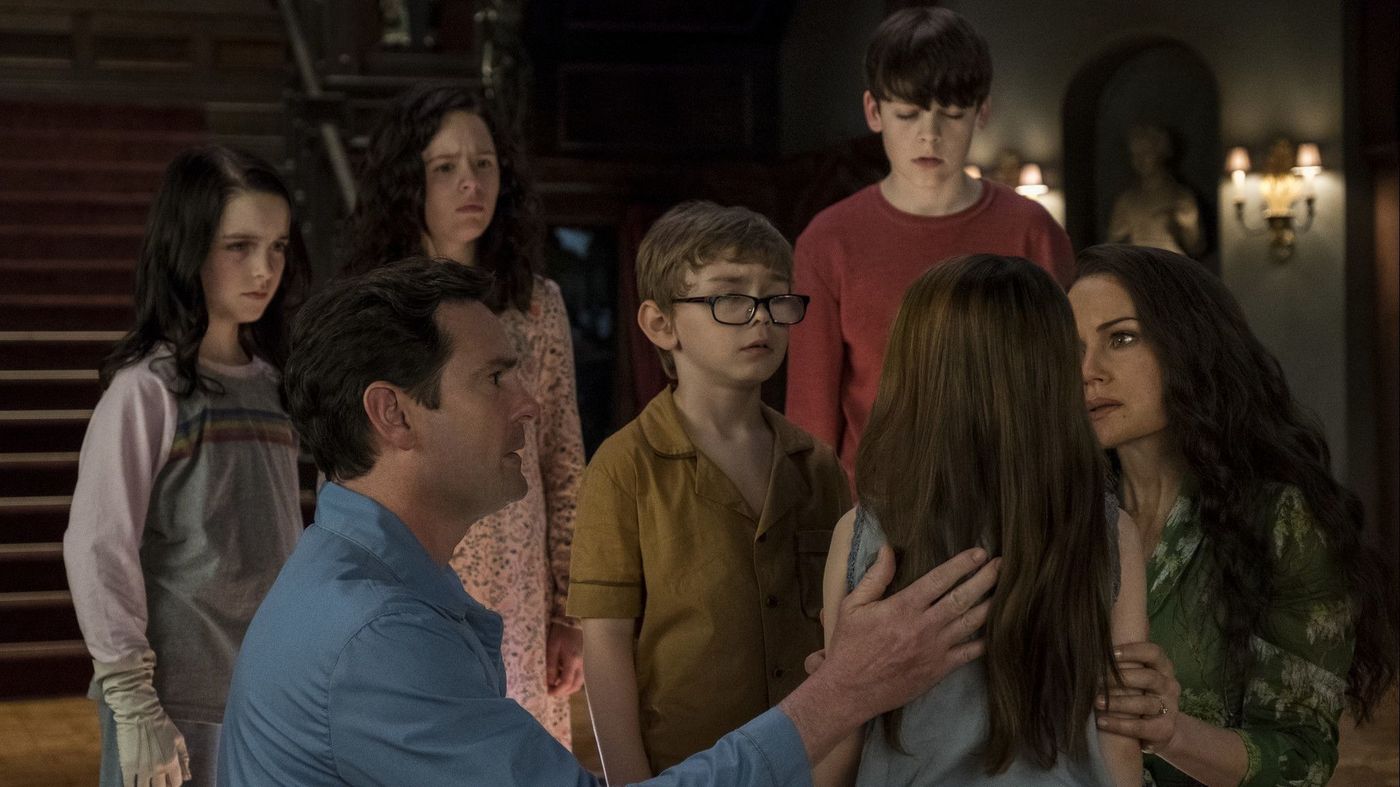 The Haunting of Hill House
Horror on television is really hard to pull off. While movies are charged with sustaining real tension and fear for only an hour and a half or so, a TV show somehow has to maintain that dread for nine-plus hours. The fact that The Haunting of Hill House is a legitimately scary TV show is pretty amazing. The fact that it's also a well executed and touching emotional experience is a near miracle.
further reading: The Haunting of Hill House Ending Explained
The Haunting of Hill House comes from horror auteur Mike Flanagan and is an adaptation of Shirley Jackson's classic horror novel in only the loosest sense. Hill House follows the Crain family in two timelines, one back in the '90s where the family moves into the eponymous Hill House to spruce it up before flipping it for a profit, and one in the present where all the now-adult Crain kids deal with the traumatic hauntings they experienced there. 
The Haunting of Hill House works because it's able to so clearly communicate and demonsrtate its thesis that haunted houses and haunted people are one in the same. The things that go bump in the night are tremendously scary in the moment on this series and only become moreso as time passes and the scars begin to show. That central conceit along with some capable acting and truly remarkable directing make The Haunting of Hill House 2018's best one-off…unless we actually do get a season two.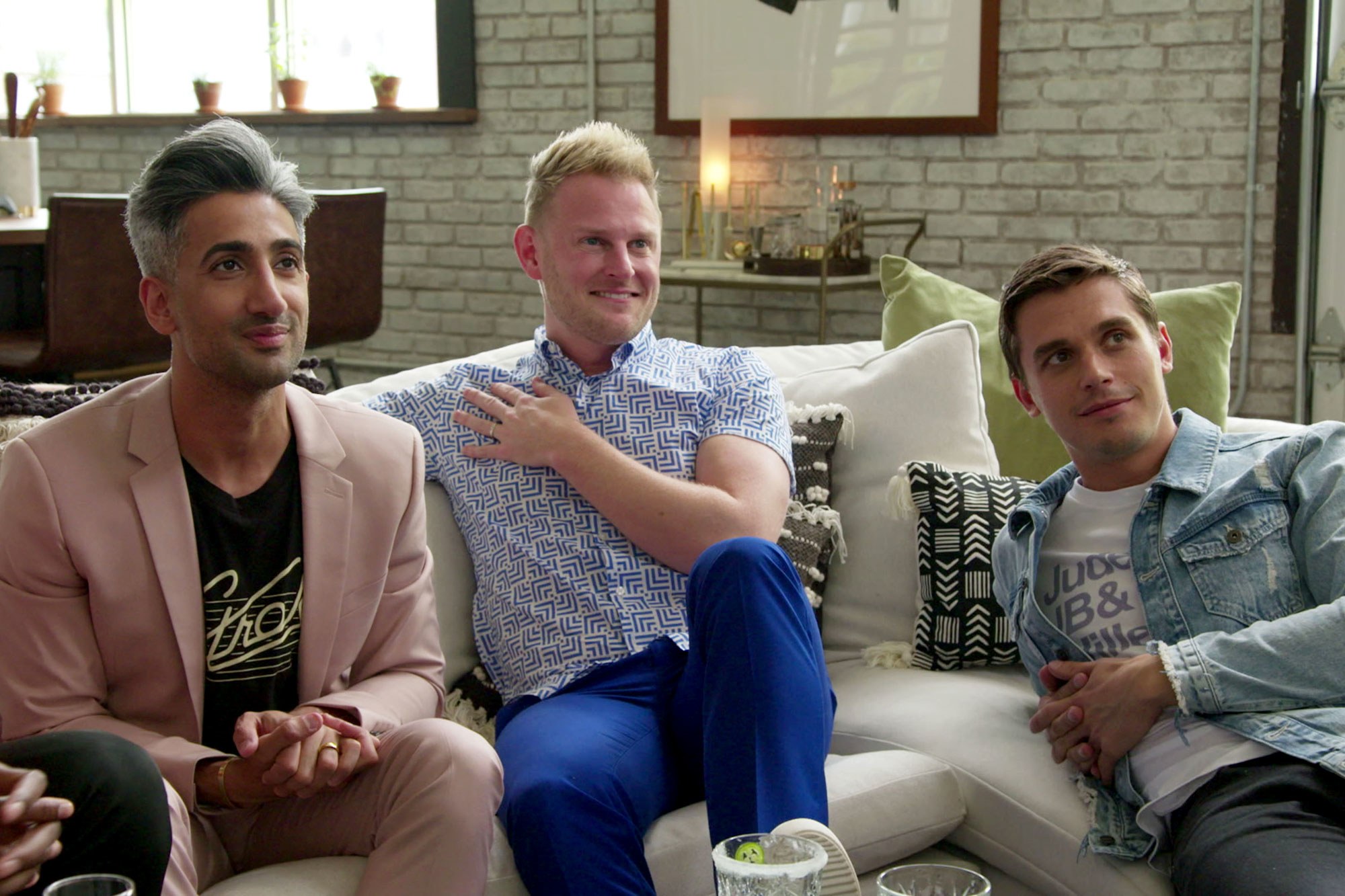 Queer Eye
Yes, really.
The original Queer Eye for the Straight Guy debuted during a very different era of American life. Back in 2003, gay representation on television was far more limited and political representation was even bleaker. The weird little reality show about gay experts improving the lives of straight men and teaching them a lesson or two in the process did quite a bit to introduce certain swaths of the country to gay men of al stripes. By modern standards, that seems quite quaint. Why on Earth would Netflix bring this back? Where was the demand? Aren't things better now? Can we possibly do this again without it coming across as an offensive indulgence of stereotypes?
further reading: Queer Eye Season 3 Confirmed at Netflix
I was very stupid (per usual). Queer Eye was absolutely due for a reboot and we absolutely did need it. Queer Eye's first and second seasons not only worked but were positively essentially television in 2018 for a very simple reason: the humanity. Queer Eye never loses sight of its joy, patience, and love for humanity. The new Fab 5, Antoni, Tan, Karamo, Bobby, and Jonathan are all seemingly fantastic bros. And this is simply a show about nice bros helping out other nice bros. Sure there are lessons to be had (like in the series premiere when Jonathan and Antoni help well-meaning schlub Tom understand that you shouldn't ask gay men which one is the "girl") but the real appeal here is the absolute revelry for the human mess that's on display. 
Despite how sweet, wholesome, and emotional Queer Eye is, it isn't necessarily destined to heal the words of a nation or usher in a new era of acceptance and tolerance. But it is sweet, and wholesome, and fun, and wonderful, and those are the things that we should praise more in our art. Queer Eye is simply one of 2018's best shows. Also stop making fun of Antoni's cooking. He's dumbing it down for the helpless schmoe's on the show, meanies.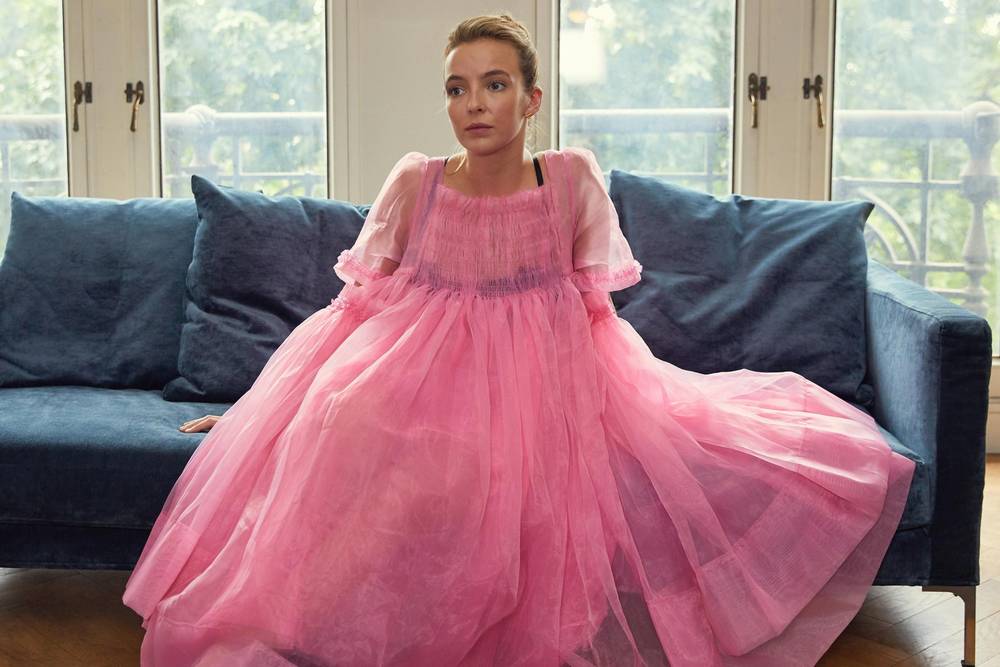 Killing Eve
There was nothing else quite like Killing Eve on TV in 2018. Adapted from the Codename Villanelle novella series, Phoebe Waller-Bridge's series was a psychosexual spy craft masterpiece.
Killing Eve is essentially that old famous villain phrase "we're not so different you and I" spun out into a gorgeous and tense eight-episode series. Sandra Oh stars as MI5 officer Eve Polastri who is given an unexpected promotion of sorts when it becomes clear she has an aptitude getting into the headspace of a mysterious female assassin known only as Villanelle (a perfectly creepy and appealing Jodie Comer). Eve and Villanelle circle each other from afar and across all of Europe as the two women struggle to understand and ultimately capture the other.
further reading: Killing Eve: A Spy Drama for Late Stage Capitalism
Killing Eve is remarkable for its visual and tonal sense of style and for all the deeply rich, feminist layers it welcomes the viewer to unmask. At its core though, Killing Eve is a wonderful freshman show for its observation that obsession and true love are often indistinguishable.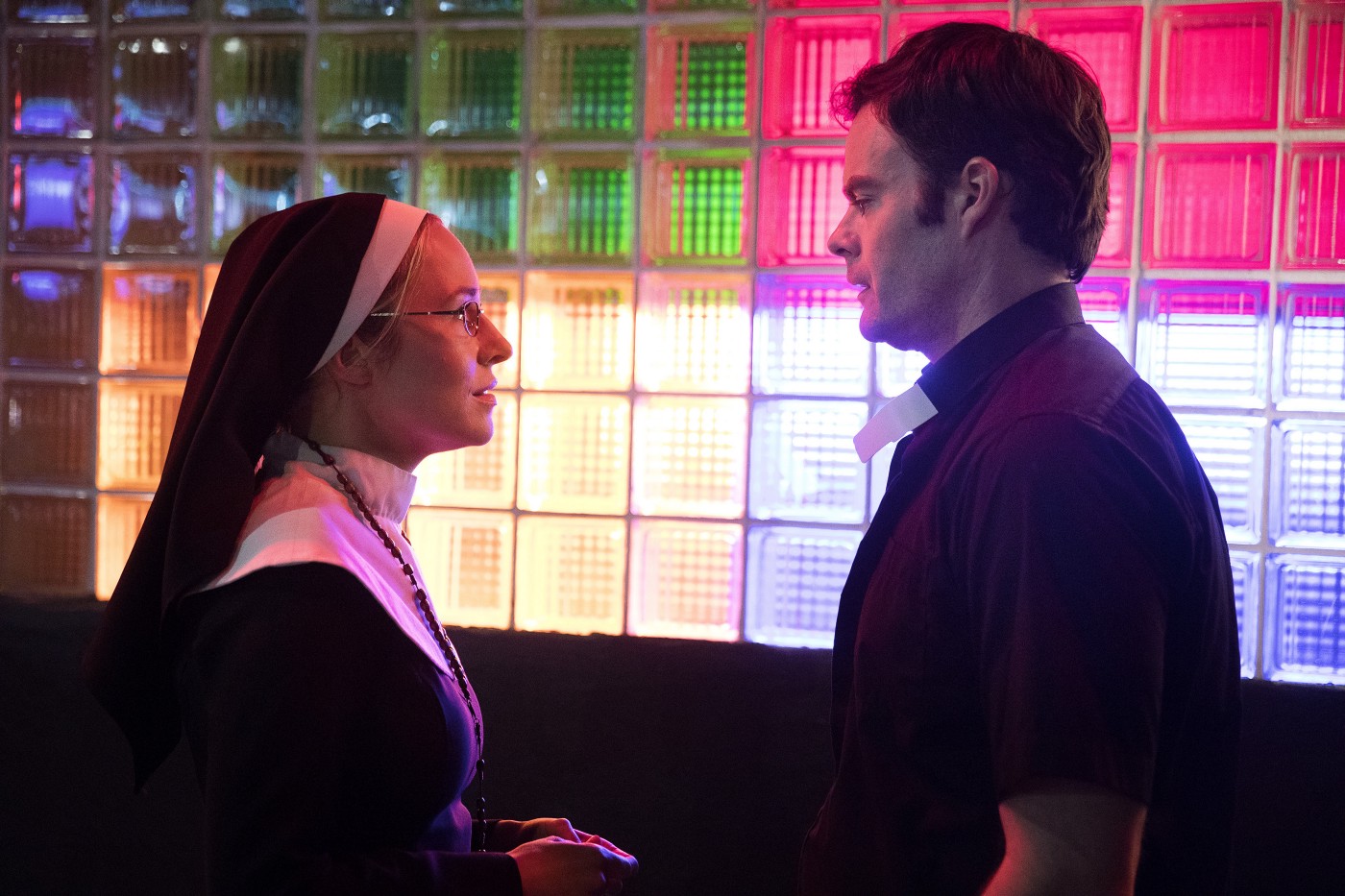 Barry
Barry is your winner because how could he not be? Bill Hader has long been one of television's most essential and versatile figures dating back to his time on Saturday Night Live. Several years after leaving the confines of 30 Rock, however, Hader took his time and seemed to be in search of one more signature artistic achievement on television. Well here it is. Barry is the show that matches Hader's considerable comedic and dramatic talents thanks to the leadership of Alec Berg and a stellar supporting cast led by Henry Winkler.
further reading: Barry: The Breakout Actor Behind the Ray of Sunshine Mobster
Barry Berkman is a demure Midwestern man who also just happens to be a hit man. Unlike other depictions of the life of a contract killer, there is nothing glamorous about Barry's job. It's merely a job, and a fairly unsatisfying one at that. When Barry heads to California to execute a hit, he finds himself taken in by Gene Cousineau's (Winkler) improv acting class. The improv lessons and the enthusiasm of his classmates makes Barry feel truly alive for the first time in his life. Unfortunately his handler, Monroe Funches (Stephen Root) and some very colorful Chechen gangsters aren't going to let him leave a life of violence so easily.
Barry is truly a love letter to creative expression and the transformative beauty of art. There is real pathos here that plays out across Hader's often-expressionless face. The first season of this show is also very, very funny. Sarah Goldberg as the ebullient and very actress-y Sally Reed is brilliant as is Anthony Carrigan as unusually personable Chechen gangster Noho Hank. Barry Season 1's conclusion is so perfect you almost wish it were a series finale. But with the talent and expertise of the people involved here, season 2 could very well end up even better.