Features
Bear McCreary on composing for Marvel's Agents Of S.H.I.E.L.D., The Walking Dead & more…
We chatted to geek TV and film composer extraordinaire, Bear McCreary, about finding the Marvel's Agents Of S.H.I.E.L.D theme...
Having written scores for the updated Battlestar Galactica to The Walking Dead, via The Sarah Connor Chronicles, Caprica, A Town Called Eureka, Da Vinci's Demons, Defiance, and forthcoming pirate series Black Sails, Bear McCreary is the go-to composer for geek TV. There's a very good reason he's so coveted, as anyone familiar with his superlative work will know (listening to his Battlestar orchestrations will instantly improve any situation. Try it today and see).
When Marvel's Agents Of S.H.I.E.L.D. was in need of a score then, Joss Whedon sought out McCreary. We did the same at this year's SDCC, and asked him about his process, Agent Coulson's theme, writing for The Walking Dead, and more…
So mostly I'm going to ask you about S.H.I.E.L.D. Because holy majoley: S.H.I.E.L.D. – new Joss Whedon show, new Marvel show. Everybody is all a-quiver. I'm not even going try to get into the ballroom for that. I'm a realist. 
Yeah. (Laughs).
So, tell me how you got involved with Marvel's Agents of S.H.I.E.L.D. 
I think Joss and I, you know, we didn't know each other before but I think there was some mutual respect there. Joss Whedon and his camp are familiar with a number of the projects that I've done, and projects like Battlestar Galactica and The Walking Dead are things that they've been aware of and of course I've been very aware of Joss Whedon's projects and always wanted to work with him. So it really seemed like the right project for us to work on together.  
Obviously I have not heard the S.H.I.E.L.D. theme song. Can you hum a few bars? 
Uhhhhm, I can't. 
No, no. Can you tell me a little about the process of building the S.H.I.E.L.D. theme song? Because you talked in the [BMI/White Bear Character of Music] panel about how you found The Walking Dead theme song. Can you tell us a little about how you found the S.H.I.E.L.D. theme song? 
Finding the theme for S.H.I.E.L.D. took a lot of collaboration between me and Joss and Jed [Whedon] and Maurissa [Tancharoen] and the other producers because its such a specific sound. We needed something big, that sounded like it belonged in the Marvel Cinematic Universe, but we also needed something intimate because these aren't superheroes, these are regular people. These are the human beings that have to come in and clean up the mess. So musically we wanted to represent that. We wanted something that felt super heroic but also quirky and intimate. I mean at the end of the day it needs to sound a little bit like Marvel and a little bit like Joss.
Joss tends to do themes, I know he gave Buffy and Angel a love theme. He's given different characters themes over time. Can you tell me a little bit about what instruments or sounds you used for Coulson, like colour or something, obviously nothing spoilery. 
Yeah yeah yeah. 
But like 'oh I really liked guitar for Coulson' or 'oh I really liked blue'. Something like that. 
Well for this show, I've been fortunate to work with ABC and Disney/Marvel. Everyone's understood the need for a full orchestra. So actually we have a full symphonic orchestra at our disposal for every episode. So its a pretty big canvas. And you know, really Coulson's theme is the theme of the show. He is the leader of this group. You're going to hear a lot of big brass. We have six French horns. The score to Star Wars had four French horns. I mean six is crazy! And so a full section of brass that's pounding out his theme when he comes out in his heroic moments. It's pretty fun because as a fan of the Marvel Cinematic Universe he is a hero to us. We love him.
It's really cool to be able to write him a fanfare like that, because in one of the movies that would be inappropriate. You wouldn't do that for Coulson when Thor or Captain America are in the same story. But here Coulson he is the hero. So its like transferring the energy to him because he really is the leader. It's all about him.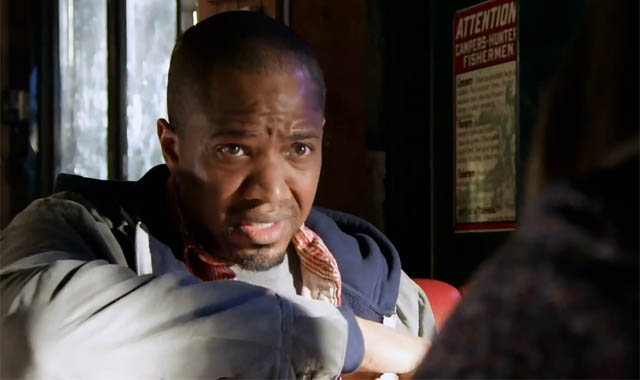 A lot of us fans are assuming J. August Richards is Luke Cage and of course you can neither confirm nor deny that. But can you tell me a little bit of the same kind of sound information that you've built for J. August Richards' character and Ming-Na Wen's character Agent May? 
Uhhhh I can say this, in the pilot – which is the only one I've finished so far – I'm mostly about building a theme for the agents of S.H.I.E.L.D., for Coulson, and I'm not yet getting into really specific character themes. I think on any good show but especially on a Joss Whedon-produced show, you know these things take time. So these are things I'm going to be expanding on in future episodes but really in the pilot, in the first one, the theme I want you to walk out humming is the main theme, Coulson's theme. So, so really, it's, I didn't want to bombard people with a lot of thematic material. And there's – there are a few other themes in there but I can't really talk about it. 
Yeah of course andI'm not trying to get you to divulge any- 
You can try! You can try! I know what I can't say. 
No, well I'm not trying- 
You got Agents of S.H.I.E.L.D. around here listening. 
Oh, well, they'll pop up. 
They'll snipe me.
Exactly. So for the music that you've done − do you get a script? Do you sit down and watch the whole show? 
You watch it. You can't tell what a show really needs until you see it. The way it reads on the page can be very different than the final product that you have. So for me, as soon as there's a rough cut that I can sit down and watch with incomplete effects and temporary music and temporary sound effects, once that exists, then I can start coming up with my ideas. 
Do they build the opening credits around you or do you build the opening theme around the credits? 
You know, ABC has been sort of leading the charge on shortening opening credits so there's not going to be a main title sequence to speak of on this show. But typically speaking what I do – I like to write main titles first and have the visuals come later. We did that on Da Vinci's Demons and we just got an Emmy nomination for it. So there's precedence set there. But you know, really, on ABC where we dont have that title sequence. I have to work a little harder to make sure you hear the theme. So we work with the producer to carve out those little heroic moments where we make sure you get those notes in your head. 
I have a quick The Walking Dead question because I currently live and work in Atlanta. 
Oh my! 
I've never seen them filming but I've been to a lot of locations that appeared and occurred – in particularly in the pilot. 
Yeah? 
Oh man. That really got to me as a citizen of the city. 
Yeah.
Did you just, like, look at, like, at that pilot episode and try and find the most despairing thing you possibly could? Like What- How do you…how do you find The Walking Dead sounds? Compared to everything you've done – you got space, and then you go back in time, and then you do superheroes – The Walking Dead is sort of different in the spareness, and the despair and the-
Bleak. 
The bleakness. Right. 
That show… 
How is it different in your process? 
When I saw the pilot to The Walking Dead, I knew immediately that we had something special. That actually was one of those cases where I actually had read the script. I had been working with Frank Darabont very closely for months. He hired me on that show before they even shot it. It hadn't even been cast yet. I was already thinking about sounds and texture and theme and colour for a long time. And one of the beautiful things about that show is you can just lay back. The sound of emptiness and silence is so much more bleak than I think dissonant sounds, which ultimately can be comforting just because they're there. So with The Walking Dead it was about clearing out all the spaces and just looking for those key moments, those key important moments, where you can say something very simple and have a devastating effect.
Bear McCreary, thank you very much!
See the video for this interview, here.
Please, if you can, buy our charity horror stories ebook, Den Of Eek!, raising money for Geeks Vs Cancer. Details here.