News
Batman vs Two-Face: How William Shatner Got Into Harvey Dent's Head
William Shatner took a thoughtful approach to playing Harvey Dent in Batman vs. Two-Face.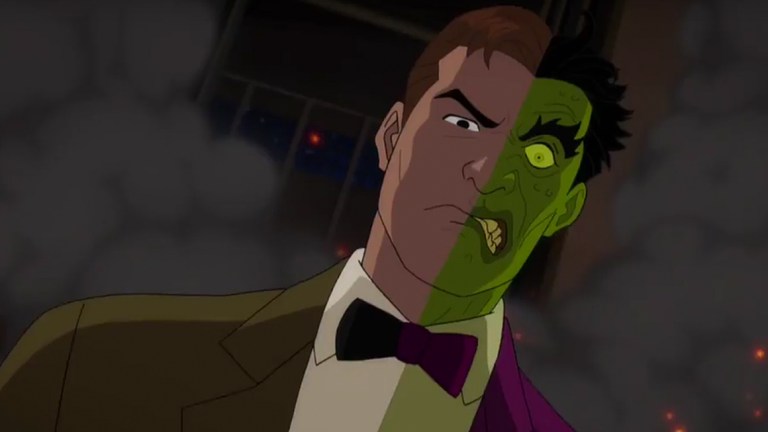 Last year's Batman: Return of the Caped Crusaders nailed the tone and spirit of the classic Batman TV series, and successfully reunited luminaries Adam West, Burt Ward, and Julie Newmar. But there was one element missing: the special guest batvillain. For the sequel, Warner Bros. not only picked the appropriate villain for a second installment, but they chose an actor who, had things been different, would have been a perfect fit for the character back in 1966: William Shatner.
So how did William Shatner, one of the most celebrated genre figures of our time, adapt to doing animated voice work for such an iconic villain? The actor took a surprisingly thoughtful approach, and he spoke to journalists about it at New York Comic-Con.
"I thought that the challenge would be to allow the evil spirit to emerge as though it were really happening," Shatners said of the distinction between Harvey Dent and Two-Face. "So it's Jekyll and Hyde really, isn't it. I was literally trying to do another voice."  
Since the overall tone of Batman vs. Two-Face is slightly more serious than its predecessor, Shatner approached the role accordingly.
"It would be interesting to do Two-Face real, to do Two-Face with as much humanity as you can," Shatner said. With the tragic mass shooting in Las Vegas still fresh in everyone's minds, and the motive still unclear, Shatner compared it to the mystery of Stephen Paddock. "My mind keeps going back to that meek mild-mannered guy who brought 20 guns up in his room, and what was he thinking when he shot out that window and he's mowing down people? Is he laughing hysterically? Is he sad? Is he happy? What's he thinking? What is that monster that's inside Paddock doing? Now he had to have been mild-mannered Harvey Dent somewhere in his life. His brother said he never saw anything that came out of it. But there's something monstrous in him. Wouldn't that be an interesting character to play as he's fighting his conscience?"
Batman vs. Two-Face is available now.
Read the full Den of Geek NYCC Special Edition Magazine right here!