News
Batman '66 Meets Wonder Woman '77: Details on the DC Comics Series
DC comic book series Batman '66 Meets Wonder Woman '77 portrays a surreal team-up against a long-awaited villain.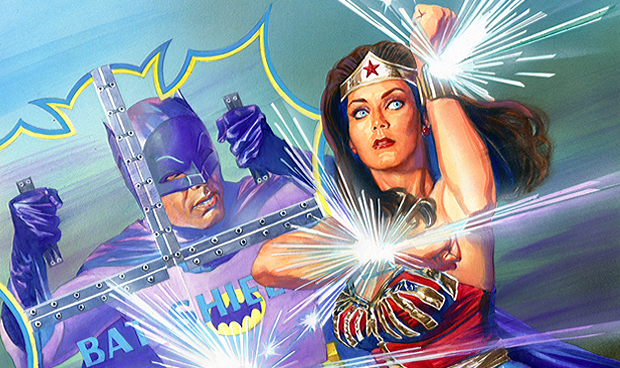 The classic television versions of DC Comics signature superheroes Batman and Wonder Woman have been revived in alternate forms of media, notably with the Batman '66 and Wonder Woman '77 comic series'. However, the illustrated renditions of the former small screen A-listers, played respectively by Adam West and Lynda Carter, have never crossed paths… at least until now.
With the imminent launch of DC's six-issue crossover series Batman '66 Meets Wonder Woman '77 comes intriguing details about the plot and inspiration behind the purposefully campy comic book series that sounds surprisingly compelling. First and foremost, the crossover will have the Caped Crusader and the Amazon Princess tangling with a villain who's a surreal thematic mismatch for the campy television icons in the ruthless Ra's al Ghul. The series also represents a team-up of each title's writers in Jeff Parker (Batman '66) and Mark Andreyko (Wonder Woman '77), who are attempting ambitious creative endeavors. As Parker tells THR:
"Marc originally had the whole structure: 'Why don't we do six issues, and make it span three eras?' I loved that. And then it just seemed natural, who do we have that could be a good villain for every era? Oh, it's Ra's Al Ghul. This is a great time to have an immortal that Batman would normally fight and it makes sense for Wonder Woman to fight. He makes sense as a foil for both of those heroes, for me. His League of Shadows has its own kind of mythology, which sort of works for Wonder Woman."
Arising during an era of DC's comic book depiction of Batman that was a reaction to the corny, irreverent Adam West television show of the 1960's, villain Ra's al Ghul was created in 1971 by editor Julius Schwartz during the title's legendary dark tonal turn steered by writer Dennis O'Neil and artists Neal Adams. Of course, Ra's, the long-lived, uber-intelligent, rampantly-ruthless leader of the League of Assassins (or Shadows) not only became an A-list Batman villain in myriad media renditions, notably Christopher Nolan's Dark Knight Trilogy played by Liam Neeson, but was also retconned into serving a vital role in Batman's origin story. Thus, the intrinsically anachronistic meeting of West-Batman and Ra's is worth the cover charge.
Interestingly, at least in this series' universe, Wonder Woman will receive a measure of credit in Batman's origin. The crossover will depict a visit to Wonder Woman's home of Paradise Island full of appropriately-campy 1960's-inspired designs as they would have appeared on the old Batman TV series. However, it seems that the dynamic in this team-up will also, in some sense, portray Wonder Woman – an ancient demigoddess – as a crucial inspiration for Batman's labeled-gadget-wielding crimefighting endeavors from an early age. In this case, a caper in which Ra's hires Catwoman to steal a mysterious book evokes a flashback to Batman's childhood in an encounter with Wonder Woman during World War II involving Nazis. As Andreyko explains:
"Having Wonder Woman be an inspiration for Batman does make sense, because Lynda Carter always played Wonder Woman as a character who wanted people to be the best that they could be. It's the opposite of grim and gritty."
For writers Parker and Andreyko, the Batman '66 and Wonder Woman '77 crossover event was a labor of love, with the latter affirming that, should the sales for this series justify it, that gladly field further crossovers together, "no questions asked." This surreal fan-fiction-fodder meeting of two small screen icons on the panels and pages in Batman '66 Meets Wonder Woman '77 will arrive in comic book store shelves with Issue #1 of the six-issue series on January 18. Check out the standard cover below by Mike Allred and an alternate cover painting by Alex Ross.