News
Barry Season 2 Episode 8 Trailer and Story Details
Bill Hader's dark comedy series is back on HBO. Here's everything you need to know about with Barry Season 2.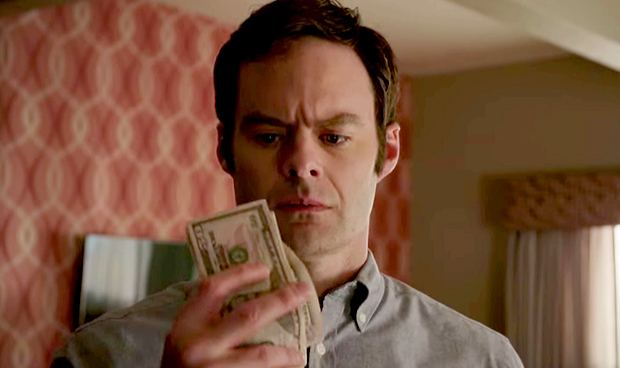 Barry was a critical success for HBO when it premiered in March 2018. A year later, Bill Hader is back for Barry Season 2, and its set to pick up from season one's shocking ending.
With Barry, our favorite new series of 2018, Hader stars on a series that he co-created with Alec Berg (Silicon Valley, Curb Your Enthusiasm, Seinfeld), both serving as executive producers, joined by producers Aida Rodgers and Emily Heller, along with consulting producer Liz Sarnoff. He is joined in the cast by Stephen Root, Sarah Goldberg, Henry Winkler, Glenn Fleshler, Darrell Britt-Bigson, Anthony Carrigan, Kirby Howell-Baptiste, Alejandro Furth and Andy Carey.
Hader plays Barry Berkman, a former U.S. marine-turned-contract-killer, whose death-dealing travels lands him in Los Angeles. There, despite himself, he finds a surprisingly satisfying place in the performing arts as part of the theater scene as "Barry Block." Of course, seeing as Barry kills people for a living, people with vendettas tend to catch up with him, especially since he quite literally showcases himself on a regular basis on an L.A. stage.
Episode 8, the season finale titled "berkman>block," airs Sunday, May 19 at 10:20 p.m. on HBO. Watch the trailer below!
Barry Season 2 Episodes
Here's our Barry Season 2 episode guide, where we'll gather all the available info for upcoming episodes as it becomes available to us via HBO: 
Barry Season 2 Episode 1: The Show Must Go On, Probably?
Barry tries to convince the class to perform despite Cousineau's absence.
Read our review of "The Show Must Go On, Probably?"
Barry Season 2 Episode 2: The Power of No
Barry struggles to pull off a big hit; Gene decides to confront his past; Fuches evades questions.
Read our review of "The Power of No"
Barry Season 2 Episode 3: Past Equals Present x Future Over Yesterday
As part of a class project, Gene tasks Barry with revisiting his past, and Sally reflects on her own history; Barry offers to provide training to Noho Hank's men; Fuches finds Barry in an unexpected location.
Read our review of "Past Equals Present x Future Over Yesterday"
Barry Season 2 Episode 4: What?!
Barry's patience is put to the test when a figure from Sally's past arrives in Los Angeles; Gene gets a pleasant surprise and encourages Barry to believe that change is possible.
Barry Season 2 Episode 5: ronny/lily
An encounter that Barry never could have predicted has surprising effects.
Read our review of "ronny/lilly"
Barry Season 2 Episode 6: The Truth Has a Ring to It
Gene helps Barry get into character as he prepares for his big scene with Sally; Sally resolves to embrace her truth; Noho Hank prepares for a big night with his newly trained men; Fuches goes on a mission.
Read our review of "The Truth Has a Ring to It"
Barry Season 2 Episode 7: The Audition
Barry prepares for his first audition under Gene's guidance; Sally takes a stand in a meeting with a major TV producer; Noho Hank bares all.
Read our review of "The Audition" here. 
Barry Season 2 Episode 8: berkman>block
Barry seeks vengeance; Noho Hank faces the looming threat of being sent home; Sally makes a split-second decision on the night of the acting class's big performance; Fuches turns to an unexpected source for help.
Barry Season 2 Trailers
Oh you wanted a Barry Season 2 trailer with more Noho Hank? Glad you asked.
Here's the first footage from Barry season 2!
Barry Season 2 Story
As mentioned above, the first thing that will need to be sorted out is whether Barry actually went through with killing Detective Moss after their confrontation in the finale. From there, we're not exactly sure where Barry's story might go, but we expect a clash between the assassian and his "buddy" No Ho Hank, now working with the Bolivians, sooner than later. Also, we dobut we've seen the last of Stephen Roots' Fuches.
Barry Season 2 Release Date
Barry Season 2 will arrive on March 31.
Here's everything else you need to know…
Nick Harley is a tortured Cleveland sports fan, thinks Douglas Sirk would have made a killer Batman movie, Spider-Man should be a big-budget HBO series, and Wes Anderson and Paul Thomas Anderson should direct a script written by one another. For more thoughts like these, read Nick's work here at Den of Geek or follow him on Twitter.