News
Bad TV REDEEMED: Two Pints of Lager
Ask people to think of one thing that sums up the worst of BBC Three, and odds are that - Help! I Smell Of Fish aside - it'll be Two Pints. Andrew redeems it.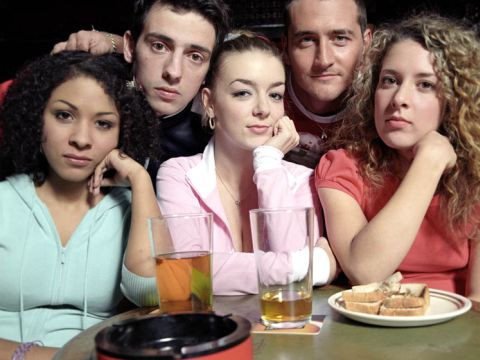 Most people haven't actually bothered to watch an episode of Two Pints of Lager for a long time. Dismissing it with a callous side-swipe has become a snobbish shorthand for possessing altogether better sense of humour. The sizeable audiences that the daily double bills pull in are readily dismissed as the post-pub crowd of chavs, passing the time between cans of Carling and getting around to sticking a few more pages of FHM together.
So why is it actually so decent? For a start, it's surprisingly well-plotted. Feeling in touch with the contents of British programming is a strangely confusing state of affairs, and while it doesn't quite manage that – being more the view of commoners through the eyes of thirtysomething programme-makers than the real world– it comes a damned sight closer at taking a stab at getting in touch with a section of the television audience that the BBC had almost lost altogether. And it manages to do so without that feeling of tower block tourism that Shameless always induces.
It also puts in rather clever footwork with the puns and wordplay that stay just the right side of out-and-out local theatre farce. Feeling low on double entendres? Steal them from Two Pints – your media twat friends won't be watching. Plus there are some decent actors in it to boot. Ralf Little has carried over his comic timing and mawkish sensibility from The Royle Family, and as Natalie Casey's longlost career as an MTV presenter proved, she's a brassy comic talent that's in rather desperate need of rediscovering.
The real shocker comes when you've watched a few episodes and discover that not only is it occasionally written incredibly well, but you actually care about the characters (apart from Louise, a cartoon harridan amongst a good stab at bolshy posturing). The trailers (which are admittedly all that most people have seen of the programme) show only the gobby, market-town sensibilities that suggest that the programme is the sole preserve of grubby Phones 4 U salesmen, and not the decent sitcom that is desperately, if crudely, struggling to get out.
The programme does admittedly play up to this, shoe-horning in various dick jobs to 'shock', in a crude attempt to get in touch with a youth market. It's the same problem that Torchwood suffers – it wants to be early evening TV, but swearwords and semi-graphic scenes are bunged in it to set it apart, and consequently smother any good ideas that might be in it. (Actually, that comparison doesn't entirely work. Torchwood is gash.)
That's not the only problem. Two Pints is admittedly in need of retiring after six series. The follow-up, Grownups, was all the crude nonsense that it's predecessor was accused of being. And Jambo is still a pimped-out Ford Fiesta of an egit.
But it remains the least self-conscious Britcom around. It may not be big or clever, but it sure is funny.
Previously in Bad TV REDEEMED:Joey, and Last of the Summer Wine (yep, really)