News
Away: Netflix's Hilary Swank Astronaut Series Reveals Cast
Netflix astronaut series Away will star Hilary Swank as the commander of an international space crew, sent on a dangerous mission.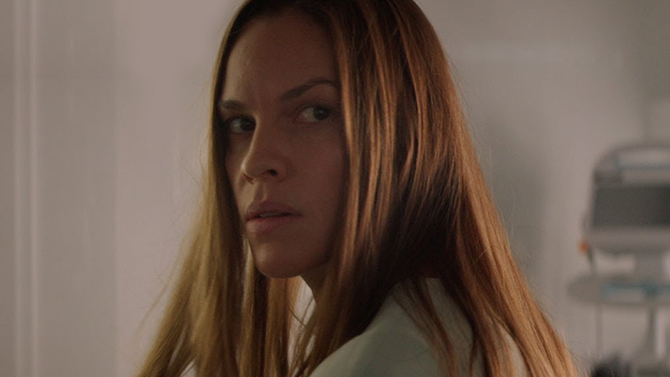 Away, a developing Netflix series, will head to space for a monumental mission with a commander played by two-time Oscar winner Hilary Swank and television veteran Josh Charles.
Set as a 10-episode series, Away will be driven by showrunner Jessica Goldberg, who's known as the creator of Hulu's subversive 2016-2018 drama, The Path, and wrote the script to directors Joe and Anthony Russo's 2020-scheduled, Tom Holland-headlined drama, Cherry. The series is said to be loosely inspired by an article published in Esquire about the real-life mission of astronaut Scott Kelly.
The official logline for Away describes a show that "centers on Emma Green [played by Swank], an American astronaut who must leave her husband and teenage daughter behind to command an international space crew embarking upon a treacherous mission. It is a series about hope, humanity and how we need one another if we are to achieve impossible things."
Away Netflix Cast
In the latest news on Netflix's Away, a quintet of supporting cast members have been announced (per the official statement):
Talitha Bateman (Love Simon, Annabelle: Creation) is Alexis Logan, Emma and Matt's teenage daughter who must now come of age with her father facing life-changing health challenges and her mother in space.
Ato Essandoh (Altered Carbon, Blue Bloods) is Kwesi, is a British-Ghanaian botanist and the mission's only rookie astronaut.
Mark Ivanir (Homeland, Barry) is Misha, a veteran Russian cosmonaut and the ship's engineer.
Ray Panthaki (Gangs of London, Marcella, Colette) is Ram, an Indian astronaut and the crew's medic, co-pilot and second-in-command.
Vivian Wu (Cathy Yan's Dead Pigs, Rúyì Zhuàn) is Lu, a Chinese taikonaut and the crew's geologist and chemist.
They join star Hilary Swank, the twice-winning Best Lead Actress Oscar winner (2005 for Million Dollar Baby and 2000 for Boys Don't Cry). The series will serve as a quick Netflix turnaround for Swank, who recently co-starred in the streaming giant's June-released sci-fi/horror film, I Am Mother. Last year saw her co-star on FX's historically-based Getty kidnapping series, Trust.
Josh Charles, a veteran of shows such as Law & Order True Crime, The Good Wife, In Treatment, Masters of Sex and Sports Night, returns here for Netflix after runs on its two Wet Hot American Summer revival shows, as well as a recurring role on Unbreakable Kimmy Schmidt. He most recently appeared on Showtime miniseries The Loudest Voice.  
Matt Logan (White Lines) is also onboard.
Further Reading: Hilary Swank Returns to Sci-Fi in I Am Mother
Away Netflix Crew
Jessica Goldberg serves as showrunner/writer/executive-producer, joined by Jason Katims (Friday Night Lights, Parenthood), who serves as writer and executive producer.
Ed Zwick (Nashville, Jack Reacher: Never Go Back, The Last Samurai) will direct the first episode, also onboard as an executive producer. He works off a pilot script written by Andrew Hinderaker, who will also serve as an executive producer. Hinderaker is also the credited creator of the series.
The show's gaggle of executive producers also include star Hilary Swank, Matt Reeves (Dawn of the Planet of the Apes, Cloverfield, Felicity), Adam Kassan, Michelle Lee (episode 101 only), Jeni Mulein (for episodes 102-110).
Netflix has not set a release date, or, for that matter, even a general release window for Away. However, we will keep you updated here as the news arrives.
Read and download the Den of Geek SDCC 2019 Special Edition Magazine right here!
Joseph Baxter is a contributor for Den of Geek and Syfy Wire. You can find his work here. Follow him on Twitter @josbaxter.