News
Avenue 5: Trailer and Release Date for Armando Iannucci HBO Space Comedy
Veep creator Armando Iannucci returns to HBO with space cruise series, Avenue 5, starring Hugh Laurie.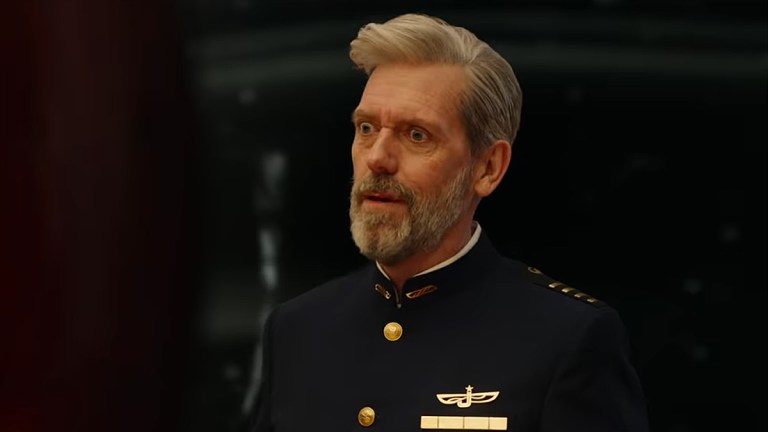 HBO is set to embark on a space comedy television series. The premium cable outlet will soon unveil Avenue 5, which comes from the mind of Armando Iannucci, the man who conceived its Emmy-dominating (and recently-concluded,) political satire comedy, VEEP.
Avenue 5 is described, via Variety, as "a space tourism comedy set forty years in the future when the solar system is everyone's oyster." Iannucci wrote and executive produced the series, which was picked up for a pilot back in 2017. Indeed, besides having the ever-reliable asset of star Hugh Laurie in full House-evocative snark mode, the series clearly brandishes an intriguing Star Trek meets The Love Boat concept, which – wittingly or not – kind of resembles a 1994 SNL sketch in which host Patrick Stewart played Captain Jean-Luc Picard in Love Boat: The Next Generation. – That's a good thing, by the way! 
The series marks a return to HBO for Iannucci, who exited his acclaimed TV brainchild VEEP in 2015 after four seasons as executive producer, writer and sometime-director. Hugh Laurie is set to star as Ryan Clark, the captain of the space cruise ship Avenue 5. Josh Gad, Zach Woods, Nikki Amuka, Rebecca Front, Lenora Crichlow, Suzy Nakamura, and Ethan Phillips will co-star.
Avenue 5 Trailer
A new promo expands the mythology of Avenue 5, focused on Josh Gad's role as Herman Judd, a Richard Branson-esque entrepreneur who, in welcoming passengers to the show's eponymous pleasure cruiser, is self-congratulatory in explaining his original idea for "space travel, but for real/regular people, not astronauts," which came to fruition with his space-leisure company, Judd Galaxy.
You can also check out the first full trailer just below.
Below is the first teaser trailer.
Avenue 5 Release Date
Avenue 5 is set to premiere on HBO on Sunday, January 19, 2020.
Avenue 5 Cast
The cast of Avenue 5 consists of Hugh Laurie, Josh Gad, Zach Woods, Nikki Amuka-Bird, Rebecca Front, Lenora Crichlow, Suzy Nakamura, Ethan Phillips and Himesh Patel. Additionally, Kyle Borheimer and Jessica St. Clair will recur on the series.
Creator Armando Iannucci, a Scotland-born writer/director, has been honing his craft as a political satirist, mostly on television. Besides the aforementioned Veep, he achieved notable acclaim with the 2005-2012 UK civil servant comedy series The Thick of It, which famously showcased the obscenity-imbued rants of eventual 12thDoctor Who star Peter Capaldi. He's also worked on sketch series Time Trumpet, Steve Coogan small screen vehicle I'm Alan Partridge and wrote/directed the 2009 comedy film In the Loopand directed and co-wrote 2017's The Death of Stalin.
Joseph Baxter is a contributor for Den of Geek and Syfy Wire. You can find his work here. Follow him on Twitter @josbaxter.