Features
Atlantis: Robert Emms on Pythagoras, triangles, feisty stallions & more…
Juliette speaks to Robert Emms, the actor behind notorious triangle fan and bean-hater, Pythagoras in the BBC's new Atlantis series...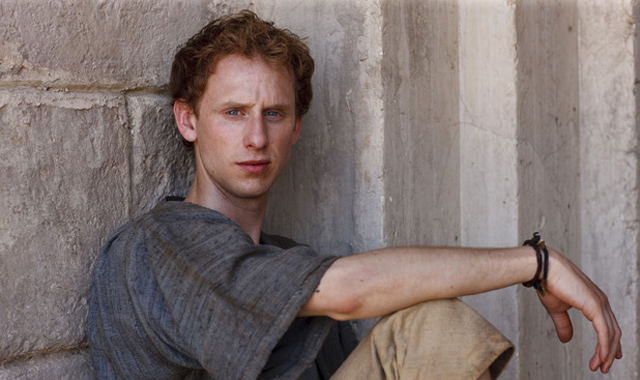 Over the past few years, Robert Emms has been involved in some major motion pictures, including War Horse, Anonymous and Mirror Mirror. This autumn, however, he's coming back to the small screen where he made his debut, playing Pythagoras in the BBC's new Saturday night family show, Atlantis. 
Now, if you've heard anything about Atlantis over the last few weeks, you'll know that the series is set in the titular mythical city and features a fresh spin on a mish-mash of ancient Greek myths and characters. And if you remember anything from high school mathematics, you'll probably know that Pythagoras was an ancient philosopher and mathematician who, most importantly, was a real person, not a mythic hero. So how does that work? 
"Obviously, it is [the] Pythagoras of theorem fame," Emms confirms, "so through the arc of the whole series and beyond, there will be developments of his theories, and there's a lot of things dropped in where you hear about all of his theories. 
"I did a little bit of research into him and his life and his teachings," Emms continues. But, "with this, you have to take a lot of it with a pinch of salt because Hercules would never have known Pythagoras. He had this cult following, which I quite like the idea of, but I don't know if they'll ever bring that up." Although the Pythagoras we see on screen may bear little resemblance to the real man, Emms hopes that his presence may still liven up school maths lessons. "It's nice to play a real character, dramatizing a mathematician and a philosopher, because for kids and for people studying that, it kind of makes it cool. I don't think he's ever really been dramatized before, so I think that's an exciting part of it." 
(Den of Geek would like to remind readers that a wax-droid version of Pythagoras was brilliantly brought to life in Red Dwarf's Meltdown, but that's probably it).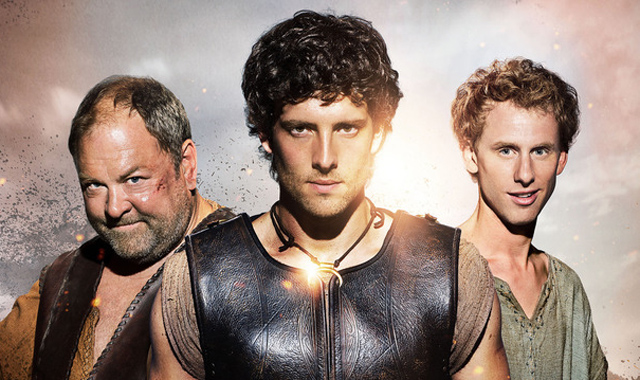 Aside from, presumably, a healthy interest in triangles, it seems that Emms' Pythagoras will be playing the role of resident brain in the series central trio. "He's über-smart. He's the geeky, intelligent one who comes up with all the smart plans but doesn't really do any fighting. [Mostly] he manages to scarper away which is nice. I'd rather fight and be really good – I don't want them to put me in a fight and make me look sh*t!" Presumably the same goes for romance, as it seems Pythagoras is not a hit with the ladies. "He's very innocent, he hasn't really got any idea about anything other than practical studies and things like that. He wouldn't really know anything about girls, he's asexual in that sense – the things that excite him are knowledge – and friendship, as well." 
Pythagoras' friendship with his fellow heroes Jason and Hercules and the relationship between the three of them is at the heart of the show. "[Pythagoras is] a genuine, nice, loyal friend, if sometimes a little bit naïve," Emms says. "Everyone has different skills, and they're best mates, they'll do anything for each other, which is a lovely thing to play, because we like each other in real life. It would be really difficult if we hated each other, but we really get on and have a great time." 
It's a relationship built on genuine affection between the actors, and enriched by some similarities between themselves and their characters. "I think Jack's a real wannabe hero himself," Emms suggests with a smile, "so he fits into that role really well, and aesthetically he looks great for it. He's also really likeable, which is really important. And Mark's a great actor, he fits into that jokey banter friend [category] but [he's] also quite wise. I think I'm quite quick and have a quick brain, which probably fits well for Pythagoras." 
That relationship was formed early on, when the three lead actors (Emms, Jack Donnelly as Jason and Mark Addy as Hercules) were training together in France. "Before we started shooting there was a month where we did rehearsals, and then we went to France for three days together to horse ride, so that was pretty good, because we were thrown into staying in a tiny village in France together in the hotel and eating with each other all the time. I think we've actually had three meals with each other every day apart from the weekends, non-stop, for four months now. I don't even do that with my best friends, so we really have bonded. I think they're both great and we genuinely get on really well, which really helps. You get a lot of banter between the three of us, [we] slot into our characters really easily."
Emms and Donnelly had, in fact, met about a year earlier under rather different circumstances. "I turned up for Jack's last audition to read with him," Emms explains, "and realised that Jack was the guy who about a year ago I was absolutely hammered drunk with in Soho. It was after the War Horse premiere, I was out with my agent. We'd gone to Buckingham Palace for a big do which was very swish, so [after] we went to a really trashy dive bar, and Jack was obviously there! He knows my agent so we had a night of it." 
On the day we meet him, Emms is shooting an episode that he tells us is especially juicy for his character, but he found that one of his favourite episodes so far has been Atlantis' take on Three Men and a Baby. "We find a baby and we have to look after [it]. It starts quite funny and cute, three hapless guys trying to look after a new-born baby, and then it turns out not to be what we thought it was and we get ourselves into quite a dangerous situation," he explains. The baby was played by twins who "did everything on cue, they showed us up a bit actually! I had a bet with one of the camera guys [over whether] the baby would wee on set, and it was lying there and Jack had to do something and then the baby had to wee on him, so we had the props guy doing a little tube, but the baby literally wee'd. It was so funny, and I won the bet as well." 
Despite his character's tendency to step back from fighting, playing Pythagoras has given Emms the opportunity to do some green-screen work. "It's great because [when] you have to imagine what's around you it's kind of like being in the theatre, so you get really stretched as an actor, you get to use all of your tools." 
He's also done a lot of work with horses for the show which Emms, a man with some experience acting with horses, has very much enjoyed. "We had some Moroccan horses who were quite feisty because they were all stallions, so they're quite big and they get on with each other but they'd play and fight each other so you have to keep control of them. I think the tough thing about it is when you get onto a new horse, finding out how that horse works, so when we all got to Morocco, we had to try and work out the horse, and you have to be quite flexible." He assures us, though, that he and his co-stars are happy with their non-human colleagues. "Everyone's looking great on top of the horses."
This is Emms' first TV project for a while, but he's excited about getting back to television. "With films, you shoot it for two to three months, and the film comes out, and three months after the film is forgotten, so you don't quite get that thing where you walk around and people are like, "You're that guy from that!" This is the kind of thing where you're in a show which is [on] every Saturday night. It's slightly scary but exciting at the same time. 
"It's nice to be in a series where different things happen to you each episode. Shooting War Horse, I knew where my character was going and I knew what was going to happen. With this, it's quite nice to not necessarily know what's going to happen to you the next episode, so you don't pre-empt anything as an actor, you just live it as it happens, which is exciting." This is particularly true of Atlantis, which sees our three protagonists having glory thrust upon them more than actively looking for it. "The good thing about this series is that there's a big theme of fate and destiny which is the thing that draws [the heroes] to where they go. The fate and the destiny that lies on the three of them is huge, and you do get a sense that they're getting drawn towards something." 
Like everyone else involved with the show, Emms has been impressed by the movie-like scale of the production. "It's shot on film, and it really does [feel filmic], especially the vastness of it, when we got to Morocco we really saw that. I did have a moment where I looked into the wind and had to do an intense look and I was channelling Lawrence of Arabia. It feels very filmic, in certain episodes more than others." He's also got perhaps rather too comfortable in the main set, Hercules' house. "You do start feeling like it's your home, and between takes I might go for a nap – I just go into my bedroom and sleep in my bed. I'm developing asthma because it's so dusty. 
"You want to move [to Atlantis]," he says, despite the distant threat of the city's ultimate destruction. "The royals' side of it tells that story a little bit, the threat of Atlantis, and things the Oracle says through the series, you start to feel are a little bit more of a threat to the community and to the place."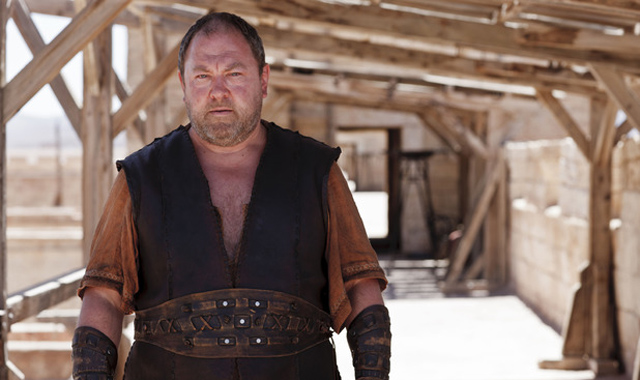 Emms hopes that the series will have a broad appeal, though the family slot might rule out doing a version of his own favourite Greek myth. "I like Oedipus," he says, "which I think might turn up eventually. There's ways that they can word it so it's not so graphic… I think they'll do them all!" He's not worried that his favourite Greek story might be a bit edited for the audience, though. "I think it's nice that they have to cater for a lot of people. If I was in a series that could do [sex and violence], that would equally be as great, but I think for this context, for the framing of this show, it really works, because they hopefully get a big audience, and that's the most exciting thing. They can hold back on some things and go for other things.
"I think one of the reasons everyone will like it, especially older kids, is because it's all those tales, those myths that you do learn at school but you don't really listen to, and it dramatizes it in an exciting way and in a fun way. I think adults can watch it because they already know what might happen to that character, which is quite exciting to see how we make that happen."
Atlantis premieres on BBC One on Saturday the 28th of September at 8.25pm. Read our spoiler-free review of episode one, here, and look out for interviews with the rest of the cast throughout the week.
Juliette Harrisson is a Classicist, writer and Trekkie. Read more of her thoughts on the pop culture career of the Greeks and Romans at her blog, Pop Classics.
Follow our Twitter feed for faster news and bad jokes right here. And be our Facebook chum here.