Features
Atlantis: Jemima Rooper on myths, Medusa, fantasy, humour & more…
Juliette chats to Atlantis actress Jemima Rooper about what to expect from Medusa in the new BBC One series...
You might know her from Hex, Lost in Austen or perhaps as George from the 1990s adaptations of The Famous Five, but this autumn Jemima Rooper will be appearing in a rather more exotic role, as the soon-to-be cursed Medusa in BBC One's Atlantis. We met her at the set to quiz her about what we can expect. 
When we first meet Rooper's Medusa on screen, she won't yet have her famously dangerous barnet of snake-hair. "She comes into the lives of the three protagonists and has a lovely romance with one of them… unless the curse sets everything off on a completely different course," Rooper tells us. "I now know how the curse comes about and what happens, but we've yet to film it. I'm very excited! Medusa and probably Hercules are the characters that are the most familiar and have the most expectations around them, so you hope that the audience will go with our interpretation and reinvention of it and enjoy that." 
So far, though, the world of Atlantis is something of a man's world. "The roles of women are still quite traditional in our fictional Atlantis," Rooper says, "and [Medusa] works in the palace, in the kitchens, and she helps the guys out with more feminine practicalities. But having said that she's still pretty feisty. 
"The over-riding themes are about fate and friendship, and the fate element is really interesting, because the princess of the royal family is not given any freedom – she's a feisty, strong, modern woman, and yet is inhibited by her culture and her position in society. Then she's matched with Jason and he's rallying against his fate all the time.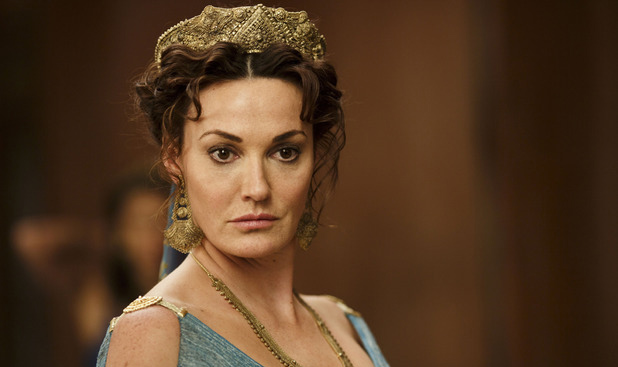 "You've also got a very Machiavellian step-mother to the princess, Pasiphaë (played by Sarah Parish), and she's stirring her cauldron and creating mischief and trying to thwart Jason at every turn. 
"I think all the women are bubbling away at the moment, we're biding our time before we strike!" 
All this means that Rooper hasn't had the chance to get involved in the action much yet. "Just a lot of kneading dough!" she says. "In episode two, there's a lot of running in sandals through mud, which was pretty interesting, and that felt quite action-y. Since then it's tapered off, but I think at some point it's going to get going again." This means that, Rooper says, if it came to a fight between her character and Xena Warrior Princess (never say we at Den of Geek don't ask the important questions), Xena would definitely win. "[Unless] it were a kneading dough competition, [then] hands down it would be mine." 
Rooper studied Classical Civilizations at A-Level, though she says she, "can't remember a thing! It was a surprise subject for me at school. I did it for GCSE because I thought it would be an easy option* and I loved it because it was a bit of art history, a bit of literature, a bit of everything, [so] I carried on and did it for A-Level." It hasn't helped her much on Atlantis, though. "I started re-reading stuff," she says, "and was looking up Medusa and then immediately saw that it's got nothing to do with our show at all!" 
[*N.B. Den of Geek would like to point out to students choosing their GCSEs and A-Levels that this is definitely not the case.]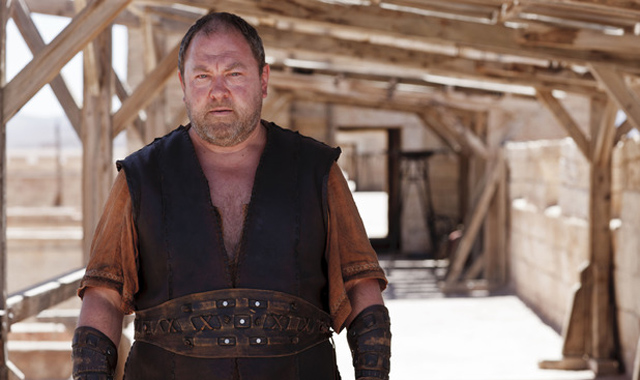 Despite the changes to the source material, Rooper hopes that the show will inspire a new audience to get interested in Greek mythology. "I hope that it'll get kids and parents watching at home back into it all, and it'll be reimagined and reawakened for kids at home."
Atlantis has been developed very quickly in less than a year, so Rooper has no idea what's coming for her character beyond the snake-hair. "We got the [scripts for the] most recent block of three episodes a week ago," she tells us, "about a day before we started shooting. I had a slight idea what to expect because the rumour mill starts… make-up and costume have to do much more work than we do so they get much more prep! 
"I have no idea what happens! I don't even know whether I'm going to get my head chopped off tomorrow!" 
She's confident in the show's quality, though, because she trusts the producers. She was offered the role without having to audition, "which never happens! It's very nice. It's my fifth job with Johnny Capps and Julian Murphy. We didn't have the script, so you're going in with blind faith. I've worked with Johnny and Julian a lot and I've worked with a lot of the writers before, so I have a lot of trust in [them]." She's also impressed by the scale of the production. "[The set is] still awesome, it's still exciting to walk down the stairs and go into. The first thing I filmed was a street scene with all these extras and the three main boys and it felt like a movie! It's so exciting. TV is getting stripped back and everyone's working on less and less money, but this feels so exciting and luxurious and special." 
Ultimately, Rooper is clear about what she thinks makes Atlantis stand apart. "What sold me immediately when I read it was the humour.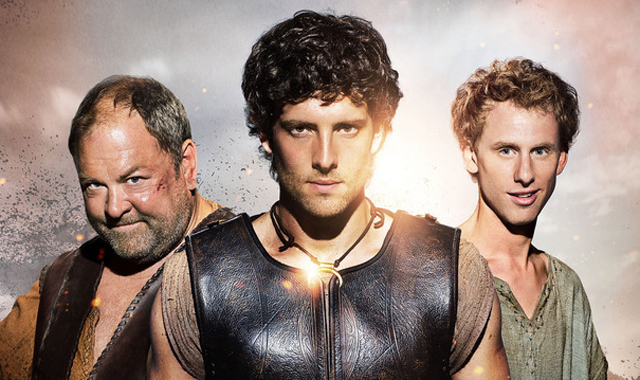 "I think there's a real appetite for fantasy at the moment… people want escapism. And this is a family show where you're not going to have the sex of Game of Thrones, and you're not going to have swearing or that darker side to it. You need something that sets it apart and I think the humour is it. 
"I think fantasy and sci-fi can often get stuck taking itself too seriously, and that can actually be quite alienating to an audience, whereas this has got such a gorgeous wink, a nudge to the audience. 
"It all boils down to the character of Hercules, who is just phenomenal. It's just genius and it works so beautifully well. The three guys together are just joyous and their chemistry is fantastic."
Atlantis starts on BBC One on Saturday the 28th of September at 8.25pm. Read our spoiler-free look at episode one, here, and come back for interviews with Atlantis actors Jack Donnelly, Robert Emms, Aiysha Hart and the set design team, throughout the week. 
Follow our Twitter feed for faster news and bad jokes right here. And be our Facebook chum here.