Features
Atlantis: Aiysha Hart on Ariadne, costumes, and missing out on the action
Juliette talks to newcomer Aiysha Hart about her role as Princess Ariadne in new BBC Saturday adventure show Atlantis...
You probably don't know Aiysha Hart yet, but you will. Two years out of drama school, Hart plays the princess Ariadne in the BBC's new Saturday teatime series, Atlantis. If its predecessor Merlin is anything to go by, Hart could be a household name by Christmas. We sat down with Aiysha to talk about the show and her royal role. 
Ariadne is, "the daughter of King Minos, the princess of Atlantis." Her primary function in the story is as our hero Jason's love interest, but Hart adds, "I think she's also a moral voice for the kingdom. She really cares about the people, and although she's really strong and intelligent, as a woman she's also very empathetic." 
Although Ariadne is a princess, she's one with a social conscience and interests beyond balls and suitors. "She's almost like a modern woman in an ancient world," Hart tells us. One of the ways the production team have tried to get this across to the audience is through Ariadne's costumes. "The costume department wanted to make Ariadne's [dresses] more simple because she isn't into wealth and she isn't superficial, so hers are made with stones and pretty colours rather than elaborate jewellery. They wanted to make it a bit modern, so they were cool and contemporary, but also classically styled." Having said, she's still a princess, so there was a certain level of glamour involved, which made a nice change for Hart. "The last thing I did [movie thriller Honour], I looked like a boy all the way through, so this is lovely!" 
Despite her philanthropy, Ariadne's life up to this has perhaps been fairly sheltered, so meeting Jason has a big impact on her. "She's quite stoic at first, and she holds a lot back because she feels that she has to, because of who she is. As things progress those layers shed and you get to know her more as a person, and that's a lot to do with Jason." Her attraction to Jason's tanned hero is immediate, though it may be a while before they enter into a fully-fledged relationship. "There's an obvious initial attraction between the two," Hart says, "and that develops as the series goes on, but very slowly. It's obviously not something that she can make public."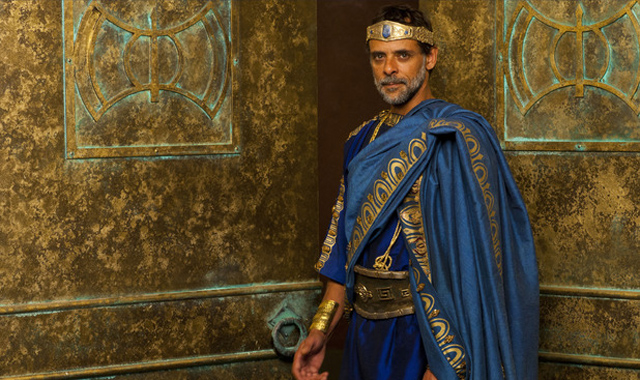 Perhaps of more immediate concern to Ariadne is her relationship with her father King Minos, played by Alexander Siddig, which is complicated by the presence of Sarah Parish's scheming step-mother. "She has to play a certain game when it comes to Pasiphae," Hart explains, "and I think her relationship with her father is complicated because of [that], and [Pasiphae's] control over her father." Still, Ariadne loves her royal sire, even though there are problems. "I think she longs for a closer relationship with him, and they do love each other very much, but having Pasiphae at the centre of it interrupts that." 
Although Hart has had some experience of speculative fiction through Tobe Hooper-directed horror film Djinn, this is her first experience of large amounts of greenscreen – though so far, Ariadne's involvement in CGI-based action has been minimal. "A lot of my scenes don't include action, though I have had to react to some of that stuff," she says. It seems Ariadne has, so far, been largely confined to the palace. Hart enthusiastically tells us that, thanks to Jason, "she gets to leave the palace as well, in one episode, which is a lovely change." 
Luckily Ariadne hasn't been completely confined, allowing Hart the chance to join the cast and crew filming exteriors in Morocco. "The sets are really amazing," she tells us. "[They're] in the middle of the desert. They're massive, you're dwarfed by them! They'll look really beautiful on screen." Although she still finds the UK-based sets impressive, "so well thought out with tiny details," she found the Moroccan desert especially inspiring to film in. "You don't get the scale of it so much when you're in the studio; although the sets are so wonderfully made and they do transport you to another place, you look up and you see a tin roof, whereas in Morocco you look up and you see blue skies, and you have horses, and the sun setting, and this massive landscape."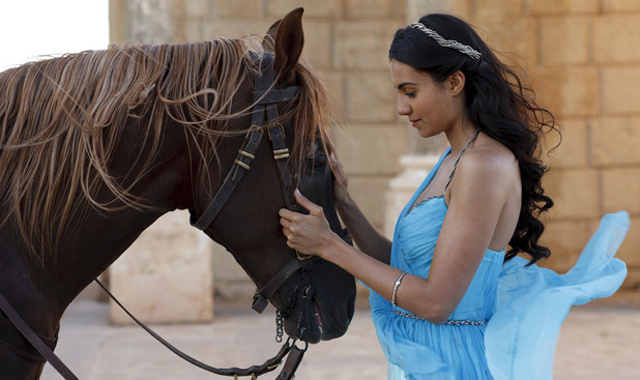 Atlantis has the potential to catapult Hart into the public consciousness, with its primetime slot on BBC One. For herself, though, she's not giving that side of things too much thought; she's just getting on with the job. "We get so wrapped up in the filming process and learning lines, you don't really have time to stop and think, 'Oooh, what's going to happen?' It's probably better not to think about it and just let it happen – just go on the journey," she says. We can only wish her luck and hope the journey is taking her – and us – somewhere exciting. 
Atlantis premieres on BBC One on Saturday the 28th of September at 8.25pm. Read our spoiler-free review of episode one, here, and look out for interviews with the rest of the cast throughout the week.
Juliette Harrisson is a Classicist, writer and Trekkie. Read more of her thoughts on the pop culture career of the Greeks and Romans at her blog, Pop Classics.
Follow our Twitter feed for faster news and bad jokes right here. And be our Facebook chum here.