News
Ash vs Evil Dead Season 2 Finale Details
We've got the trailer and story details for the Ash vs Evil Dead season 2 finale right here for you!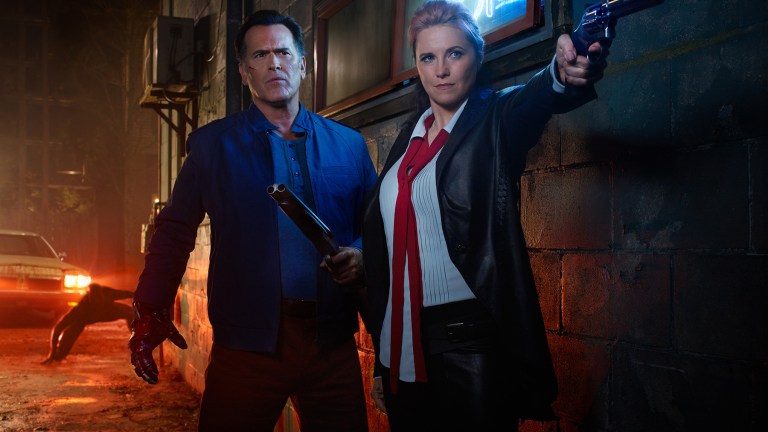 Welcome to your one stop location for everything you need to know about Ash vs Evil Dead season 2 on Starz. We hope you survive the experience. We'll update this with all the information you need as it becomes available. But until then do as Bruce Campbell says and stay groovy..
It's time! Ash vs Evil Dead Season 2 Episode 10 will be the season finale, and what a season it has been! This one is called "Second Coming." It airs on December 11th at 8 pm on Starz. 
Here's the official synopsis:
Ash, Ruby, and Kelly battle the past to get to a future where Pablo is alive and the world is safe from evil, but the family from hell has other plans. Baal and Ash engage in an old fashioned brawl to save humanity and banish them back to hell.
Check out the trailer:
You can read our review of the most recent episode, "Home Again" right here.
Ash vs Evil Dead Season 2 Episodes
Ash vs Evil Dead Season 2 Episode 10: Second Coming
Trailers
We did not expect the second (and first full) Ash vs Evil Deadtrailer until last month's San Diego Comic-Con panel for the groovy series. And apparently, Starz thought much the same way until it was decided that the below trailer is "too gory" for an all-age audiences SDCC panel. But that bummer was our gain since we got the nifty carnage that is every bit as boomstick-happy as you might hope a week early!
Hail to the King, baby. The Uncensored King.
Also here is the first teaser in case you missed it!
Starz is giving us a taste of how the fake blood is made on the gory comedy/horror series. Indeed, Rob Tapert promised at San Diego Comic-Con that this season would have more in-camera gore effects, and now Dana DeLorenzo is taking us on a video tour of how the grisly fun is made: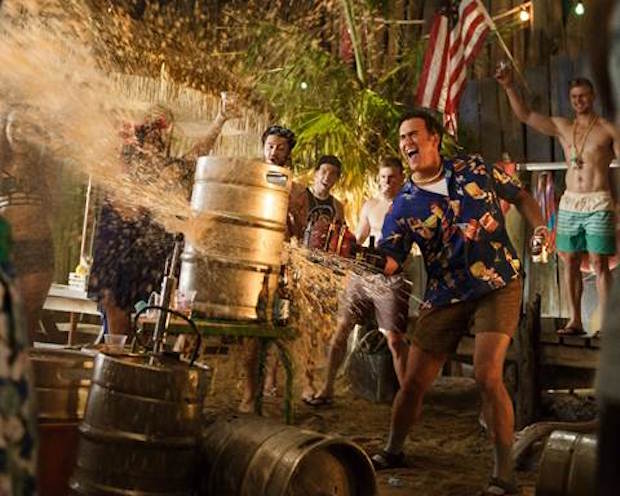 Ash vs Evil Dead Season 2 Villain
While we are still one month away from the return of Ash vs Evil Dead, Starz has announced in the dog days of August what kind of demonic forces Bruce Campbell's groovy chin will be facing. Yep, it's time to grab life by the Baal, at least according to the latest press release.
As played by Sons of Anarchy's Joel Tobek, Baal will be raising all sorts of hell in season 2.
Reads a Starz statement, "When Baal is released from the underworld, our team will face an enemy more powerful than any that have come before. One with bigger plans than just destroying Ash as well as a secret link to Ruby (Lucy Lawless)."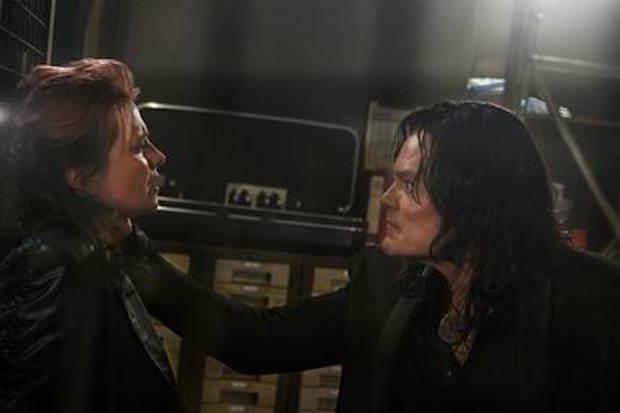 Ash vs Evil Dead Season 2 Cast
Ted Raimi and Lee Majors are going to be part of the cast for Ash vs Evil Dead season 2? Wow, some wishes really do come true.
Indeed, when I spoke with Lucy Lawless about the then impending release of Ash vs Evil Dead last year, the actress said the one definite wish she and Bruce Campbell had for a second season of the series was to get Ted Raimi down to New Zealand for some Deadite torture. And now that, plus the Six Million Dollar Man joining the cast, appears to be in the cards!
Starz announced as much Wednesday when the premium cable network revealed Majors and Raimi would be appearing in the 2016 vintage of Bruce Campbell vs. the new Army of Darkness. Majors, who is a television icon in everything from the aforementioned Six Million Dollar Man to The Fall Guy and Raven, will be playing Brock Williams, Ashley Williams' father. We are just going to presume they're estranged, especially what with Ash taking an axe to his possessed sister in the original The Evil Dead film and all.
Ted Raimi, meanwhile, is the brother of Sam Raimi (the director of the original three Evil Dead films and an Ash vs. Evil Dead executive producer). He has also appeared in small, unrelated roles in all three of those films, as well as in Spider-Man and alongside Lawless in Xena: Warrior Princess. Raimi has been cast in the role of Chet Kaminski, the childhood best friend of Ash Williams. Somehow, we suspect Ash pissed him off too at some point…
Still, Ash will need all the help he can get next season. For those who do not recall, the first season of Ash vs Evil Dead ended with Bruce Campbell's big chinned and dimwitted anti-hero driving off to Jacksonville along with his plucky sidekicks Pablo (Ray Santiago) and Kelly (Dana DeLorenzo). But this is hardly a pleasant day trip since Ash sold out existence to the evil Book of the Dead, now held by Lawless' supernatural Ruby.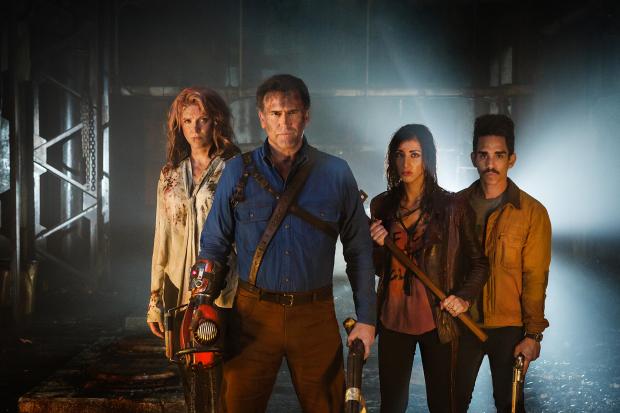 Season 2 Story
Our friends at IGN visited the set of Ash vs Evil Dead season 2, and they've come back with some curious intel. On the first count, it is unsurprisingly bigger than season 1, with producer Rob Tapert promising a broader canvas and cast, undoubtedly to be possessed by evil spirits in the latter case. However, there were some interesting details also revealed about the plot, both in terms of the arc for Bruce Campbell's lovable moron, Ash Williams, as well as where the villainous Ruby Knowby (Lucy Lawless) is headed next.
For Ash, season 2 will mean realizing that the road to Jacksonville is not paved in gold, and after getting to his paradise he'll have to realize it's time to head home to Michigan and face his greatest fear of all… a father played by Lee Majors!
"Season 2 for me is all about Ash going home and seeing the personal side of him," Bruce Campbell said. "No one knew anything about Ash, where he lived, what he was like. Ash was like a teacher: you'd see him at school, but if you saw him out of school you'd feel weird… But now we're going home. We're following the teacher home from school."
Meanwhile, it sounds like Ruby will move from enemy to frenemy in season 2, as she apparently has second thoughts about summoning an End of Days Apocalypse via the Book of the Dead.
Says Lawless, "Ruby is, really, the root of all their problems, but she's completely dismissed that. She is in complete denial that she is the whole problem. She's just your friendly neighborhood psychopath, and they have to work with her, try to put her demon spawn back in the box."
And you're relying on Ash to do it? Good luck with that.