News
Arrow Season 7 Will See Colton Haynes Return as a Regular
Colton Haynes's Roy Harper will make his return as a series regular on Arrow Season 7.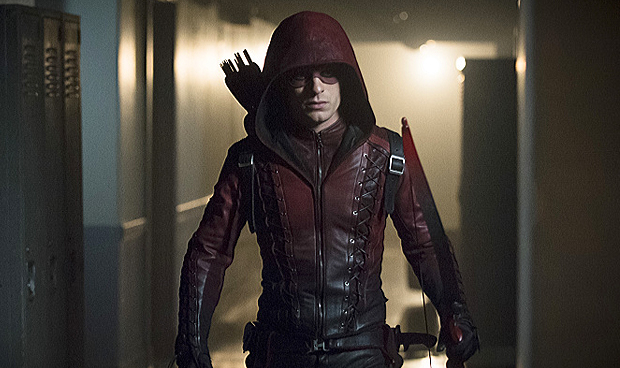 Colton Haynes is returning for Arrow Season 7 in a homecoming that will finally see his character, Roy Harper, a.k.a. Arsenal, back as a series regular.
Haynes, the former Teen Wolf actor, initially joined Arrow as Roy Harper in the middle of Season 1 in 2013. The character experienced quite an arc, going from acrobatic pickpocket to Oliver Queen's sidekick and protégé to love interest to Oliver's sister, Thea. However, as the series evolved, Roy's role saw a major reduction, leading to Haynes's exit from the series in 2015, after which he fielded runs on Scream Queens and American Horror Story, though returning for the occasional guest spot.
Now, going into Arrow Season 7, Haynes's Roy/Arsenal will arrive at an opportune time, story-wise, as the Team Arrow discord that has come to dominate Season 6 – just in the last episode – saw founding member John Diggle (David Ramsey) walk out the door to do his own thing (though he's still on the show). Thus, Roy could fill a much-needed vacancy, likely set to pick up his bow and don his Arsenal costume to help Oliver's nocturnal crimefighting efforts.
Additionally, the move will arrive after another major seismic shift with the recent exit of Oliver's deadly-trained kid sister, and Roy's longtime love, Thea Queen (Willa Holland), who was written off the show indefinitely with the purpose of joining Nyssa al Ghul (Katrina Law) in fighting the good fight in a civil war amongst the League of Assassins against evil offshoot the Thanatos Guild. As Haynes expresses in a statement:
"I could not be happier to return to my role as Roy Harper alongside my Arrow family."
Arrow's executive producers also chime in on Haynes's return as a regular, stating:
"We're very fortunate and excited to welcome back Colton to Arrow. While we've always enjoyed Colton's returns to the show, we couldn't be more thrilled to have him return as a proper series regular — and we're very excited about all the creative opportunities Roy Harper's return affords us."
Indeed, this will be an especially welcome homecoming for Haynes as a regular, since, in the traditional DC comic book stories, Roy was the Green Arrow's original teen sidekick (first as Speedy, later as Teen Titans member Red Arrow, later as Arsenal); essentially the Robin to Green Arrow's Batman.
On a potentially crucial note, Haynes's Roy, who has been fielding guest spots in recent episodes – notably involved in Thea Queen's sendoff storyline – seemed intent on joining Thea on her quest to fight the Thanatos Guild and protect the newfound Lazarus Pits. However, his prospective return to Star City as a regular member of Team Arrow might put a damper on such an idea. Of course, there's still time to iron out those plot details as Arrow moves toward its May 17 season finale.
Arrow airs Thursdays at 9/8c on The CW.