News
Arrow Season 6 Episode 11 Exclusive Sneak Peek: Felicity Asks Curtis For Help
Check out our exclusive sneak peek from tonight's all-new episode of Arrow.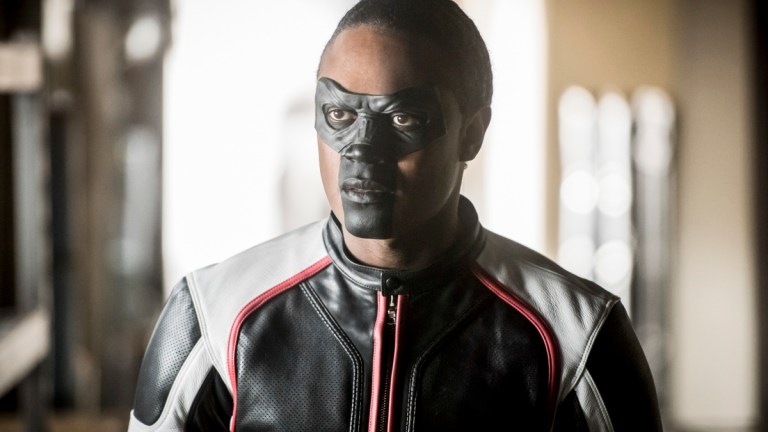 Arrow's decision to split up its superhero team is truly put to the test in tonight's episode, the ominously-titled "We Fall," which sees Cayden James launching his plan to take control of every aspect of the city.
In this exclusive clip from tonight's episode, Felicity calls Curtis, Dinah, and Rene to see if they might want to work together on this one. Could this be the start of a reconciliation for the team? Does Oliver know she's asking for help? After everything that went down in the midseason premiere, it seems hard to imagine reconciliation would be this easy.
Team Not Arrow may have agreed to play nice with Team Arrow, but when one of Curtis' T-Spheres gets a read on Vigilante's location, all bets seem to be off. Team Not Arrow plans to set a trap for Vigilante, seemingly without Team Arrow. 
Check out the entire scene, in all of its high-stakes glory, below…
And if you're curious about what else is going on in "We Fall," here's the episode's full synopsis:
Cayden James (guest star Michael Emerson) ups the ante by launching his plan to take control of every aspect of the city. Despite the scope of Cayden's plan, Oliver (Stephen Amell) is determined to foil it with just the Original Team Arrow – and without the aid of Rene (Rick Gonzalez), Dinah (Juliana Harkavy), or Curtis (Echo Kellum). But things get complicated when William (guest star Jack Moore) is endangered as a result of Cayden's handiwork.
"We Fall" airs tonight at 9 p.m. ET on The CW. For more on Arrow, check out our Season 6 news hub.