News
Arrow Season 6 Cast Talks the Repercussions of Lian Yu
Who lives? Who dies? We chatted with the Arrow cast about the Season 6 repercussions of Lian Yu.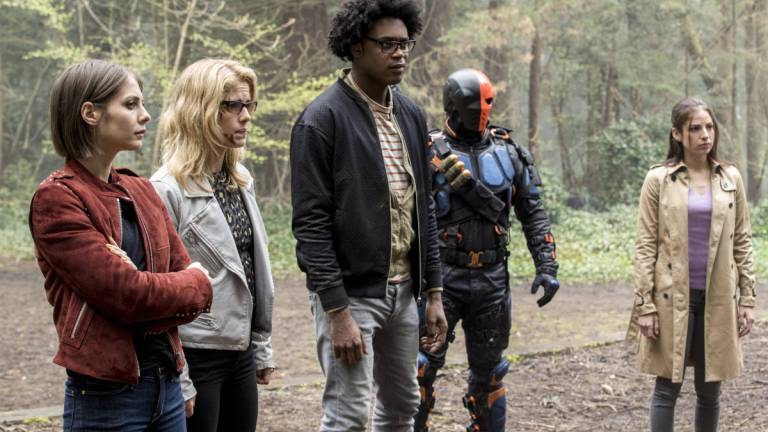 The Arrow cast is making the rounds at San Diego Comic Con today, and Den of Geek was part of a group of reporters who spoke with David Ramsey (Diggle) and executive producer Wendy Mericle about the fates of those characters missing in the Lian Yu explosion.
Don't worry, friends. Ramsey teased that we will know who survived "pretty quickly," though the repercussions of what happened on Lian Yu will drive all of Arrow Season 6. Ramsey said:
I will say that there's been some damage that has happened from the island. Not just the exposure, but some repercussions that is going to take the rest of Season 6 to deal with. Not just emotional, but physical injuries. So people will pay a price.
Ramsey added that Diggle in particular sustains a great deal of "damage" and "was profoundly affected." For Ramsey, the big cliffhanger "was worth it in terms of the suspense of it all."
While we'll know fairly quickly what happened on Lian Yu, the season premiere itself will largely pick up five months after the Season 5 finale's end. Will the surviving members of Team Arrow question Oliver's decisions that led to Lian Yu?
"Clearly, Oliver had a situation," Ramsey said. "I don't think we questioned in terms of his leadership and in terms of what his leadership brought us to." That being said, Team Arrow will start to question personal decisions Oliver makes coming out of the island, said Ramsey.
As for other other core member of original Team Arrow, though we couldn't get any confirmation out of Emily Bett Rickards that Felicity survives the island, the fact that she is part of Comic Con press implies she will make it. What will that mean for the Oliver/Felicity relationship in Season 6? Mericle teased:
Obviously, [the Olicity relationship is] a core component of the show. If [Felicity] pulls through and she comes out of the explosion, there's no way we can't address that [relationship] question.
Mericle further teased that Oliver's role of father will be a defining aspect of his character's journey in Season 6, and that the Arrow writers were eager to explore a superhero father story because it's not being explored anywhere else on TV.
"It just raises a whole bunch of questions. Yeah, we're gonna go down that road and see where it takes us."
Read and download the full Den of Geek SDCC Special Edition magazine here!