News
Arrow Season 6: Behind the Vigilante Reveal
We talked to the Arrow cast about what the big Vigilante reveal will mean moving forward.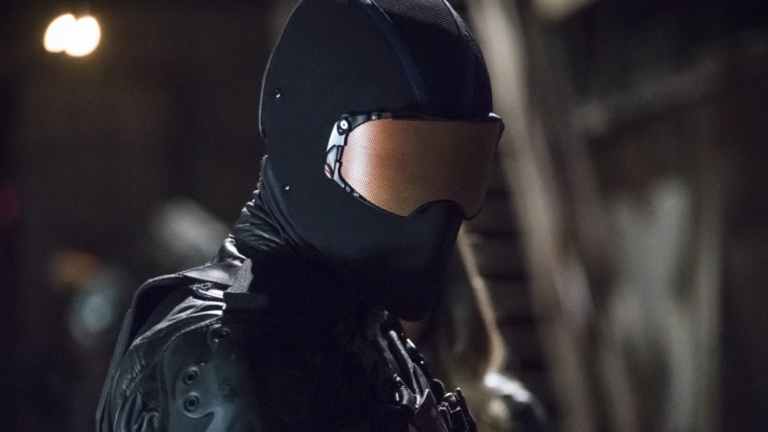 This article contains MAJOR spoilers for Arrow Season 6 Episode 5, "Deathstroke Returns." Proceed at your own risk.
Tonight's Arrow saw the reveal of Vigilante's true identity. The man behind the mask is none other than Dinah's former partner (romantic and professional) Vincent "Vinny" Sobel (Clayton Chitty).
Den of Geek was part of a group of reporters who visited the Arrow set earlier this week. Juliana Harkavy gave us the scoop on what to expect from Dinah and Team Arrow now that they know the identity of this long-time nemesis.
"I found out a few episodes in," said Harkavy of the big reveal, "and I think it was around Episode 3 that [director/producer] James Bamford came and told me, 'Okay, this is what's happening.'"
"It was a shock," Harkavy continued,  "but it seemed to fit, and I could make it work in my wheelhouse of what is real for Dinah, so I was excited about it. I love the storyline."
At the end of "Deathstroke Returns" we see Vinny leave Dinah a paper flower, an act that seems to prove that there is something of the man Dinah used to know still in there. While Dinah was honest about Vigilante's identity to the team, it might take slightly longer for her to come clean about their communication.
"Not only is she dealing with her past, but she also has her own little secret that she has to decide whether she's going to keep from the team," teased Harkavy. "So it definitely throws a wrench in her life and game plan."
From Harkavy's comments, it doesn't sound like Dinah will keep it a secret for long.
1 Comment
"I don't think it's really in her nature to keep it for long," said the actress, "but she's going to keep it as long as she feels that she is protecting herself, and I think the team to some extent, and she wants to figure out really what's going on before she says anything certainly. So I hope not too long, but she's going to take her time with it for a second."
How did Stephen Amell feel about the big reveal?
"I was upset that it wasn't McKenna," joked Amell. "I always thought that it was a really cool fan theory."
Amell said that, with most of the other characters getting a villainous "counterpart" with which to struggle, it makes sense that Dinah would get one, too.
"I was excited that there was someone for Juliana's character," said Amell. "I like the idea of another metahuman on the show. I think that we've handled having a metahuman as part of our [show] — I guess two now with Katie [Cassidy] and Juliana — I think we've handled that well and kept it within the spirit of our show."
When might we see Oliver meet back up with his old friend Vigilante? "I've been doing some work with the Vigilante character just relatively recently," teased Amell, which perhaps means we'll be waiting until post-crossover to see the Vigilante storyline resolved.