News
Arrow Season 5 Episode 21 Review: Honor Thy Fathers
The story drags hard in order to set the stage for a - hopefully - climactic finale.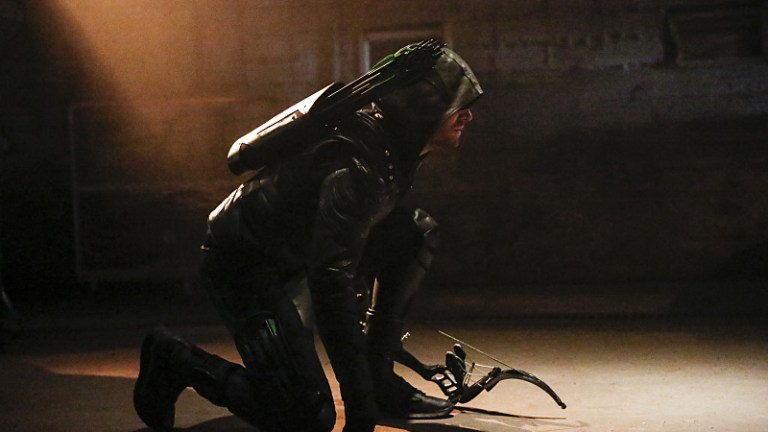 This Arrow review contains spoilers. 
Arrow Season 5 Episode 21
Arrow really shocked fans by changing up the game and adding a twist to its big villain reveal this season. However, that reveal was several weeks ago and it seems as though the show is languishing and padding out a 23-episode order. As a result, episodes like "Honor Thy Fathers" keep spilling out and teasing a climactic showdown between the Green Arrow and Prometheus – without actually delivering.
The most recent episode dealt heavily with bodies being drowned in concrete, which is kind of a metaphor for how this episode made me feel. Things are potentially exciting, but it feels like everything keeps getting bogged down with some really heavy stuff that feels like overkill. With Adrien Chase on the prowl, the team keeps playing his deadly little games in an effort to finally track him down and stop him. I'll admit what makes Prometheus (a.k.a Adrien Chase, a.k.a. Simon Morrison) such a scary villain is that he has knowledge about Oliver Queen and his past that even the hero seems unaware of. In this episode, Prometheus revealed that Oliver's father, Robert Queen, the man who he started his whole crusade for, is actually a cold-blooded murderer.
While the villain that's inside your head is the scariest, the problem is that Chase is not inside your head, he's inside the character's. For an action show, it's forcing its hero to have a lot of tough conversations and look solemn as new elements of sadness are revealed to him. While it may be intriguing, it's certainly not fun to watch. At the end of the day, "Honor Thy Fathers" came down to a pep talk that Felicity gave Oliver that apparently worked. That's a lot less interesting than seeing the Green Arrow throw down against Prometheus.
Granted, the final ten minutes did feature a pretty great close-quarters-combat brawl, but it ended in an emotional speech and a surrender… Boo!!
Other noteworthy plotlines in this episode include Thea coming back for what feels like a straight up guest appearance. She has to deal with the news that the man who raised her is not necessarily the person she thought she was. Another included Rene Ramirez having second thoughts about testifying to his poor actions and the drug addiction of his former baby mama in front of their daughter. Sure, it's all in an effort to get his kid back and save her from foster care, but he still can't muster up an appearance because he's such a tortured hero… If you're starting to wonder why Arrow is trying so hard to make its audience severely depressed, you're not alone.
All of this in an episode that opened with the reveal that 36 dangerous criminals were being released from jail. It became clear early on that the episode would, instead, be about the psychological battle between Oliver and Chase. That was a bummer, until a pretty interesting plot emerged in which Chase is drumming up an old story from 2002 involving both he and his nemesis' father. Sadly, it wasn't executed well and everything felt like a missed opportunity. Frankly, the plot was good, but it suffered from having to be revealed through exposition, making it really hard to understand. Things would have been better with, maybe, a flashback recreation of the events for the audience. Sadly, we all know that Arrow can't show a flashback unless it puts Stephen Amell in a terrible wig.
This week, we were treated to the discovery that Oliver Queen ends up on Lian Yu in episode 1 with a big bushy beard that's fake… Also, that the statue of Deathstroke's mask was staged… Am I the only one that felt like this was a real "screw you" to those of us who waited five years to see how they'd tie a ribbon on the first scene of the series, only to find out it's all makeup? If Chase's big scary twist is that he's going after the Queen family for the sins of their past, wouldn't it be a lot more effective to tell that story in flashbacks and save the island nonsense for another day? Especially if you're going to phone it in?
On behalf of the audience, let me say: We won't be mad if you break form with the flashbacks Arrow, trust us, we sat through a Flash and Supergirl musical… and kind of loved it.
The episode, fortunately, wasn't all bad. It set up stakes for next week's penultimate episode. Chase surrendered, a bit too easily, to the Green Arrow. He's now in custody, but the audience knows that this isn't the end of his plan. Last week saw the villain finally discover the location of Oliver's long lost son, William. If we're all being honest with ourselves, he seems a bit too happy to be behind bars.
What's he planning? Why is Kovar on the island of Lian Yu? Did no one suspect that Oliver's beard was fake when he was initially found? Are we ever going to address the identity of Vigilante? With only two episodes left, there's no telling how the minds behind Arrow will wrap up season 5.