News
Arrow Season 5: Details on Dolph Lundgren as Villain
Dolph Lundgren will make his debut on Arrow season 5 episode 6, "So it Begins." We can't wait.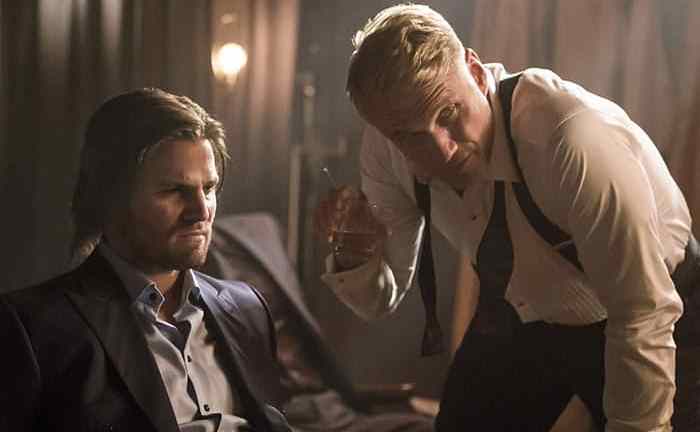 One of the hallmarks of Arrow's storytelling has always been its liberal use of flashbacks to tell Oliver Queen's extended origin story. Season one introduced his time on the island, season two fleshed out the backstory of that year's major villain, season three took him to Hong Kong where more heroes and villains were introduced, and season four took us back to the island and…ummm…didn't really accomplish a hell of a lot. Many Arrow fans felt that the flashbacks, which really peaked in season two, were meandering and listless during season four. 
And since one of the major problems with the flashbacks since Slade Wilson went bye-bye in season two has been the lack of a convincing villain for them, there's one surefire way to fix that: get a good villain. And that's exactly what's happening, as Dolph Lundgren (Rocky IV, Masters of The Universe…oh, you know who he is) will play the big baddie for the Russia-set sequences.
And now we have our first look at Dolph Lundgren's character, Konstantin Kovar, as well as details on the episode he makes his first appearance in. Lundgren will appear in Arrow season 5, episode 6, which is called "So it Begins."
Here's the official synopsis for the episode, which doesn't actually mention Lundgren or his character, but nevertheless, this is it.
When Prometheus ups his killing spree, Oliver (Stephen Amell) searches for connections between the victims. Felicity (Emily Bett Rickards) and Curtis (Echo Kellum) discover the victims have a mysterious link to Oliver's past and this new secret could upend his new team. Meanwhile, Thea (Willa Holland) has a heart-to-heart with Lance (Paul Blackthorne), and Felicity considers telling Malone (guest star Tyler Ritter) the truth about her work
"So it Begins" airs on November 9th.
Speaking to TVLine in August about what we can expect from Lundgren's part in the flashbacks, executive producer Wendy Mercile teased: "We really wanted to go gritty, dark, and make it feel very real … We're dealing with the Bratva, and the Bratva is, as we all know, a pretty interesting and messed-up institution."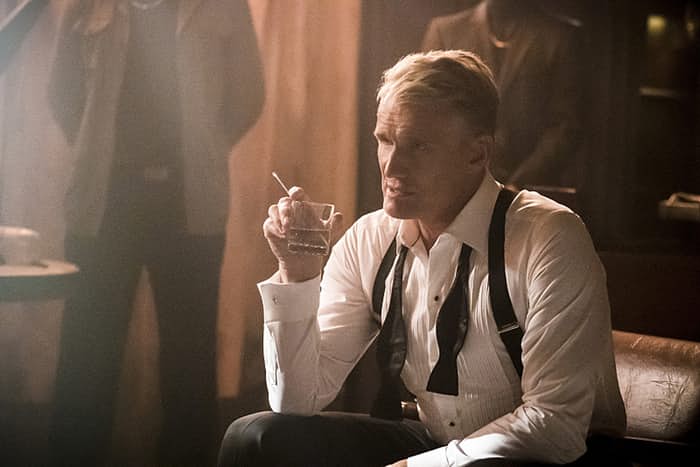 Mericle added that she had the entire writing staff watch the 2007 film Eastern Promisesto prepare for this season, and watched many documentaries herself about the Bratva — especially in relation to Russian prisons. Teasing how Lundgren's character would come into the picture, Mericle said…
[Dolph's character] is a government strongman. He is scary and formidable — and he had a role in some stuff with Taiana's family last season. He's a bit of a badass.
"This is probably the last year of the flashbacks," Stephen Amell told a group of journalists at SDCC in July, "which means that we have a lot of to accomplish. The impetus and through line of the flashbacks will have a lot more urgency to them." So for those who feel that this element of the show has run its course, the fact that this will "probably" mark the end of them should be great news. From a story standpoint, it makes sense to end them this year anyway, as the flashbacks in season one took place five years before the season premiere.
As for what the flashbacks will accomplish this year? Mr. Amell knows what needs to be done. "I made a list and I sent it to the producers," he said. "When does he make his bow? Why does he have his beard? Why is he dressed as a castaway? Why is he dressed as if it's been him and a volleyball for the last five years? Let's answer these questions. We made a big list, and we're going to answer them."
Don't worry, though, in non-flashback specific news, Mr. Amell said that "I don't think this will be the last year of the show (he crossed his fingers while saying this), but at the same time, this is the end of a chapter so to speak."