News
Arrested Development Controversy Isn't Going Away
With five days to go before its debut, Arrested Development Season 5 finds itself in a controversy of its own making.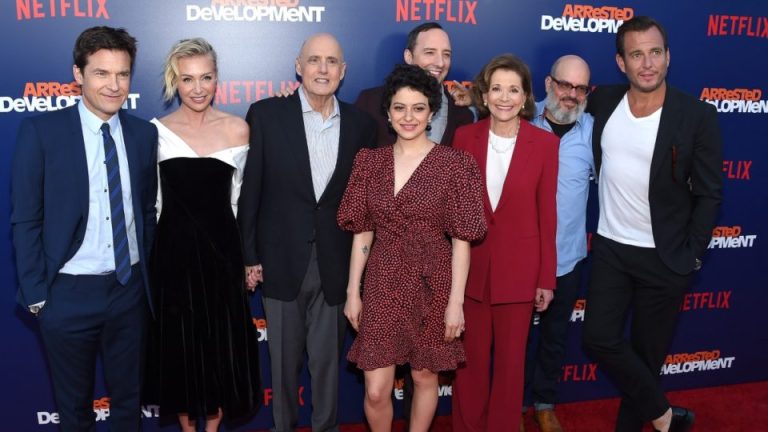 Arrested Development Season 5 debuts on Netflix in five days. It is currently embroiled in a controversy that a show that debuts in five days probably doesn't want to be in.
This started when Arrested actor Jeffrey Tambor was fired from his role on Amazon's Transparent following accusations of sexual misconduct. This naturally led to speculation as to whether Tambor would continue in his role as George Sr. on the upcoming Arrested Development Season 5. Tambor received support from several of his castmates and the show's creator Mitchell Hurwitz, and was ultimately brought back for the fifth season. 
Then came the interviews. First, in a lengthy, complicated piece for The Hollywood Reporter, Tambor acknowledged a verbal "blow up" he had with co-star Jessica Walter, and said he "profusely apologized." Yesterday, that "blowup" came up again in an interview the entire cast (save for Portia de Rossi and Michael Cera) gave to the New York Times.
Reporter Sopan Deb asked Tambor about previous assault allegations and if he feels like he's reckoned with this previous behavior. Tambor's co-star Jason Bateman interjected saying that the movie and television industry was a "breeding ground for atypical behavior." 
Walter began to cry and told The New York Times, with Tambor and the rest of the cast in the room:
"Let me just say one thing that I just realized in this conversation. I have to let go of being angry at him. He never crossed the line on our show, with any, you know, sexual whatever. Verbally, yes, he harassed me, but he did apologize. I have to let it go. [Turns to Tambor.] And I have to give you a chance to, you know, for us to be friends again. But it's hard because honestly — Jason says this happens all the time. In like almost 60 years of working, I've never had anybody yell at me like that on a set. And it's hard to deal with, but I'm over it now. I just let it go right here, for The New York Times."
Walter's statement was an upsetting first-hand depiction of what it's like to be on the other end of one actor's atypical behavior. What's even more jarring and illuminating, however, were the reactions of her male castmates. Bateman, David Cross, and Tony Hale tried, in unfailingly polite ways, to talk around or over their crying castmate.
The full audio of the exchange can be found here:
This was a rare, insightful look into the "atypical" Hollywood culture that, as we've recently discovered, frequently leads to abusive behavior. 
Bateman, Cross, and Hale are all professionals who clearly have respect for their fellow classmates. Bateman, for his part, offered many "qualifiers" when discussing the abusive culture: "Again, not to excuse it," "Not to say that you know, you [Walter] had it coming. But this is not in a vacuum…" I didn't mean to speak for you…" "Again, not to belittle it or excuse it or anything…" 
The problem here isn't a fundamental lack of respect or care, or intellectual reframing to make it all seem ok but rather: a simple, human need for preserving the status quo. If we've learned anything from Arrested Development Season 5 and the media blitz leading up to it, it's that the status quo, regardless of what horrors it may bring, is a hard thing to deviate from…particular for the people who don't firsthand experience the issues with it.
The existence of Arrested Development Season 5, itself, is a victory for the status quo. This is a show that was canceled after three fruitful seasons more than a decade ago and then came back for a lukewarmly received season four five years ago. The cast had moved on to other worthwhile projects. Hurwitz ran two successful seasons of Lady Dynamite. Still, Arrested Development is coming back for one more season because making episodes of Arrested Development is undoubtedly fun. The cast and crew are used to it and came to care about one another while producing it. It's the status quo, not the new.
Unfortunately, so is the apparent abuse that Tambor subjected Walter to during filming. Until yesterday, it's clear that for most of the male actors on the show that was just part of the "process." That is even how Bateman describes it in the NYT interview:
"Because it's a very amorphous process, this sort of [expletive] that we do, you know, making up fake life. It's a weird thing, and it is a breeding ground for atypical behavior and certain people have certain processes."
That is how good art gets made because that's how they've only ever seen good art get made. That's the "process" that generated three brilliant seasons of Arrested Development. And it's just not worth it. Hearing that in an audio recording has more than ever before made it clear that what we've often thought of as "difficult, tortured artist" has always just meant "abusive dick." 
Bateman and Hale have since talking to Twitter to offer apologies. 
I have no doubts that both Bateman and Hale's apologies are sincere (or at least as sincere as they can be, given the circumstances). There is an audio file of their own dismissals of Walter's pain to listen to. The allure of peace, the status quo, and same-old "processes" is strong. But when a mirror is held up to those excuses, everyone involved quickly realizes how shallow and stupid they are.
It's not worth it to endure through someone else's abusive "process." Arrested Development Season 5 isn't worth it.