News
Are You Afraid of the Dark? Movie Gets a Release Date
Are You Afraid of the Dark? You will be once the movie adaptation of the '90s kids show arrives in theaters in October 2019!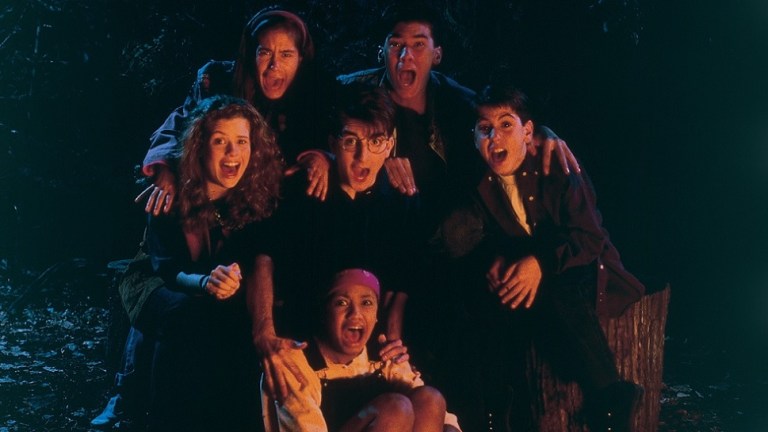 If you were a child at any point during the 1990s, there was nothing spookier than using every Saturday night to gather around the campfire with the most theatrical group of teenagers ever. With nothing but a handful of sand and a few stories in their heart, they set the pitter-patter of children's pulses into a frenzy every week on Nickelodeon. So now, submitted for the approval of the Midnight Society, I present you with the Are You Afraid of the Dark? movie.
Indeed, the ominously welcome tidings broke last month when it was revealed that Paramount Pictures' newly developed Paramount Players division is producing a movie based on Nickelodeon's beloved horror anthology TV series. The studio even impressively tapped Gary Dauberman, the screenwriter behind both Annabelle movies and the It adaptation that took Hollywood by storm this fall, to write the screenplay. Now we know when to expect being initiatied, as Paramount announced Are You Afraid of the Dark? will arrive in theaters on Oct. 11, 2019.
That gives us all nearly two years to work on our best scary story. After all, the initiation vote has to be unanimous, guys.
Are You Afraid of the Dark? is a smart move by Paramount Players, a division created last June to essentially mine any intellectual property at Viacom (the parent company of Paramount) for movie potential. And guess what? Nickelodeon falls under that umbrella. Like It and Sony's own recent '90s kids/millennial-friendly Goosebumps reboot, Are You Afraid of the Dark? was a staple of '90s children's viewing diets, and one of the premiere series on Nickelodeon's Saturday night lineup which targeted a slightly older demographic of tweens and teens: SNICK.
Originally created as a Canadian series by D.J. MacHale and Ned Kandel in 1990, it didn't get picked up by Nick in the U.S. until 1992. Running off and on from then until 2000, Are You Afraid of the Dark? focused on a group of very serious teenagers who would gather at night around the campfire swapping ghost stories and sci-fi tales that would also stand as one-shot narratives for the viewer. Also, remembered for its earnest tone, the inclusion of Dauberman is intriguing, since it would suggest they are going for something a little more serious than the very PG Goosebumps revival. This is wise, as nostalgia and kid-friendly horror is big right now, and Are You Afraid of the Dark? always played it straight. That might mean something closer in tenor to It and Netflix's Stranger Things.
No director is currently attached, but we're sure that more members to the new and improved Midnight Society will be inducted soon…