News
Archer Season 9 Episode 2 Trailer and Episode Guide
Archer Season 9 is coming to a tropical paradise via FXX. Here's what we know about Archer: Danger Island.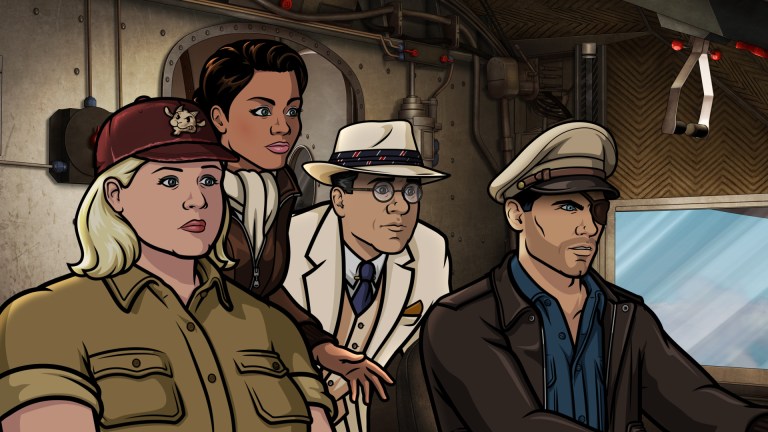 Are you ready for Archer to reinvent itself yet again? Archer Season 9 is about to be one of the most dangerous seasons yet for the long-running animated comedy on FXX. Titled Archer: Danger Island, the new season centers on the semi-functioning alcoholic seaplane pilot, Sterling Archer, now living in the lush South Pacific island of Mitimotu in 1939.
Archer Season 9 Release Date
Archer premiered on Wednesday, April 25th at 10:00 p.m. on FXX.
Archer Season 9 Episode 2 Trailer
Archer Season 9 Trailer
Check out this new featurette…
FX welcomed viewers to Danger Island in the first trailer for Archer season 9. Watch it here…
Archer Season 9 Episodes
FX renewed Archer for two more seasons, 9 and 10. Both seasons will only have eight episodes. Every season has had 13 episodes, except seasons 1 and 7, which had 10, and season 8 which had eight.
Archer Season 9 Episode 1: Strange Pilot
Air Date: 4/25/18
Archer Season 9 Episode 2: Disheartening Situation
Air Date: 5/2/18
Archer Season 9 Episode 3: Different Modes of Preparing the Food
Air Date: 5/9/18
Archer Season 9 Episode 4: A Warrior in Costume
Air Date: 5/16/18
Archer Season 9 Episode 5: Strange Doings in the Taboo Groves
Air Date: 5/23/18
Archer Season 9 Episode 6: Some Remarks on Cannibalism
Air Date: 5/30/18
Archer Season 9 Episode 7: Comparative Wickedness of Civilized and Unenlightened Peoples
Air Date: 6/6/18
Archer Season 9 Episode 8: A Discovery
Air Date: 6/13/18
Archer Season 9 Cast
H. Jon Benjamin voices Archer. The show also features the vocal talents of Aisha Tyler as Lana Kane, Amber Nash as Pam, Jessica Walter as Archer's mother, and Chris Parnell as Cyril Figgis.
Aisha Tyler will play a princess this season while Jessica Walter will reprise her role as Malory Archer (reimagined this year as a bar owner). Amber Nash's Pam returns as Archer's co-pilot while Judy Greer's Charlotte will serve as an heiress who has come to this island for her honeymoon. Rounding out the cast is Chris Parnell as a German office and Lucky Yates as Archer's beloved wisecracking parrot. 
Archer Season 9 Story
Here's the full synopsis for Archer Season 9:
"While the rest of the world is concerned about the impending Second World War, Archer is only concerned with who's buying his next drink. Along with his trusty co-pilot Pam, Sterling must navigate quicksand, cannibals, super-intelligent monkeys, poison darts, pirates, and did we mention quicksand? Welcome to the mysterious and deadly world of Archer: Danger Island."
Executive producer Matt Thompson stated that season 9 will take place in 1939 after Germany has annexed Austria and Japan is invading China. Sterling Archer is a seaplane pilot just trying to continue his alcoholic lifestyle in French Polynesia. As you might imagine, danger soon comes to Archer's island home (hence the theme). Thompson stated that he wanted to return to the show's fun roots after last season took some surprisingly dark turns. The theme itself is inspired by '60s live-action adventures set in the tropics.
Archer's next season will probably be its last, according to the showrunner and creator, Adam Reed. The animated espionage workplace comedy will end after Season 10.
"The plan is to end Archer after season 10," Reed told Modern Film School's Murmur podcast (via TV Line). "I don't know that anybody has talked about that, but that is definitely my plan—to do 8, 9, and 10 and they're gonna be each shorter seasons of just eight episodes, and then wind it up.…I was gonna end it after 8, but then I had sort of a brain explosion of a way that I could do three more seasons and really keep my interest up. So the three seasons that are coming up are gonna be pretty different from what has come before, and they're gonna be different from each other."