News
Archer Season 8 Premiere, New Trailers, Episodes and More
FX set the date for the Archer season premiere, plus trailers and episode info on the hit animated series...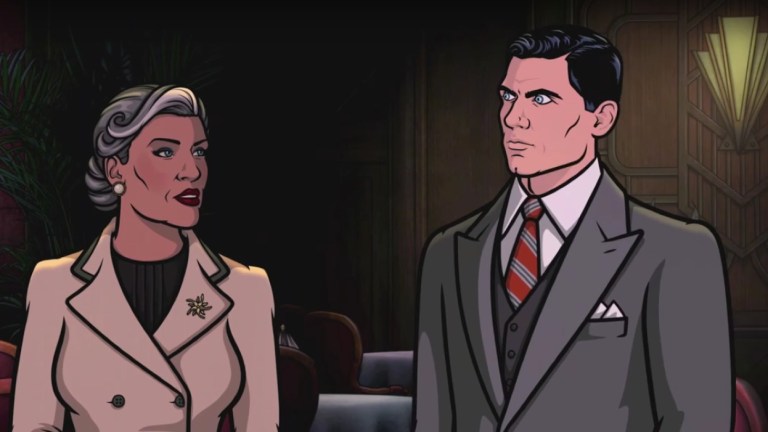 Archer's sweet comeback is so close we can almost taste it. Oh…are we not doing "phrasing" anymore?
That's right, Archer returns next month, April 5th on a brand new network. Like many a half-hour comedy before it, Archer is making the journey from FX to FXX. Be sure to adjust to lives and DVRs accordingly. 
FX originally intended to move Archer to FXX for season seven, but those plans didn't materialize. The move is a natural fit with FXX's current lineup. And it's a minor change to be sure.
What should amount to a bigger change, however, is that Archer will be undergoing yet another new theme! Archer has largley been an experimental show for the past three seasons after the first four were relatively static. There was the drug and sun-soaked Archer: Vice in season 5 and then season 6 saw a return to normalcy albeit with the death of unfortunately-named spy agency ISIS. The most recent season was, of course, set in Hollywood. Now Archer is undergoing its biggest theme and transformation yet: a literal break from reality.
As you may remember, season 7 ended with Archer face down in a swimming pool and riddled with bullets. So…not ideal.  But our hero isn't dead yet, just in a coma. And apparently within that coma takes place the entirety of season 8.
Sterling Archer is transported to a film noir-esque detective world of the 1940s. That's right: Archer is doing film noir. Thankfully, they've elected to call this season Archer: Dreamland which is cool on a couple of fronts. For one it's not Archer: Noir. I like film noir. We all like film noir. But it's time we stop putting "noir" following other nouns to describe film. Noir just means black, not super cool 1940s detective story. I know. This is an incredibly pedantic thing to feel strongly about but you can't come to a site called "Den of Geek" if you don't want pedantic opinions with minute attention to details. 
Also Archer is in a literal dream so that's cool.
Archer Season 8 Release Date
Archer season 8 will premiere on April 5th at 10 p.m. on FXX. 
Archer Season 8 Alternate Reality Game
The folks behind Archer clearly love games. Two years ago they embarked on a Krieger-based massive Easter Egg hunt that, even for the Internet era, was staggeringly complex and difficult. 
Now FXX has announced a brand new app called Archer: P.I. to go along with a brand new alternate reality game to accompany Archer Season 8. 
The app is already out for iTunes and Google Play. It's designed to be used when watching season 8, subtitled Archer: Dreamland so fans can solve crimes alongside the dickish dick.
According to FX's statement: "Archer: Dreamland, the eighth season of the Emmy®-Award winning animated comedy series, lets fans solve cases alongside Detective Sterling Archer with the newly launched "Archer, P.I." app. The multiplatform augmented reality app encourages fans to interact with Archer: Dreamland on screen and with real world objects to win prizes and solve cases."
Prior to the season premiere on April 5, fans can still use the app by pointing it at outdoor billboards, TV ads, and other Archer promotional material. 
Check out how the whole process will work below!
Archer Season 8 Trailers
Watch the official season 8 trailer below! Get a taste of the sweet noir theme and again: be thankful the season isn't subtitled Archer: Noir.
And the teaser trailers…
And if for whatever reason the official trailer and handful of teasers weren't enough, FXX has also released not one, not two, not three, not four, not five, not six, not seven, not eight, not nine…oh wait, it is nine teasers. They're all in the style of old-timey 1947 Hollywood newsreels and they're delightful. FX/FXX clearly has some anxiety about the show switching networks so they're going overboard with sharing teasers reminding us of the fact. Enjoy their oversharing while you can!
Archer Season 8 Episodes
FX inked an overall deal with creator Adam Reed and his production company back in June 2016. The move keeps Archer as the backbone of the network's animated comedy slate, but with it they decided to shorten the season order. Archer season 8 will consist of only eight episodes, the shortest order in the show's history. 
Here are titles and synopses for the first four episodes. 
1. No Good Deed –  (Airs April 5, 10 p.m. ET)
Archer tries to find out who killed his partner, but accidentally gets in bed with Mother, a notorious L.A. crime boss. Written by Adam Reed.
2. Berenice –  (Airs April 12, 10:00 10 p.m. ET)
A mysterious woman hires Archer to fake her death, but he's unable to rise to the occasion. Written by Adam Reed.
3. Jane Doe –  (Airs April 19, 10:0010 p.m. ET)
Archer tries to escape from jail with the help of a crazed heiress and a dysfunctional jazz quartet. Written by Adam Reed.
4. Ladyfingers – (Airs April 26, 10:00 10 p.m. ET)
While investigating a kidnapping, Archer reveals too much about Figgis and Krieger reveals too much about his past. Written by Adam Reed.
Archer Season 9 and 10 Are Already Confirmed
As if having one comedy break cable longevity records isn't enough, FX shows no signs of slowing down its other comedic flagship, Archer. The network has renewed the show for seasons 9 and 10 as well.
"We can't say enough about what Adam, Matt and the entire Archer team at Floyd County have done to keep this series so insanely funny and vital through seven seasons," FX original programming president Nick Grad said in a statment. "The move to Los Angeles this past season as private detectives was just the latest twist in Archer's legendary exploits and the next three seasons will to be just as amazing and unpredictable. We are thrilled to continue making great TV with our friends and colleagues at Floyd County."
Who knows what kind of coma dreams Archer will experience in season 9 and 10?
Source: THR
____
For more TV discussion and creator interviews, check out the TV IV podcast and subscribe! iTunes | Stitcher | Soundcloud