News
Archer Season 10 Will Be Influenced by Alien and Star Wars
The latest reinvention of Archer unveiled itself at NYCC and it looks like the unique Archer: 1999 could be the show's biggest year yet.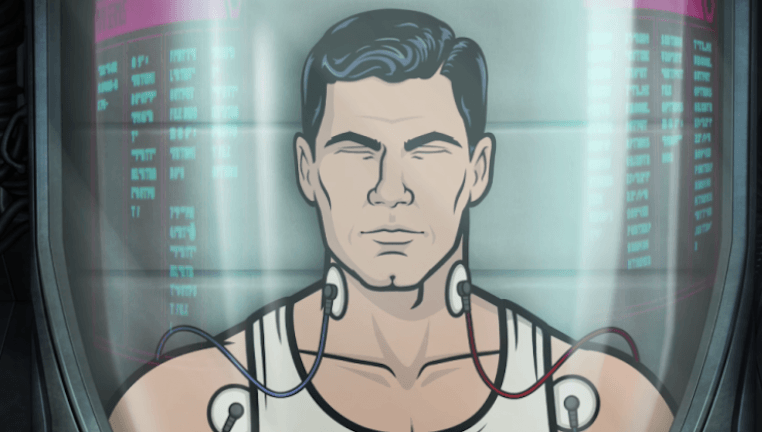 Super spies. Drug runners. Angst-y noir archetypes. Island inhabitants from 1930s French Polynesia. Archer has mixed things up through the years more than James Bond's martini shaker. What started as an outrageous look into the lives of secret agents has slowly morphed into an exquisite corpse of a series that's ambition is like nothing else on television. 
Whether the radical changes that Archer has adopted in its more recent seasons have been to your liking or not, there's no denying that taking such risks is incredibly ambitious. This is a show where its main character is left in a critical coma as he floats through unbelievable dreamscapes of his life and it doesn't seem like anyone—the audience, or the characters within the show—know if he's actually still alive or not.
Last year Archer: Danger Island took its audience to a veritable tropical paradise off the coast of the South Pacific. Danger Island found plenty of creative ways to compliment and destroy the series' status quo (Krieger was a parrot, NBD), but perhaps the most interesting aspect of the season is the cliffhanger that it went out on. Brief flashes of what looked like the show's next facelift—a trip to the recesses of a space and hard sci-fi—were hinted at during last season's final moments, but now Matt Thompson has extensively opened up about what Archer: 1999 will look like.
Archer's tenth season will transport Archer and the rest of its cast to the space station, Seamus. Archer finds himself in the role of captain amidst all of these space rejects. These characters will find themselves occupying traditional science fiction roles that embrace the strangeness of the genre, like how Krieger is now an android who may or may not be evil (in an appreciated nod to Bishop from Alien, complete with his characteristic "milk blood") and Pam is a hulking rock monster (Aisha Tyler eloquently describes the character as "if The Thing had a really bad case of eczema"). 
Mallory may receive the most unexpected change of all when she becomes a sentient ball of raw energy, but rest assured, Jessica Walter still kills the performance. If anything her snarky, condescending demeanor pacts even more impact when it comes out of a weird force of science. Thompson also promises the return of Barry in "full-on robot mode", a weird, adorable green alien who's voiced by Sam Richardson, and a robotic torture bird called Funby (no relation to Krieger's Crackers from last season).
An exclusive first look at the season's premiere teases a plot that involves a distress beacon, an alien invader, and space pirates (which make for a nice contrast from the literal pirates from Archer: Danger Island). Not only did this material really strike a chord with the audience, but the show's animation continues to amaze. Everything that was shown from Archer: 1999 was straight up gorgeous and it's satisfying to see that the show's look only further refines what works for them.
In addition to the new setting and character models, it also looks like Archer: 1999 will make a return to the more serialized storytelling that dominated Archer: Dreamland and Archer: Danger Island. Thompson indicates thatArcher: 1999 will largely be one complex story that will continue to feed into what the other seasons have been doing and the slippery nature of the show's "reality" at this point. He cites seminal science fiction films like Alien, Star Wars, and The Last Starfighter as all influences on Archer: 1999's stories.
Finally, when it came to the rumors that the show's tenth season could be its final year or that the events of the last few seasons have just been flashes that Archer experiences before his death, Thompson and crew were gleefully mum (although Thompson confirmed he is still in that coma). You're just going to have to make it through Archer and company's misadventures in the recesses of Altair Beta to find out for yourself. "We don't know," says Thompson. "We literally have no answer for you." That being said, there still may be hope for the series to one day return to spy stories, so clearly they're not ready to end things just yet. 
While no firm release date was given, FXX billed a Spring 2019 premiere as a likely timeframe. That should give everyone a chance to properly get ready for "space phrasing." It's happening.
Daniel Kurland is a published writer, comedian, and critic whose work can be read on Den of Geek, Vulture, Bloody Disgusting, and ScreenRant. Daniel knows that the owls are not what they seem, that Psycho II is better than the original, and he's always game to discuss Space Dandy. His perma-neurotic thought process can be followed at @DanielKurlansky.