News
APB Cancelled by Fox
APB, Fox's high-tech police procedural, has been cancelled by the network after one season.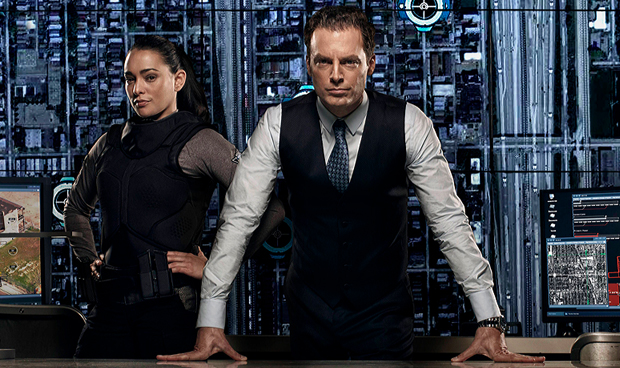 APB has been deactivated from the Fox television lineup. The technology concept-driven police procedural series has been cancelled by the network after its abbreviated inaugural season recently completed its run.
APB made its debut on Fox on February 6 for a 12-episode run as a Monday primetime offering. The show centers on a fictional charismatic Tony Stark-like tech billionaire named Gideon Reeves (Justin Kirk), who feels the (very real) sting of Chicago's violent crime epidemic when an innocuous convenience store stop results in the shooting death of his best friend. Thus, Gideon devises a plan to essentially buy a police precinct in the 13th District, turning it into his latest tech project, boosted with upgraded better-than-top-line equipment and vehicles, drones and an app that reinvents police response procedures. Partnered with street-smart police detective Theresa Murphy (Natalie Martinez), Gideon uses his tech to run roughshod on the Second City's criminal elements, while facing resentment from the city's bureaucratic establishment.
The series also co-starred Caitlin Stasey, Taylor Handley, Tamberla Perry, Abraham Benrubi and Ghostbusters veteran Ernie Hudson as the precinct's newly-minted, but old-school-abiding captain.
APB put an inventive spin on the police procedural genre, almost a hybrid of RoboCop's "corporation buys police force" trope and, as mentioned, an Iron Man Tony Stark-like tech genius character who, despite his boyish demeanor, is internally motivated by personal pain. However, the series never delivered in the ratings department, with its 6.101 million viewer pilot numbers steadily declining episode-to-episode until the April 24 Season 1 finale ended the run with 2.722 million viewers, appropriately, a series low. Thus, Fox's cancellation of APB probably won't send any shockwaves across the industry.
APB did have some potential beneath its technology-brandishing exterior and quasi-future aesthetics. Moreover, it was a series that was attempting to be an optimistic allegory standing contrast with the real crime epidemic in Chicago. However, it arrived with very little fanfare from the network and seemed to be dismissed as a tangential curiosity. Indeed, TV is a tough, unforgiving game.