News
A.P. Bio Sneak Peek: Jack Declares War On Old Brandon
In an exclusive sneak peak from Thursday's episode of A.P. Bio, "Rosemary's Boyfriend," Jack struggles with foes young and old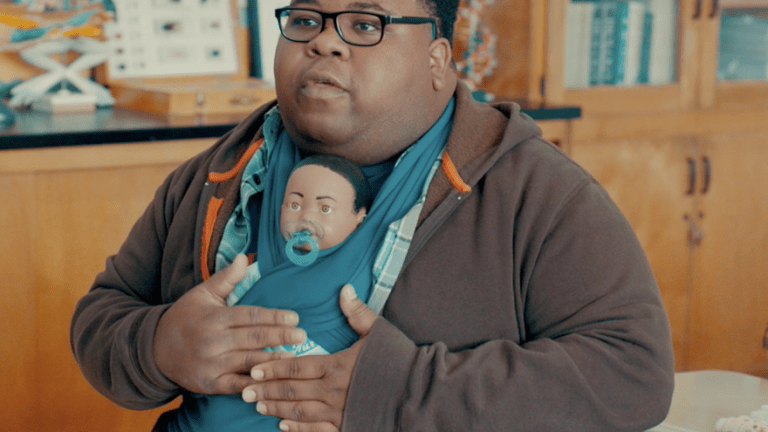 Disgraced philosophy professor turned Toledo high school teacher Jack Griffin (Glenn Howerton) has made a lot of enemies on NBC's A.P. Bio.
This week, however, it looks like he's going to make his oldest and youngest enemies yet. 
In this clip from this Thursday's episode "Rosemary's Boyfriend," Jack discovers his dearly departed mother made a new friend for him to clash with before she died, while the A.P. Bio kids have a room full of their own annoyances. 
"I had a very icky morning. Top ten ickiest of all time," Jack tells his class upon entering the room and telling them to shut up per tradition. "This old guy shows up to my door, unannounced looking to bang my dead mom. And worst of all his name was Brandon."
Jack Griffin does have a lot of strange and offensive idiosyncrasies but it is hard to argue with him that an elderly man named Brandon is rather unnerving.  Jack is so absorbed in concocting a plan to somehow defeat or humiliate "Old Brandon" that he doesn't even notice the strange scene before him.
Yes, all the A.P. Bio kids have received the classic high school assignment that seems to be incredibly popular in fictional high schools and nowhere else. They have fake babies to take care of. This will undoubtedly prove to be a challenging assignment for some like Sarika who appears to have her fake baby in a Vulcan death grip. Others, however, seem perfectly ready for parenthood like sweet Colin who just wishes he could bathe his baby. 
Hopefully Jack can help the kids with their assignments (probably not) and they can help him with his clearly unresolved issues towards his mother (also probably not).
"Rosemary's Boyfriend" airs this Thursday, April 5 at 8:30 p.m. ET.