News
A.P. Bio Season 3 Revived for NBCUniversal Streaming Service
NBC has uncanceled the Glenn Howerton-starring series A.P. Bio. Season 3 will air on the upcoming NBCUniversal streaming service.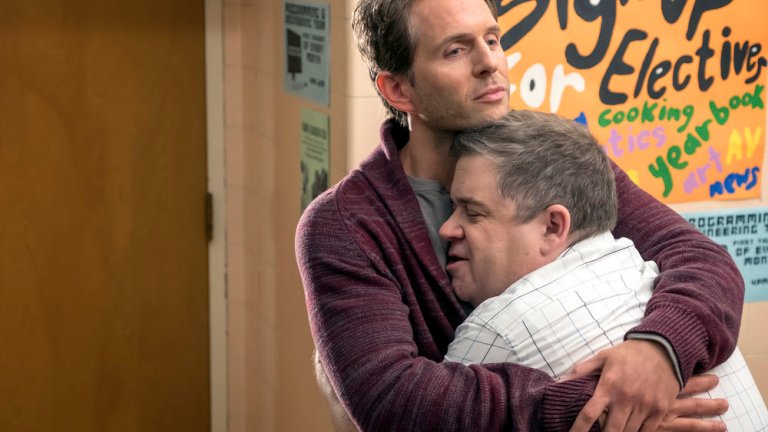 NBC canceled the Glenn Howerton and Patton Oswalt-starring comedy, A.P. Bio, after two seasons on its network. Now another network has swept in to rescue it: NBC again!
Well, sort of. According to The Hollywood Reporter, NBC will be reviving A.P. Bio for season 3 and will be moving it from NBC proper over to the upcoming NBCUniversal streaming app. A.P. Bio Season 3 will be the first scripted comedy currently in production for the NBCUniversal. Previously, the upcoming service has focused on reacquiring the streaming rights to some of its older content. Notably, the streaming app just cut a massive deal with Netflix to take over ownership of The Office.
further reading: A.P. Bio Season 2 Review
This deal marks the first time that a canceled TV show has been revived by a streaming service operated under the same corporate umbrella of its original network.
A.P. Bio was created by Mike O'Brien and is produced by SNL's Lorne Michaels. In his first major non-It's Always Sunny TV role, Glenn Howerton stars as disgraced Harvard professor Jack Griffin who is forced to move back to his hometown of Toledo, Ohio and teach AP Biology at Whitlock High School. Throughout two seasons A.P. Bio received some positive critical and fan attention. It also becamse a solid comedy ensemble piece including Patton Oswalt, Lyric Lewis, Jean Villepique, Mary Sohn, and a whole host of young actors. 
"I'm so overwhelmed by the outpouring of support from the fans," O'Brien said in a statement. "The cast and I are thrilled that we get to make more and I'm excited to work with the NBCU streaming platform."
Though never much of a success story in the traditional ratings metrics, A.P. Bio has proven to be a solid performer on digital platforms. The pilot, which premiered in February of 2018, scored only a 0.8 Nielsen rating. That number would rise to 5.6 after 100 days of delayed viewing. It's that kind of performance that likely convinced NBC to give A.P. Bio a second shot. Can't hurt to have a property that the higher-ups are familiar with when launching a new streaming service. Howerton and the rest of the cast's deals lapsed in June so new contracts will have to be renegotiated. Based on Howerton's Twitter commentary, that shouldn't be much of an issue.
The NBCUniversal streaming service will launch sometime in 2020 and will feature content from the NBCUniversal film and television archive. The only other original project announced thus far is Sam Esmail's Angelyn.
Alec Bojalad is TV Editor at Den of Geek and TCA member. Read more of his stuff here. Follow him at his creatively-named Twitter handle @alecbojalad