News
Another Life Season 2 Confirmed by Netflix
Netflix has ordered a second season of its Katee Sackhoff-led sci-fi series, Another Life.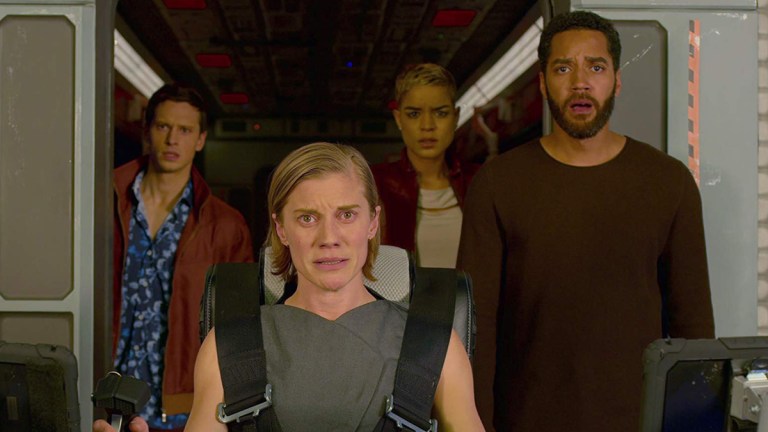 Another Life picked a title that proved somewhat prescient, thanks to the news that Netflix has given the series a… well, you know. Indeed, the second season of the streaming sci-fi series has been ordered, providing further interstellar adventures for mission leader Niko Breckinridge and her exploratory crew.
News of the renewal for Another Life Season 2 was confirmed by the show's star, Katee Sackhoff, with a social media video teaser that concluded with her delivered message. With that news set, Netflix's second season pickup will see the series return with another set of 10 episodes, akin to the first season.
The story of Another Life centers on the arrival of a mysterious, shiny, infinity-symbol-shaped monolith on Earth. The incident incites a space mission to find the source of the alien intelligence who created the artifact, led by Niko Breckinridge (Sackhoff). However, it soon becomes clear that Niko and company had no idea what awaited them in the terrifyingly vexing depths of space for what's increasingly looking like a one-way mission.
Another Life is primarily the brainchild of Aaron Martin (Slasher, Being Erica, Saving Hope, DeGrassi: The Next Generation), who serves as showrunner, executive producer and writer. The series is a production of Halfire Entertainment, which is represented by executive producer Noreen Halpern. The show's inaugural season saw star Sackhoff joined by an ensemble consisting of names like Justin Chatwin, Selma Blair, Samuel Anderson, Elizabeth Faith Ludlow, Jake Abel, Jessica Camacho, Alex Ozerov, Blu Hunt, A.J. Rivera, JayR Tinaco and Tyler Hoechlin.
Further Reading: The Challenge of Reviving Battlestar Galactica
Interestingly, the renewal of Another Life might be seen as surprising, especially considering the barrage of bad reviews with which the series was inundated (our own review was… let's just say not particularly kind). Yet, as with pretty much all Netflix offerings, the metrics remain a mystery, and, for all we know, the series was a substantial draw, despite the critics-crafted crucifixion of the inaugural season. It could be the case that the headlining presence of Battlestar Galactica alumna Katee Sackhoff, put back into a familiar space setting, was enough to bring in genre fans.
Another Life Season 2 Release Date
Another Life Season 2 doesn't have a release date yet. However, the sophomore frame is scheduled to commence production in Vancouver sometime in 2020.
Joseph Baxter is a contributor for Den of Geek and Syfy Wire. You can find his work here. Follow him on Twitter @josbaxter.