News
Animals Season 3 Release Date, Cast, News, Trailers
HBO's animated comedy Animals Season 3 starts with a bang, a nuclear bang. But the rats have a bong, so it's all right.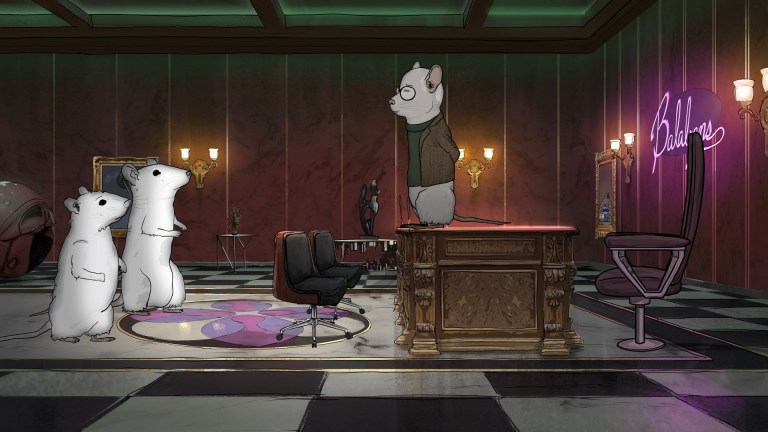 Animals Season 3 is scurrying its way back to HBO, HBO Now, and HBO Go. This time the rats are taking over.
Animals is an animated show created by Phil Matarese and Mike Luciano and is produced by Mark and Jay Duplass' aptly-named Duplass Brothers Productions. Like it's network brother High Maintenance, Animals is a series of loosely connected vignettes about the lives of New Yorkers. Unlike High Maintenance, however, those New Yorkers aren't people looking for weed but the oft-ignored animals of the five Burroughs…who are also usually looking for weed. 
 "Episode Twenty-One: Rats," takes place "Three years after the green bomb wiped out humans in New York, according to the official synopsis. "Phil and Mike traverse the city following a wild, drunken night, searching for a missing car and encountering multiple species and terrors along the way."
The series "focuses on the downtrodden creatures native to Earth's least-habitable environment: New York City. In its wide-ranging, wholly unique third season, the genre-bending series visits a humanless, post-apocalyptic Big Apple, blending live-action and animated segments, featuring the show's usual eclectic casting."
Matarese and Luciano executive produce, write and direct all of the episodes, and voice many of the characters on the show. The animation is done by Dan Harmon's Starburns Industries, which has also worked on Rick & Morty and Charlie Kaufman's stop-motion dramedy Anomalisa.
Animals Season 3 Trailer
You can watch the trailer here:
Animals Season 3 Release Date
Animals Season 3 will debut at 11:30 p.m. ET on Friday, August 3. The show will be available on HBO and also HBO Now and HBO Go upon premiere. The season is 10 episodes. 
Animals Season 3 Cast
Since Animals is an animated show based in New York, it appears to have a pretty easy time nabbing some major comedy guest stars for quick voice work. Previous seasons of the show have relied on guest stars and Animals Season 3 appears to be no different. Here is an astonishingly thorough list of the actors and comedians who will lend their voices to Animals Season 3, per HBO release:
Awkwafina, Bob Balaban, Tom Bergeron, Kate Berlant, Bonnie 'Prince' Billy, Neil Casey, Marcia Clark, Dinosaur, Jr., Steve Dildarian, Edie Falco, Jon Gabrus, David Harbour, Jared Harris, Mary Holland, Jameela Jamil, Marianne Jean-Baptiste, Jane Kaczmarek, Lucy Liu, Carol Kane, Johnny Knoxville, Lauren Lapkus, John Leguizamo, Donna Lewis, Natasha Lyonne, Anthony Mackie, Tatiana Maslany, Demi Moore, Moby, Tracy Morgan, John Mulaney, Princess Nokia, Aperna Nancherla, Tom Noonan, Soledad O'Brien, Cheri Oteri, Randall Park, Mel Rodriguez, Spencer Rothbell, Paul Rust, Amanda Seales, Michael Sheen, Aisha Tyler, Jacob Tremblay, Joe Wengert and many more.