News
Animals Season 3 Confirmed By HBO
HBO's celebrity-strewn adult satire animation series Animals has been renewed for Season 3.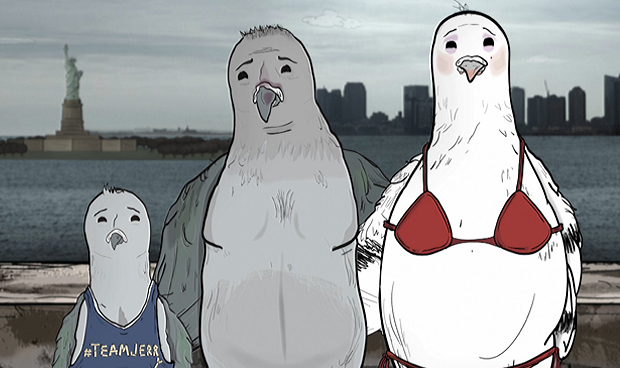 HBO animated anthology series Animals won't need to worry about the fate of its titular downtrodden anthropomorphic interlocutors. On the cusp of the airing of the series' May 19 second season finale, the premium cable outlet issued a quick renewal for Season 3.
Animals debuted in February 2016 as somewhat of an avant-garde offering, with each entry showcasing the bottom-feeding side of New York City with typically ignored life forms such as pigeons, cats, dogs, mice, cockroaches and many more. The episodes usually center on a small group of said animals engaging in seemingly innocuous banter, often containing underlying existential or sexual layers. The dialogue comes across as witty and sophisticated, typically culminating with a twist. The imminently concluding Season 2 has held steady ratings-wise, averaging 0.242 million viewers, representing only a small drop from its previous highs.
The series has become quite the draw for celebrities to lend their voices for one-off episodes. Names from a broad range of the entertainment industry such as Jessica Chastain, Jonah Hill, Emilia Clarke, Jason Alexander, Cobie Smulders, Michael Rapaport, Kim Gordon, Big Boi, RuPaul Charles, Nick Kroll, Ice-T, Chelsea Peretti, Adam Scott, Judy Greer, Rachael Ray, Rob Corddry, Aziz Ansari, Ellie Kemper, Marc Maron represent just a fraction of the notable guest stars who have lent voices to the HBO series.
Animals is the creation of executive producers Phil Matarese and Mike Luciano. They were joined by executive producers (also actors and guest-voicers,) Mark and Jay Duplass of Duplass Brother Productions. The result has been an intriguing and advantageously low-maintenance platform on which celebrities can do quick drop-ins for a day's worth of voice acting. The animation itself originates from Dan Harmon's Sunburn Industries, which also notably produces the beloved irreverent time-travel spoof series Rick & Morty.
Animals airs its Season 2 finale on HBO on Friday, May 19 (today).