News
American Gods Season 2 Release Date, Episode Guide, Trailer, Cast, Story Details, and News
American Gods Season 2 is airing now, with some fresh faces behind the scenes and in front of the camera.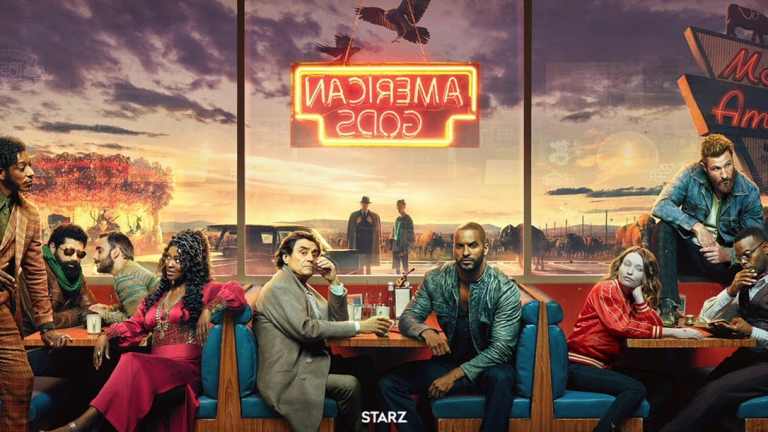 American Gods Season 2 Episodes
American Gods Season 2 Episode 1: "House on the Rock"
Following the epic showdown at Easter's party, Mr. Wednesday continues his quest to pitch the case for war to the Old Gods; Mr. World plans revenge; Technical Boy goes on the hunt for Media.
air date: 3/10/19
Read our review of "House on the Rock" here.
American Gods Season 2 Episode 2: "The Beguiling Man"
Promising vengeance for the death of a beloved old god, Mr. Wednesday begins preparation for a great battle; Laura and Mad Sweeney chase Shadow's diminishing light after he disappears.
air date: 3/17/19
We talked to Ricky Whittle about exploring Shadow's "Coming to America" story.
American Gods Season 2 Episode 3: "Muninn"
As he is tracked by Mr. World, Shadow makes his way to Cairo, thanks to a ride from Sam Black Crow; Mr. Wednesday slyly gains Laura's help in forging an alliance with a powerful god.
air date: 3/24/19
Read our review of "Muninn" here.
American Gods Season 2 Episode 4: "The Greatest Story Ever Told"
While Shadow and Mr. Wednesday take a secret meeting in St. Louis, Bilquis arrives at the funeral home in Cairo, where she engages in a debate with Mr. Nancy and Mr. Ibis; Laura rejoins Mad Sweeney.
air date: 3/31/19
Read our review of "The Greatest Story Ever Told" here.
American Gods Season 2 Episode 5: "The Ways of the Dead"
Steeped in Cairo's history, Shadow learns the ways of the dead with the help of Mr. Ibis and Mr. Nancy; in New Orleans, Mad Sweeney introduces Laura to old friends who share their world of voodoo healing.
air date: 4/7/19
Read our review of "The Ways of the Dead" here.
American Gods Season 2 Episode 6: "Donar the Great"
Shadow and Mr. Wednesday seek out Dvalin to repair the Gungnir spear. But before the dwarf is able to etch the runes of war, he requires a powerful artifact in exchange.
air date: 4/14/19
air date: 4/28/19
American Gods Season 2 Release Date
American Gods Season 2 premiered on Sunday, March 10th, 2019 at 8 p.m. ET on Starz.
Check out the gorgeous art for the second season…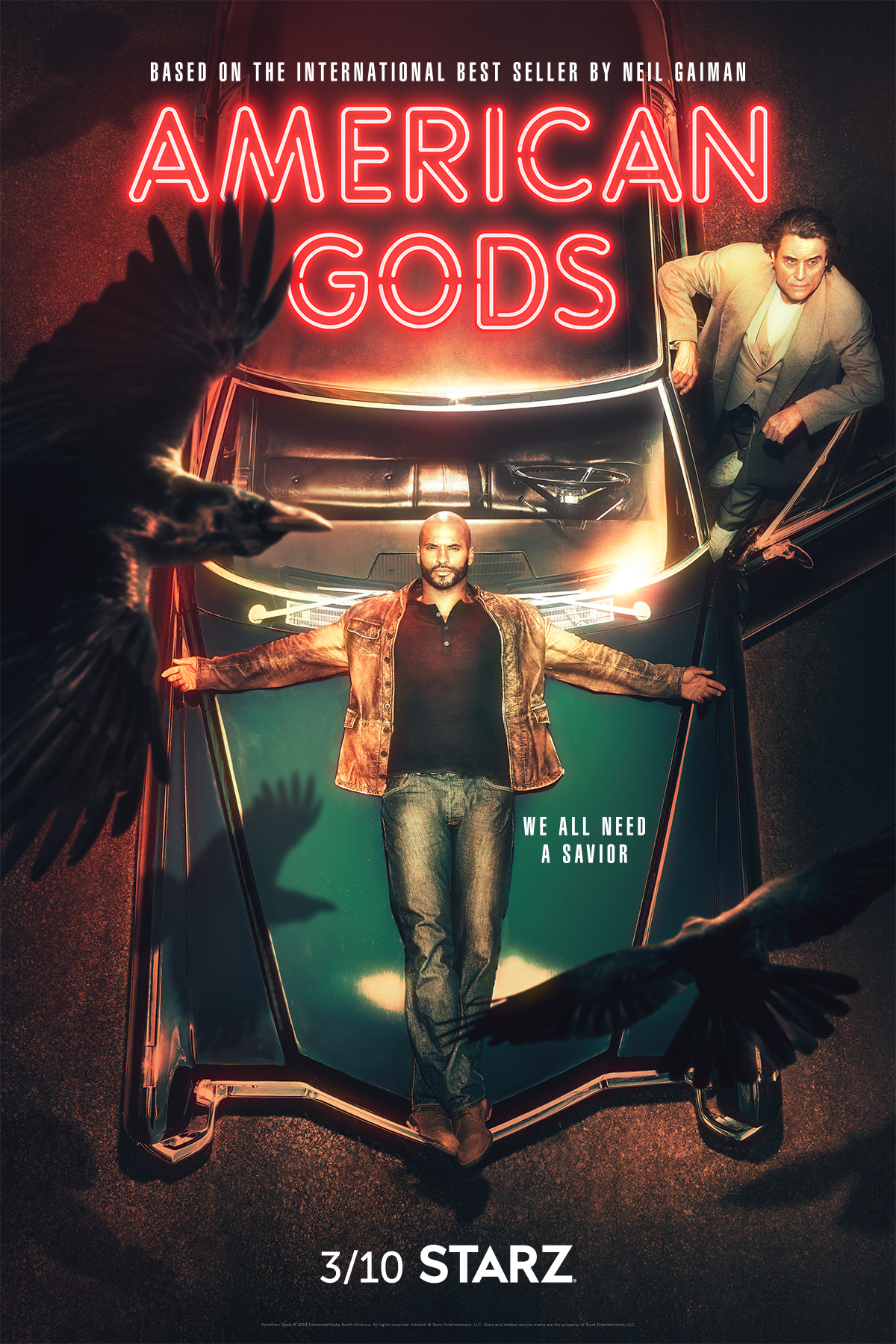 There's also these pretty sweet moving posters…
Here are a couple more, courtesy of Den of Geek (hey, that's us!)
read more: American Gods Season 2 — Meet the New Gods
American Gods Season 2 Trailer
While there was some serious unrest behind the scenes of American Gods' second season, the finished product looks gorgeous.
The latest trailer for Season 2! It has a special focus on our friends (or are they???) the Old Gods…
Here's the season's second trailer, which is pretty epic. Honestly, this looks like a trailer for season one of a show which is probably the idea.
The first full and proper American Gods Season 2 trailer has arrived, showcasing a devastating deluge of deities.
You can check out some of the older previews below:
Starz released this behind-the-scenes video featuring Neil Gaiman teasing the start of production.
Here's a Wednesday-centric celebration of the first season.
American Gods Season 2 Cast
Showrunners Fuller and Green didn't return for American Gods Season 2. Gillian Anderson has also bowed out as Media, with Kristen Chenoweth (Easter) also not returning without Fuller and Green (who were allegedly fired during pre-production).
Jesse Alexander took over showrunning duties with American Gods creator, Neil Gaiman, however, Alexander was later asked to step down. Still, American Gods hopes to move past the behind-the-scenes drama and present a Season 2 that will delight book and first season fans alike. 
Dean Winters will play Mr. Town, described as "a strong believer in progress, Mr. Town is tasked by Mr. World (Crispin Glover) to find out what Shadow (Ricky Whittle) knows about Mr. Wednesday's (Ian McShane) plan. His brutal efficiency and technique just may get him the answers to his curious questions."
Further reading: Good Omens TV Show — Everything We Know
Devery Jacobs will play Sam Black Crow, "a college student, is spiritually cynical for someone who claims to believe in so much. She lives life with fierce confidence and openness, selling the chainsaw art she carves by the roadside for extra money."
Kayhun Kim will replace Gillian Anderson, although in clever fashion, not just as Media, but as New Media, "the goddess of global content — and in this age, a cyberspace chameleon, who is also a master of manipulation."
In recent news, Timeless' Sakina Jaffrey has joined the American Gods cast as Mama-Ji, a waitress at the Motel America who also happens to be the Hindu goddess of war. "With her necklace of skulls, acerbic wit and free spirit, she's a match for any mighty god or man," reads the description via Deadline.
Here is the cast who definitely will be returning for Season 2: Ricky Whittle as Shadow Moon, Ian McShane as Mr. Wednesday, Emily Browning as Laura Moon, Pablo Schreiber as Mad Sweeney, Orlando Jones as Mr. Nancy, Yetide Badaki as Bilquis, Bruce Langley as Technical Boy, Crispin Glover as Mr. World, Cloris Leachman as Zorya Vechernyaya, Peter Stormare as Czernobog, Mousa Kraish as The Jinn, Omid Abtahi as Salim, Chris Obi as Anubis, and Demore Barnes as Mr. Ibis.
American Gods Season 2 Story
Starz President Carmi Zlotnik revealed at the TCA summer tour that the first few episodes of American Gods Season 2 are finished and the network is impressed with them. That's obviously a fairly biased source but the network did provide the official logline for season two and it sounds intriguing enough.
"The battle between Old Gods and New Gods continues to brew as we join Mr. Wednesday (Ian McShane) just a few short hours after his declaration of war and the epic showdown that ensued at Easter's party. While Mr. World plans revenge for Wednesday's attack and Technical Boy searches for Media, Mr. Wednesday continues his quest to pitch the case for war to the Old Gods with Shadow (Ricky Whittle). Laura and Mad Sweeney in tow, Shadow begins to understand this strange world of the gods and carve out a place in it as a believer, but it is far from a straight path. Change requires sacrifice, and when things don't go as planned at the House on the Rock, both Old and New Gods, and those they meet along the way, find themselves on journeys across America — all destined for a climactic showdown in Cairo, Illinois."