News
American Gods: Is Shadow Moon the King of America?
Repeated references to the King of America occur in the first season. Are they a hint for American Gods Season 2?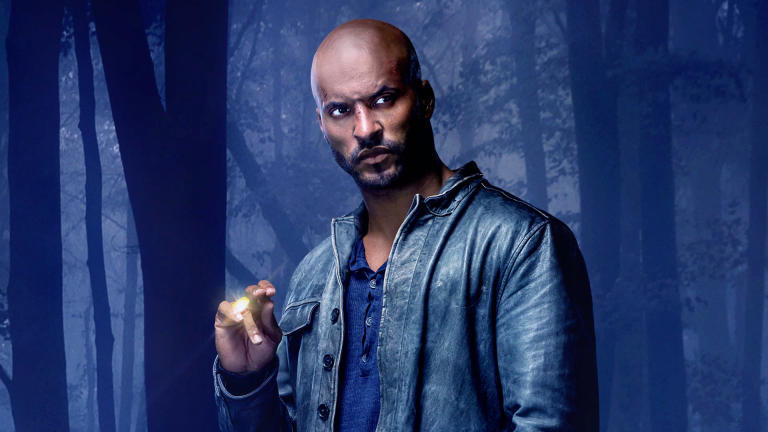 This article comes from Den of Geek UK.
Warning: This article contains major spoilers for American Gods Season 1.
It took American Gods eight episodes of sinister dreams, unfathomable encounters with faceless lynch mobs, ancient fortune tellers and every incarnation of Jesus you'd care to name, for Shadow Moon to finally accept that he was living in a world of gods.
To those gods, Shadow is a person of interest. The old deities and the new either want him on their side in the coming war, or want him out of the picture. Mr Wednesday took the precaution of destroying Shadow's life (having him sent to prison and ordering his wife's murder) just so he could hire him when the time was right. Technical Boy ordered Shadow's own murder, and would have succeeded had Shadow's undead wife Laura not rescued him from the noose.
read more: American Gods Season 1 Recap
Goddess of the spring Ostara called Shadow "the boy that has everyone so upset." Why? Without spoilers for the Neil Gaiman novel, could Shadow's significance already have been teased in Season 1?
When Wednesday (Norse god Odin) offers Shadow the job of bodyguard in episode one "The Bone Orchard," he suggests, "Hell, by the end of your tenure, you could be the next king of America."
Fast-forward to episode five, when leprechaun Mad Sweeney tries to retrieve his enchanted gold coin from the resurrected Laura Moon, and realizes that, as Shadow gave it to her freely, he can't simply take it back.
American Gods Season 2 Will Expand Mad Sweeney's Backstory
"Damn his dark eyes," says Mad Sweeney, "Gave it a-fucking-way. Wasn't his to give! I gave him the wrong coin. Wasn't meant to be that coin. That's for royalty, see? That's a coin you'd give to the King of America himself, not some piss-ant bastard like your piece-of-shit husband."
Later, in the almost entirely told in flashback "A Prayer For Mad Sweeney," Irishwoman Essie (an ancestor of Laura's) meets Mad Sweeney in a jail cell where they discuss going to the New World.
"The fuck would I do in the Americas?" Mad Sweeney asks Essie, who tells him, "Deliver gold to their king."
read more: Neil Gaiman Has Plans For At Least Five Seasons of American Gods
"They don't have a king," says Mad Sweeney. "Not yet," agrees Essie. "Everyone needs a king."
Whatever the significance of "the King of America" turns out to be to American Gods, all these breadcrumbs seem to be pointing to Shadow.
American Gods Season 2 arrives on Starz on the 11th of March.