News
American Dad To Air 31 Episodes in 2019
The cast and crew of one of the most popular animated series hit NYCC to talk the future of American Dad and hitting new milestones.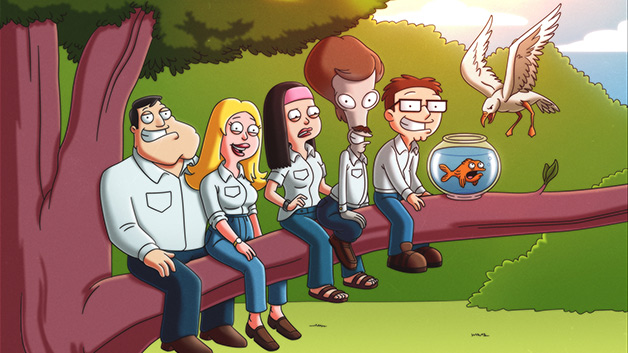 American Dad is a series that never backs away from a challenge, but it's quickly starting to look like the newest episodes from Seth MacFarlane's animated series could make for some of the series' most memorable entries of all time. It's not easy to remain hilarious—or relevant—for over a dozen years, yet this show finds a balance that keeps it afloat. However, with such a storied history behind it, the big question then becomes what's next for this animated juggernaut?
American Dad has quietly been making a name for itself as one of TBS' top performing animated series. The show has even helped anchor a respectable line-up of adult animated programs on the network. It may be a little surreal to see a network like TBS fully support American Dad when the series faced a largely uphill struggle when it was back at Fox with Seth MacFarlane's Family Guy. However, the network has renewed the series for two additional seasons, which is a watershed moment that will include the series' 250th and 300th episodes. 
To speak to this, executive producer, Jordan Blum, made the announcement that the final nine episodes from the current season will air on January 28th, and then will immediately be followed by the 22 episodes of the next season. It'll essentially feel like one big season of 31 episodes. Certain highlights from the year will include Roger adopting a shark persona, Stan and Steve magically swapping eyebrows, and Hayley finally graduating after fourteen years at Groff Community College.
On the topic of pivotal episodes, Blum and company revealed that the upcoming 250th installment would see Roger's health decline from a nasty tumor that results in Stan needing to step in and revisit many of Roger's old personae in his absence. Oh, and Roger's tumor will also grow limbs, become sentient, and join the cast as Roger's son. Yep, the Smith family is getting bigger in some terrifically weird ways. And for those eager for the next chapter in the Golden Turd saga, the bizarre running joke willreceive resolution. You may just need to wait until the series' 300th episode (or later) to get it.
A consistent source of joy through American Dad's run has been the unconventional musical segments that crop up in episodes as well as the risks that the show will take with things like structure. Expect more gambles like this throughout the show's new episodes, like an homage to Charlie and the Chocolate Factory that sends Jeff to a magical weed factory. The episode, which will largely be a musical installment, will also feature Snoop Dogg as the show's de facto Willy Wonka, Tommy Toast. We're already excited.
While it sounds like the next few seasons of American Dad will feature plenty of surprises and pivotal moments in character development, Blum and company are just happy that the show still has such life in it and that the fans continue to hunger for more. This animated series operates with such ambition, drive, and has so clearly hit its second wind that it wouldn't be surprising if American Dad not only outlives Family Guy, but The Simpsons, too.
January 28thcan't come soon enough!
Daniel Kurland is a published writer, comedian, and critic whose work can be read on Den of Geek, Vulture, Bloody Disgusting, and ScreenRant. Daniel knows that the owls are not what they seem, that Psycho II is better than the original, and he's always game to discuss Space Dandy. His perma-neurotic thought process can be followed at @DanielKurlansky.
Read and download the Den of Geek NYCC 2018 Special Edition Magazine right here!