News
American Crime Story Katrina Casts Sarah Paulson, Changes Story
American Crime Story's delay-plagued third season will now focus on medical professionals during the devastation of Hurricane Katrina.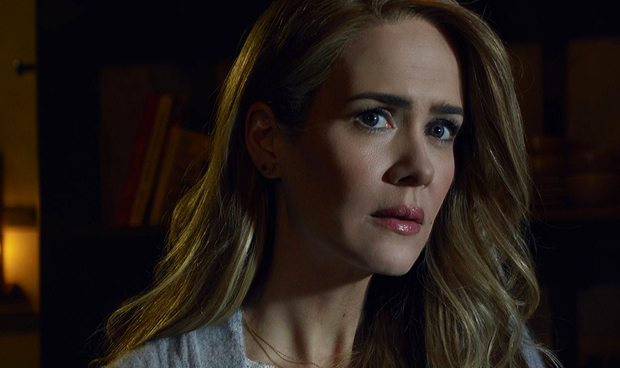 Katrina: American Crime Story, will see Ryan Murphy's anthology series take on the tragedy of 2005's Hurricane Katrina, differing tonally and thematically from its The People v. O.J. Simpson season. While it was previously going to focus on the aftermath of the storm, specifically on the slow federal relief response, as well as the crimes that took place with impunity during the chaos, the anthology entry has shifted its focus towards embattled medical professionals who, in the immediate aftermath of the storm, have to make tough choices.
Katrina: American Crime Story Latest News
Sarah Paulson, joins Katrina: American Crime Story, taking the topline spot in the delay-plagued anthology entry, reports Deadline. However, the safe-bet acquisition of the recurrent Ryan Murphy project cast member is only the outer structure of a proverbial hurricane that has completely upended this ACS attempt, since the entire story itself will go back to drawing board, leaving the previously-announced cast without characters!
Katrina: American Crime Story's transformation will take shape with a new script based on new source material, specifically the 2013 book Five Days at Memorial by Sheri Fink (who will reportedly be involved with the series). The story centers on the medical staff at the New Orleans Memorial Medical Center during the horrific hurricane of 2005, who, overwhelmed with victims of the calamity, were forced to make tough choices, necessarily deciding whose injuries would be helped by treatment while hastening the deaths of those beyond their help with drugs. One of the story's central characters is Dr. Anna Pou, who will be played by Sarah Paulson in the restructured version of the anthology entry.
Of course, this hospital setting essentially upends Katrina: American Crime Story's previous working story, which was to have Annette Bening headline as then-Louisiana Governor Kathleen Blanco, joined by names such as Matthew Broderick, Cuba Gooding Jr., Courtney B. Vance, Dennis Quaid. Indeed, as predicted, the previously reported delays didn't just put their roles in jeopardy, it has eliminated them altogether. Whether the cast will stay with Katrina remains to be seen. However, it's realistic to expect that most, if not, all, will exit the project.
While all of this may sound like a monumental mess, FX Networks CEO John Landgraf, speaking at the Television Critics Association press tour, provided some assurance, stating of the embattled Katrina, "I'm confident it will air," adding that Ryan Murphy has a "great idea for a pilot" and "now it's in really good shape."
Read and download the full Den of Geek Special Edition magazine here!
Katrina: American Crime Story Delay
Katrina: American Crime Story will be subject to a major scheduling shift from FX and creator Ryan Murphy. While this anthology iteration – once designated the second season – was originally scheduled to film in spring of 2017 and premiere later in the year, necessary changes will now see it bumped into becoming the third season. Katrina will shift its production into early 2018, with a premiere now slated for later in 2018.
The delay to Katrina, which essentially shelves American Crime Story for the remainder of 2017, also means that the 2018-scheduled, deep-into-production Versace: American Crime Story – previously scheduled to air months after would-be Season 2 Katrina – will now serve as the proper Season 2.  
American Crime Story: Katrina had been subject to logistical delays for several months and, back at the January Television Critics Association winter press tour, FX President John Landgraf explained the state of beleaguered production, stating (via TVLine), "It's just taken us time, frankly, to get material we're happy with [for Katrina]. Landgraf also attributed the obstacles affecting the serial chronicle about the failed bureaucratic response to Hurricane Katrina to – poetically enough – the hurricane season, which limited insurance options.
This major shift in the Katrina production schedule also raises concerns about the prospective availability of the corralled cast, headlined by Annette Bening, which has no shortage of big names such as Matthew Broderick, Cuba Gooding Jr., Courtney B. Vance, Dennis Quaid and, par for the course of a Ryan Murphy "American" series, Sarah Paulson.
Katrina: American Crime Story Cast
In the previous iteration of the script, Annette Bening was going to portray Kathleen Blanco, the Governor of Louisiana during and after the devastation of Hurricane Katrina. Blanco was the first woman to be elected governor of Louisiana and spent much of her first and only term working to rebuild New Orleans and the surrounding area after Hurricane Katrina. Bening has been nominated an Emmy Award and four Academy Awards over her distinguished career and is best known for her turns in American Beauty, 20th Century Women and The Kids Are Alright.
Matthew Broderick, Cuba Gooding Jr., Courtney B. Vance, Dennis Quaid were previously attached and John Travolta was also rumored to appear. However, after the delays and the complete story turnover, it will be interesting to see who sticks around.
Katrina: American Crime Story Plot
Note: These plot details pertain to the previous working version of the story.
Ryan Murphy, who created the show as well as the anthology series American Horror Story and Scream Queens, talked with The Hollywood Reporter about how season two will mix things up as it tackles the national disaster Hurricane Katrina.
"We're not interested in doing a trial-of-the-week or murder-of-the-month; we're interested in tackling crimes and events that have some sort of social importance," Murphy told THR. "That's why we're interested in Katrina, and we've been researching it quite heavily for a year before we're even writing it.
The scope of the series will also be vast, but Murphy says that doesn't mean it won't be intimate.
"I think it's going to be between 13 and 15 episodes, so it's very big — and every episode has a theme, like O.J. did," Murphy explained. "You follow a cast of characters from before the storm hits to its aftermath, and we're spending a lot of time, energy and resources on it."
Katrina: American Horror Story won't have the same soap opera dynamics that played out in the freshman season. Most of the players weren't big names as the devastation affected a portion of the population who don't get the same kind of screen time. Many of these people are still putting their lives back together.
"Well, it's an amazing tragedy you cannot believe happened in America, but along with the overwhelming sadness of what happened to New Orleans and its people you have amazing stories of survival," Murphy said.
"You have the best of people and the worst of people, and we're laying into questions like, What do you do when you're in a city and your government has abandoned you? How do you live? How do you get out? And you get out by climbing up and pulling up people with you, and to a large degree that's what the miniseries is about. It's not just what happened but heroic stories about people surviving — or, in some cases, dying helping others. So it's upsetting, but it's also uplifting."
American Crime Story, the FX anthology, kicked off its first season with one of the great trials of the Twentieth Century, the O.J. Simpson trial that caught the attention of the nation from the moment the white Ford Bronco took off on a medium-speed chase on every news channel. American Crime Story: The People v. O.J. Simpson starred the ensemble cast Cuba Gooding, Jr. as the football Hall of Famer whose gloves didn't fit, Sarah Paulson as prosecuting attorney Marcia Clark, David Schwimmer as Robert Kardashian, John Travolta as Robert Shapiro, Courtney B. Vance as Johnnie Cochran and Nathan Lane as world class attorney F. Lee Bailey. The series received 22 Emmy nominations from a canvass of luminaries.
Katrina: American Crime Story Premiere Date
Katrina: American Crime Story is expected to go into production in early 2018, with a premiere ostensibly set for later that year.
This article is a news hub for Katrina: American Crime Story and will be updated as new information becomes available.