News
AMC Gives Series Order to Kevin Can F**K Himself
The new single-camera/multi-camera hybrid dramedy is ordered to series alongside courtroom drama 61st Street.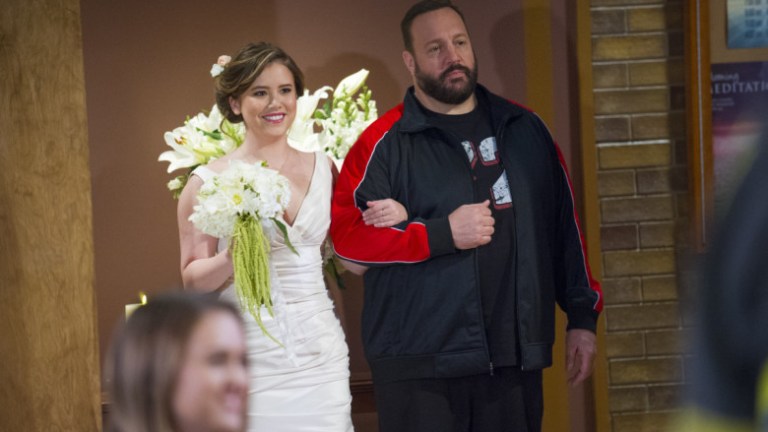 Despite making a splash with its first two original series offerings, Breaking Bad and Mad Men, two of the most highly praised series of the past 20 years, and giving the world The Walking Dead, a ratings and cultural phenomenon, AMC has struggled to regain the pop culture foothold they had in the premium cable space just five years ago. It's not for a lack of trying; series like Better Call Saul and Lodge 49 have loyal followings and critical acclaim, but elude the sort of water-cooler ubiquity of the AMC hits of yesteryear.
Perhaps a convention-breaking, single-camera/multi-camera hybrid dramedy with an attention-grabbing title can help the network regain the attention of lapsed viewers. AMC has ordered the hour-long dramedy Kevin Can F**k Himself, which looks to humanize and give color to one of the sitcom genre's most underserved roles, the sitcom mom.
The title seems to be a play on the Kevin James-led CBS comedy Kevin Can Wait and other sitcoms of its ilk, where a schlubby, incompetent man-child somehow has landed a smoking hot, loving, intelligent wife, despite his clear shortcomings as a partner. That latest Kevin James comedy went even further with that tired cliche, infamously writing off Erinn Hayes, who played Kevin's wife Donna, killing her off-screen and treating it as a joke just so the network could reunite James with old co-star Leah Remini. Clearly the disrespect shown to female characters in these sort of series had gone far enough. Created by Valerie Armstrong (Lodge 49, SEAL Team), the show is described as an exploration of the sitcom wife, probing what her sitcom world looks like through her eyes, and imagining what happens when she forces the world to allow her to take the lead.
As stated above, the series will alternate between single-camera realism and a traditional multi-camera comedy, bouncing back and forth between the wife and the audience's perspective. Armstrong will also serve as an executive producer alongside Rashida Jones and Will McCormack, and showrunner Craig DiGregorio (Shrill). Toying with sitcom conventions is a risky proposition, but when it pays off, in the case of shows like The Good Place, it can be deeply satisfying. To be even more meta, we hope they cast Erinn Hayes in the lead role.
In other AMC news, the network has also ordered 61st Street, a "television event" which will be comprised of two eight-episode seasons. Pitched as a courtroom drama, the series centers on Moses Johnson, a promising, black high school athlete, who gets accused of being a supposed gang member and proceeds to be caught up in case involving a fallen police officer and a drug bust gone wrong. Unfortunately, Johnson finds himself entrenched in the infamously corrupt Chicago criminal justice system. BAFTA winner Peter Moffat (Criminal Justice) will serves as showrunner and executive producer, alongside Michael B. Jordan (Creed) and Alana Mayo.
Nick Harley is a tortured Cleveland sports fan, thinks Douglas Sirk would have made a killer Batman movie, Spider-Man should be a big-budget HBO series, and Wes Anderson and Paul Thomas Anderson should direct a script written by one another. For more thoughts like these, read Nick's work here at Den of Geek or follow him on Twitter.