News
Good Omens: New Trailer Arrives
The full-length Good Omens trailer is finally here! Plus, we've compiled everything else you need to know about the show...
Good Omens, a collaborative novel written by British authors Neil Gaiman and Terry Pratchett, will be coming to the small screen on Amazon's streaming service with a six-episode order in 2018 from BBC Studios. Telling the story of an approaching judgment day, the series includes prophecies, angels, demons, and more with the humor and modern twist Pratchett and Gaiman are known for.
Further reading: Terry Pratchett's Influence on the Good Omens TV Show
The series will center on the contrasting duo of David Tennant as the hedonistic demon, Crowley, with Michael Sheen as his stuffy angelic cohort, Aziraphale.
Good Omens Trailer
At last, the full-length Good Omens trailer has arrived! Watch it below:
The NYCC 2018 trailer (seen immediately below,) for Amazon's Good Omens welcomes us to the end times. The infamous irreverent and dry humor of the book is on full display in this glorious preview for what is shaping up to be one of Amazon's most fascinating original series yet. Check it out!
What we have below isn't a trailer per se but the actual opening credits for Good Omens. That's in many ways preferable to a trailer anyway, right?
Good Omens Release Date
Good Omens will debut on Amazon Prime on May 31. That should start the summer off right. Here's the poster.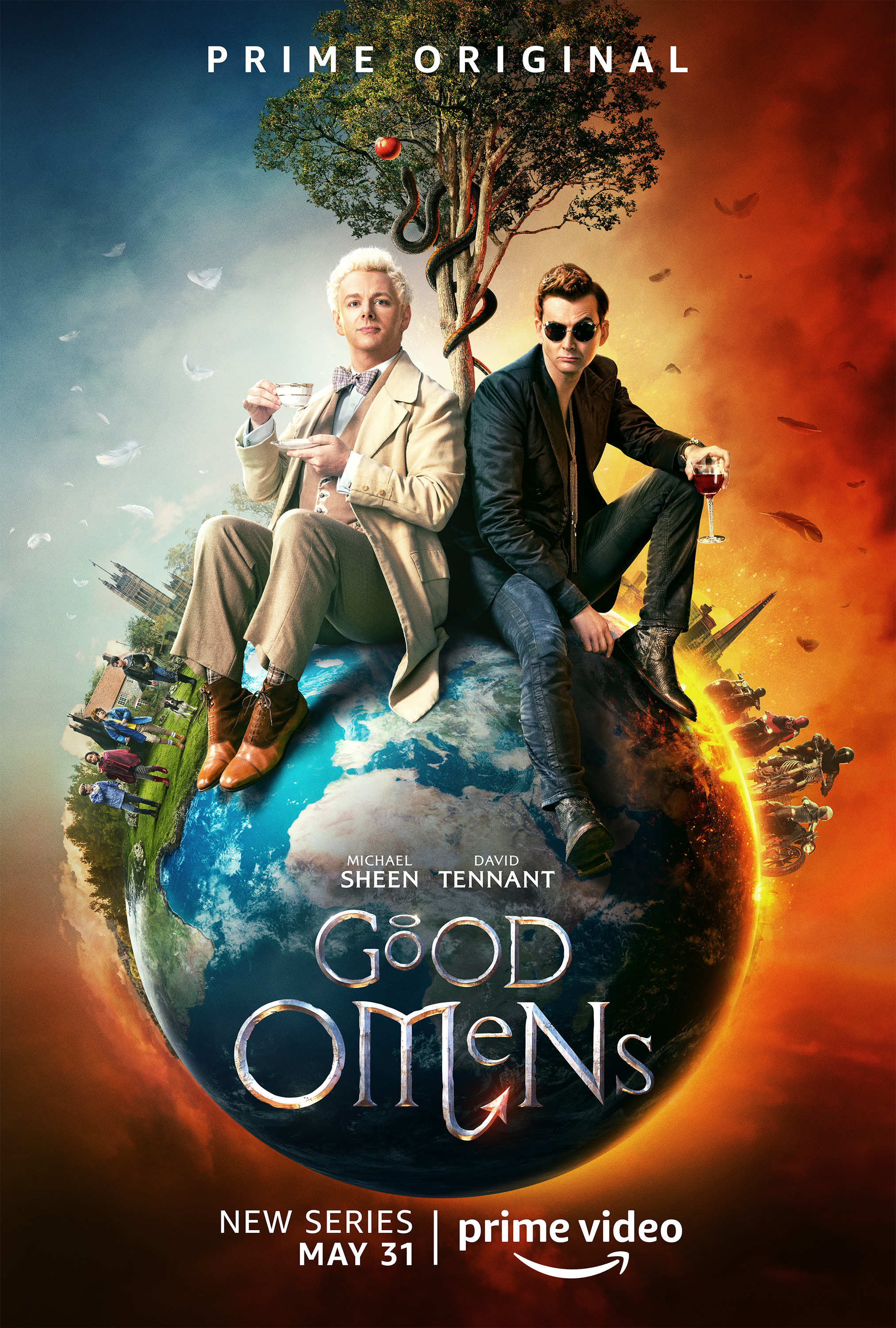 Good Omens Cast
Good Omens has found the voice of Death! – That may have sounded ominous, but it's actually good news. Brian Cox has been tapped to provide the voice of Death himself, as Neil Gaiman confirms with a tweet containing a first look at the character, also teasing a new trailer.
Good Omens required someone to play God. So naturally, the show went for the absolute most obvious choice – the only choice: Frances McDormand. 
Co-author Neil Gaiman made the announcement at San Diego Comic-Con and even had McDormand present to use her heavenly presence to command that he not play any footage. The Fargo and Three Billboards Outside Ebbing, Missouri star was built for this.
Further reading: The Distinctive Direction of the Good Omens TV Show
David Morrissey has been revealed as a late-production Good Omens cast addition. As revealed by director Douglas Mackinnon, the English actor and former villainous Governor of The Walking Dead is set to play Captain Vincent, who runs pleasure cruiser Morbilli.
Derek Jacobi will play the celestial scribe of God himself, Metatron. An archangel who appears in various ancient Rabbinic texts, genre fans may know Metatron best as portrayed by Curtis Armstrong in a recurring TV run on Supernatural. However, on the satire-heavy Good Omens, Jacobi's version will manifest more like God's presidential spokesperson. As Jacobi is quoted in Gaiman's tweet, "It's not every day you get to play the Voice of God."
Reece Shearsmith (Inside No. 9) will be joining the cast as the Bard himself, William Shakespeare, according to a tweet from author, Neil Gaiman.
The roles of Beelzebub and the Four Horsemen of the Apocalypse have been cast. Anna Maxwell-Martin (The Frankenstein Chronicles) will play the demon Beelzebub, and all of the horsemen but Death will be represented by actors. Mireille Enos (The Killing) will portray War, Lourdes Faberes (Doctors) will be Pollution, and Yusuf Gatewood (The Originals) will play Famine.
John Hamm, of Mad Men fame, will play archangel Gabriel, the primary messenger of God. Although Gabriel is not a major player in the original novel, showrunner, and author Neil Gaiman explains:
"Once we had finished writing Good Omens, back in the dawn of prehistory, Terry Pratchett and I started plotting a sequel. There would have been a lot of angels in the sequel. When Good Omens was first published and was snapped up for the first time by Hollywood, Terry and I took joy in introducing our angels into the plot of a movie that was never made. So when, almost thirty years later, I started writing Good Omens for TV, one thing I knew was that our angels would have to be in there.

The leader of these angels is Gabriel. He is everything that Aziraphale isn't: he's tall, good-looking, charismatic and impeccably dressed. We were fortunate that Jon Hamm was available, given that he is already all of these things without even having to act. We were even more fortunate that he's a fan of the books and a remarkable actor."
As for Gabriel himself, John Hamm says, "I read Good Omens almost twenty years ago.  I thought it was one of the funniest, coolest books I'd ever read. It was also, obviously, unfilmable. Two months ago Neil sent me the scripts, and I knew I had to be in it."
The first look at the main duo of Good Omens manifested with a dynamic-delivering photo, which, posted by Gaiman himself, kicked off the first day of shooting on September 18 in London. You can already sense the tension-teeming chemistry just by the way they're standing.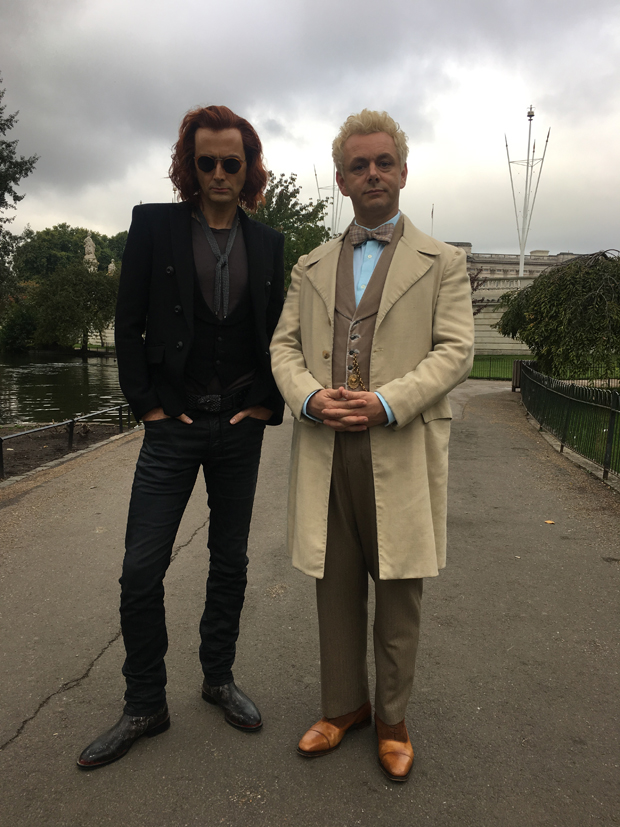 As Gaiman explains of the photo in a statement:
"People have fallen in love with an angel and a demon in a book by Terry Pratchett and me, and they have been excited and nervous to see how they would appear on screen – and I was probably the most nervous and excited of all. This is a first look. Michael Sheen is the best and finest of bookseller angels, David Tennant the coolest and most delightful of demons. Together they are one hell of a double act (or do I mean one made in Heaven?)"
Other additions to the cast include Michael McKean (Better Call Saul), Miranda Richardson (Rubicon), and Jack Whitehall (Inside No. 9). McKean will play Sergeant Shadwell, whose army is in pursuit of witches whereas Whitehall will play Newt, a witch-hunter by his side. Richardson will be portraying Madame Tracy a psychic who aids Shadwell and Newt as they try to prevent the coming end times.
Adria Arjona, star of Emerald City, will play "practical occultist" Anathema Device.
Good Omens Story
Per the official synopsis:
According to The Nice And Accurate Prophecies of Agnes Nutter, Witch, (the world's only completely accurate book of prophecies) the world will end on a Saturday. Next Saturday, in fact. Just before dinner. So the armies of Good and Evil are amassing, Atlantis is rising, tempers are flaring. Everything appears to be going according to Divine Plan. Except Aziraphale, a somewhat fussy angel, and Crowley, a fast-living demon – both of whom have lived among Earth's mortals since The Beginning and have grown rather fond of the lifestyle – are not actually looking forward to the coming war. And someone seems to have misplaced the Antichrist…
Good Omens tells the story of the approaching end times and follows characters who are either bent on avoiding the apocalypse or those who seek to bring about Armageddon. From the unlikely partnership between the angel and the demon played by Sheen and Tennant, who aren't keen on the coming apocalypse, to the hospital mix-up with the birth of the antichrist, the tale is both dark and hilarious. Touches of both Pratchett (the end is predicted by The Nice and Accurate Prophecies of Agnes Nutter, Witch) and Gaiman (the harbingers of doom are the very modern Four Horsepeople of the Apocalypse) abound.
"Almost 30 years ago," explains Gaiman, "Terry Pratchett and I wrote the funniest novel we could about the end of the world, populated with angels and demons, not to mention an 11-year-old Antichrist… It became many people's favorite book. Three decades later, it's going to make it to the screen. I can't think of anyone we'd rather make it with than BBC Studios, and I just wish Sir Terry were alive to see it."
Gaiman will produce Good Omens along with Caroline Skinner (Doctor Who), Chris Sussman (Fleabag), Rob Wilkins (Choosing to Die), and Rod Brown (Going Postal), representing BBC Studios and Narrativia.