News
Amazon Fire TV Revealed: A Video-Streaming Android Mini-Console
At long last, the rumors are confirmed: Amazon is releasing an android-based console for your TV!
Amazon unveiled the new Fire TV, a video-streaming Android mini-console set-box. Think Amazon Fire tablet for your TV.
Hitting the market to compete with TV streaming heavyweights Apple TV, Roku, and Chromecast, Amazon Fire TV boasts the horsepower of the Fire tablet — a quad core CPU — that should handle Android games on your TV quite nicely. 
An Android console is not a new idea. In fact, there are several. The indie-developed Ouya console most famously failed to make a real impact in the gaming market after a lukewarm launch and continuing low sales. Of course, Amazon must have learned something from Ouya's mistakes — the less-than-stellar controller and the lack of big titles — as it enters the Android gaming jungle.
The Android gaming market is still pretty young and there isn't yet a model that has really exploited its potential. Perhaps the Amazon Fire TV will make all the difference.
There are more than 1,000 free titles available for the set-box, with paid ones averaging under $1.85 per title. Amazon is also making its own games for Fire TV, including a first-person shooter called Sev Zero. 
Oh, and there's also the inevitable presence of Minecraft, if that's your thing. Other companies developing content for the Amazon Fire TV include Ubisoft, 2K, Gameloft, EA, Sega, Telltale, and Double Fine.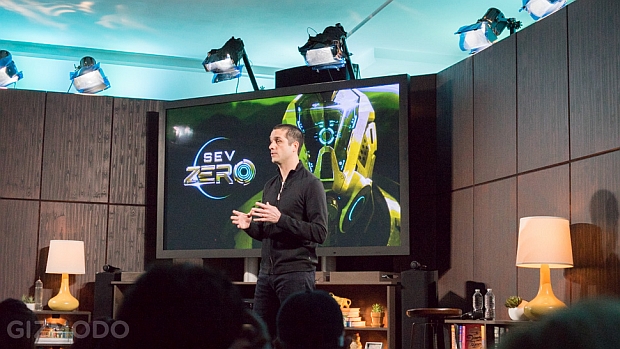 Fire TV is on sale for $99 and it ships today. The game controller will be sold separately for $40.
Amazon VP Peter Larson revealed the gaming element of Fire TV as a bonus feature, as its main focus is on video streaming. It has plenty of apps, including Netflix, Pandora, Hulu Plus, Crackle, and more. But HBO Go and Vudu are strangely absent.
The set-box has voice search, can stream pictures from your phone, and can also function as a karaoke machine. 
Will the Amazon Fire TV cause waves? Tell us what you think in the comments!