News
Amazing Stories Reboot Close to Deal with Apple
The classic 1980s pulp-fantasy anthology series Amazing Stories is going to get a second life, possibly on an Apple platform.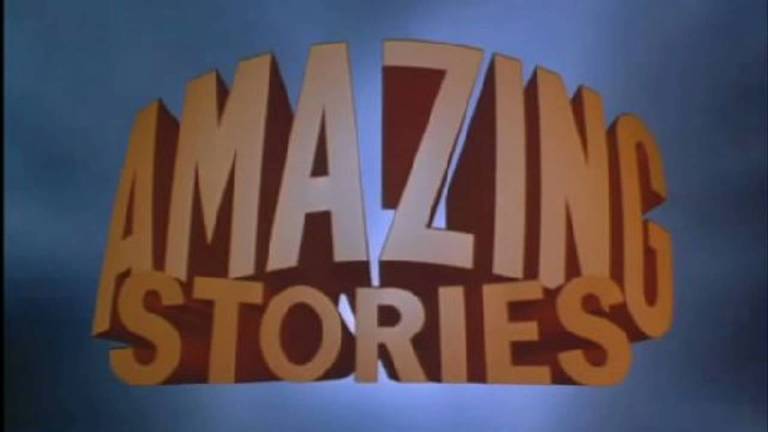 One of the great television anthology relics from the 1980s, Amazing Stories, is coming back in a big way! Taking its spirt from the pulp series of the same name from the 1920s-40s, Amazing Stories was executive produced by Steven Spielberg back when he was at the height of his wide-eyed cinematic powers. It only lasted two seasons (1985-1987), but it's fondly remembered by those old enough to remember these things.
This time, it's got Hannibal showrunner Bryan Fuller in charge. While Fuller's plate is, well, fuller than most, he's tasked with writing and executive-producing the Amazing Stories pilot, with the ensuing series once again slated to be a one-hour weekly anthology. 
In the latest development on the Amazing Stories front, a deal is reportedly (via Deadline,) close to being reached between IP owner NBCUniversal (the series originally aired on NBC,) and Apple that could soon see the rebooted anthology series find a home on the platform of the latter. Indeed, should the deal close, as expected, Amazing Stories, will serve as a peak television centerpiece for Apple's newly formed worldwide video programming division, under the planning auspices of Jamie Erlicht and Zack Van Amburg. This is a change from the reboot's original destination to air on Universal TV.
As Jennifer Salke, President, NBC Entertainment and overseer of Universal TV expresses in a statement:
"It's wonderful to be reunited with our colleagues Zack and Jamie in their new capacity at Apple. We love being at the forefront of Apple's investment in scripted programming, and can't think of a better property than Spielberg's beloved Amazing Stories franchise with the genius of Bryan Fuller at the helm and more exciting creative partnerships to come."
If the Fuller/Spielberg combo isn't exciting enough, it's also important to remember news that was learned back in March, regarding some serious creative reinforcements set for Amazing Stories.
"We are working on a variety of scripts from a variety of sources," Mr. Fuller told Crave, "and we've got a lot of really great writers involved. So it feels like I'm curating the Amazing Stories magazine and I get to work with Patton Oswalt and Kumail Nanjiani and Emily Gordon and Jane Goldman…"
The original Amazing Stories attracted directors like Spielberg himself, Clint Eastwood, Robert Zemeckis, Martin Scorsese, Tobe Hooper, Irvin Kershner, and other luminaries of the era, so bringing in an all-star team of writers is already on brand. So will the directors follow? 
We'll keep this updated as more news on the new Amazing Stories comes in.
Read the full Den of Geek NYCC Special Edition Magazine right here!