News
Always Sunny Season 14: The Gang Details New Episodes, Dolph Lungren To Guest Star
What's in store for Always Sunny's historic 14th season? We spoke with the Gang on set to find out.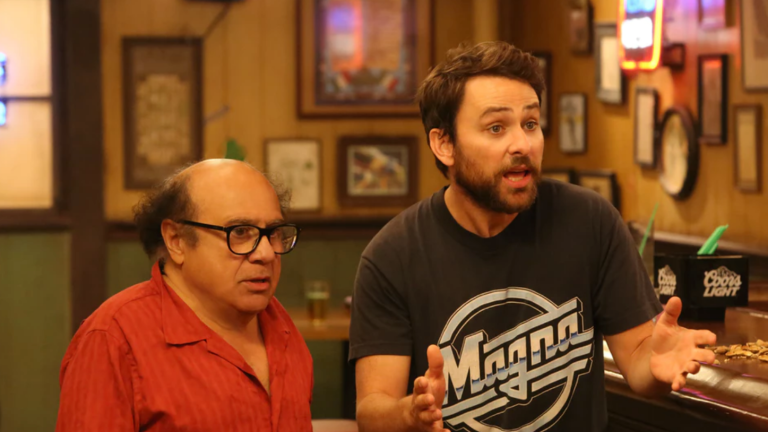 It's Always Sunny in Philadelphia is poised to make history when season 14 premieres on September 25; the FXX series will tie The Adventures of Ozzie and Harriet as the longest-running live-action TV sitcom. During a break from rehearsals on set in Los Angeles, the Gang–Rob McElhenney, Charlie Day, Glenn Howerton, Kaitlin Olson, and Danny DeVito– spoke to reporters during a TCA Summer Press Tour visit on Wednesday to lift the lid on what fans can expect in the record-setting 14th season.
History was not lost on the Gang even if they haven't seen the show they're passing, Ozzie and Harriet, which started as a radio program and transitioned to television, premiering on ABC in 1952. "We're going to do the opposite, we're going to be on the radio," Charlie Day joked.
McElhenney was asked point-blank what Always Sunny has in store for the new season. He didn't hesitant in announcing the show's big get: Dolph Lungren. The Rocky IV and Creed II star will play "Johnny Thundergun," a callback to the season 11 episode "Thunder Gun Express" in which the Gang unsuccessfully attempts to watch the summer's hottest blockbuster action film.
Among the topics the season addresses; climate change, a romantic episode that is centered on AirBnB'ing their apartments (directed by Howerton), laser tag, and a vague nod to a film noir episode.
read more: Why Always Sunny Gets Better With Age
A hallmark of Always Sunny's later seasons has been leaning into characters outside the Gang and revisiting and updating previous storylines. Day referenced a season 14 episode that will shed new light on a season 1 episode:
"Another episode we're doing this year touches on something that obviously is something we've been talking about culturally for the last 15 years, and we dealt with in season one, but we're going to do another version of it this year where Dee comes in saying that she wants to get a haircut, and the four of us decide that she should not be getting that haircut, because yes it is her body, but we have to live with the choices that she makes about her body."
Referring to their skewering of sensitive topics, including season 13's take on the #MeToo movement, Day credited the show's writing for allowing an exploration of hot-button topics through the lens of their truly deplorable bar owners.
"One of the reasons we've survived this long is there's thought behind the edge of the show," Day said. "When we do something that's really pushing the button or going to the edge, it's because we're trying to say a little something about humanity, and about how people are self-absorbed. I don't think we're dirty. We're edgy, but I think we're outlasting them because we're smart."
Read and download the Den of Geek SDCC 2019 Special Edition Magazine right here!