News
Always Sunny Season 13 Release Date, Cast, News, and More
It's Always Sunny in Philadelphia Season 13 is officially arriving in 2018 with at least a little bit of Dennis.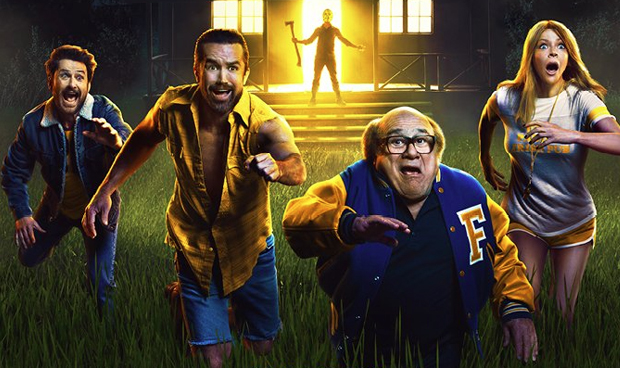 "The Gang Goes On Hiatus."
It's Always Sunny in Philadelphia ended its twelfth season on a sober note with Dennis walking away from the Gang and Philadelphia to father a child he had with a women in North Dakota in a callback to the season 10 premiere. While it could have been a way to give Glenn Howerton an out in case his NBC pilot gets picked up, Kaitlin Olson confirmed that's not the case, and a hiatus between Always Sunny's 12th and 13th season was planned all along.
"We ended up pushing our next season a year because we were all busy with separate projects this year," Olson told TV Guide in May. "So at the end of this coming shooting season of The Mick I'll step right into Sunny after that."
Always Sunny Season 13 Trailer
A spooky Ouija board session sets the appropriate tone in a new teaser spot touting the unlucky-numbered It's Always Sunny in Philadelphia Season 13.
Here's the recently released official poster, which also takes advantage of the 13th season in the most perfect way.
Always Sunny Season 13 Cast
The Gang may still be without Dennis when Always Sunny returns. After the season 12 finale, Howerton told Uproxx that a return is complicated:
"It's not entirely certain whether I am or am not. I might be. I might be, but I might not be. That really is the truth. I'm certainly staying open to the possibility of doing more, but there is a possibility that I will not."
Howerton's onscreen sister confirmed Dennis will indeed return. 
"I do know that Glenn Howerton is coming back for some episodes," Kaitlin Olson told TheWrap. "I don't know the specifics, but I do know how he's being introduced back in, and it is absolutely hilarious."
Now FX, in its official announcement of It's Always Sunny's release date, has made it clear that there will be at least a little bit of Dennis. Here is the official synopsis.
"The Gang Returns…mostly…in the 13th season of the FXX original comedy series It's Always Sunny in Philadelphia. Mac (Rob McElhenney), Charlie (Charlie Day), Dee (Kaitlin Olson) and Frank (Danny DeVito) return to their duplicitous, scheming ways at Paddy's Pub, while Dennis (Glenn Howerton) takes on the new role of father in North Dakota. Last season, the Gang experienced new highs — Mac acknowledged his sexuality and Charlie convinced the Waitress, his longtime target of affection, to move in with him — and the lowest of lows — Frank became the official beverage sponsor of a terrorist group, Dee helped a man reach rock bottom, and Dennis was investigated for murder.

"Even without Dennis Reynolds, the Gang has its hands full as Charlie hopes to have a child with the Waitress, Mac sets out to understand his newfound sexuality, Dee takes feminism to new heights, and Frank goes to great lengths for the Gang to experience the greatest moment in Philadelphia sports history — an Eagles Super Bowl victory."
So the Gang returns "mostly." Hmmmm.
Finally, at FX's TCA summer tour appearance, McElhenney offered what will likely be the last word on Howerton's involvement in It's Always Sunny Season 13 before it premieres. 
"(Dennis is) in pretty much every episode," McElhenney told gathered reporters. 
Always Sunny Season 13 Release Date
It's Always Sunny returns much sooner than most expected, this fall on Wednesday, September 5.