News
Always Sunny Renewed For Seasons 13 and 14
The Gang may live on forever. FX will have Always Sunny for at least another three seasons...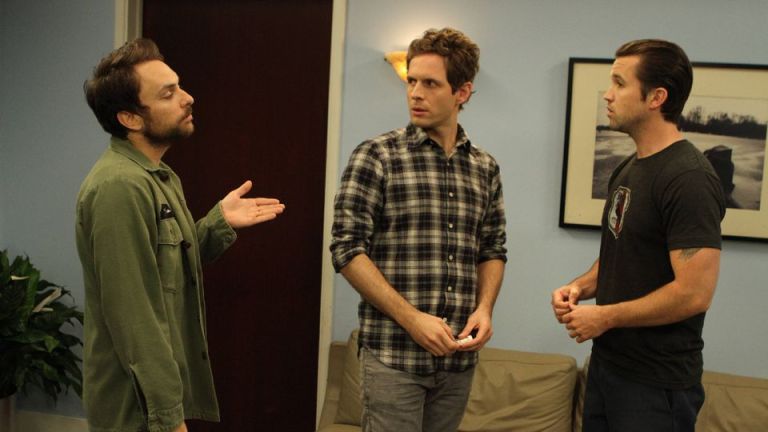 "The Gang Gets Renewed for Two More Years." 
It's Always Sunny in Philadelphia is too rough around the edges to be award-worthy. Still, the long-running FX sitcom will be in the history books. The cable network announced the renewal of two additional seasons of Always Sunny (seasons 13 and 14) after season 12, we're safe to assume, airs early next year.
That places the series in rarified air, tying The Adventures of Ozzie & Harriet as the longest-running live-action sitcom in television history. The Gang doesn't tie, so we fully expect Charlie to squash that beef and stalk the waitress to infinity.
Say what you want about this savage Gang, but they're a resilient bunch. Shaking off the move to FX's lessor-known sister network FXX, the ratings remain strong (it's No. 1 on cable for adults 18-49), and the quality, though at times uneven, is remarkable for a series going into its 12th season. 
What's more surprising is the cast remains in tact even as they've gained considerable fame outside of the series; Charlie Day is now well-established in the film world, Rob McElhenney is set to direct the Minecraft movie, Glenn Howerton booked recurring roles on The Mindy Project and Fargo, Kaitlin Olson has a pilot in development at Fox, and Danny DeVito has troll feet. Even with their busy schedules, the Gang remains as tight as ever, a testament to the show being just as fun to make as it looks.  
In a release, FX's original programming president Nick Grad referenced the show's humble roots.
"If anyone doubts the power of a camcorder and a dream, just look at It's Always Sunny in Philadelphia, which was a DIY backyard pilot when Rob, Charlie and Glenn brought it to FX and will go down in TV history as one of the most loved and enduring comedies," said Grad. "Few shows make it this far or have such devoted fans, and we owe it all to the creative vision and great humor of the creators and cast who keep Sunny fresh and inventive every season."