News
Altered Carbon: Trailer and Release Date for Netflix Series
One of the most quintessential cyberpunk novels comes to television in the form of Netflix's Altered Carbon.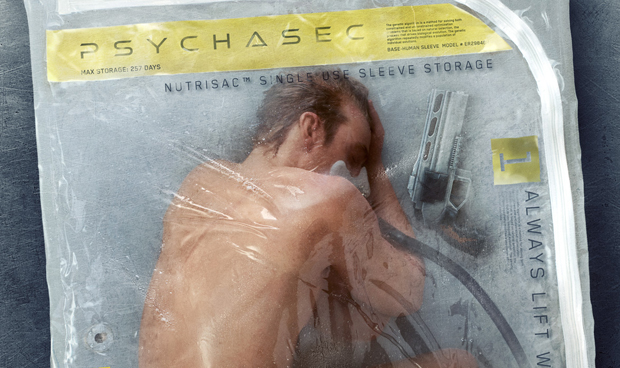 Need a new body? Netflix will have you covered. Death is merely an inconvenience in the new sci-fi noir series Altered Carbon. The story is set more than 300 years in the future, where consciousness can be digitized and put on a memory card called a "stack." The human body becomes more like clothing, and people can enter different bodies called "sleeves."
Set to arrive on February 2, the series follows a solider named Takeshi Kovacs, played by Will Yun Lee (The Wolverine) and Joel Kinnaman (Suicide Squad), who is the last survivor of an elite group of interstellar warriors who were defeated in an uprising against the new world order. Kovacs's mind was imprisoned, or "on ice," for centuries, until a wealthy man named Laurens Bancroft (played by James Purefoy) offers him the chance to live again if he helps solve a murder… of who killed Bancroft himself.
Altered Carbon Trailer
As Altered Carbon quickly approaches a surprisingly low-key premiere for such a lavish project, Netflix has released another featurette.
The clip is a profile of Mexican actress Martha Higareda, who co-stars as Detective Kristin Ortega, a Spanish speaking combat-ready constabulary who – clearly armed with bodily upgrades – is tasked with maintaining law and order in the show's futuristic urban cyberpunk setting. Standing as a testament to the intricate details of the show's world-building is the idea that several different languages are spoken amongst the sprawling, neon-lit landscape.
Below is the first full and proper Altered Carbon trailer and it is intense to say the least.
While the previous glimpses of the Netflix series has already conveyed enough of a plot to properly frame what we're seeing here, the extent of the imagery and its action sequences could easily pass it off as Hollywood's latest blockbuster, rather than a small screen serial that's begging to be binged.
Moreover, the stakes have been raised for Joel Kinnaman's body-migrated Kovacs, with his sinister benefactor, James Purefoy's Laurens Bancroft, threatening to "erase" the new life that he's provided him, should he fail in his mission to solve his murder. (That last line will make a lot more sense once you watch the trailer.)
This sneak peek at Altered Carbon comes in the form of a new preview clip. Serving as both a trailer and a behind-the-scenes look at the series as explained by cast members, we also get a bigger picture of this ambitiously expansive mythology that the streaming giant is bringing to the table. Indeed, the series – set 300 years in the future – noticeably gives off a cyberpunkish Blade Runner/Akira vibe, mixed with a sci-fi consciousness-transference trope famously utilized in Avatar.
Altered Carbon Release Date
The cyberpunk TV series, based on a 2002 novel of the same name, will arrive on Netflix on February 2, 2018.
Bagged up like a valuable comic book, we see Joel Kinnaman's Kovacs depicted in this promo poster just before his new body gets taken for a spin.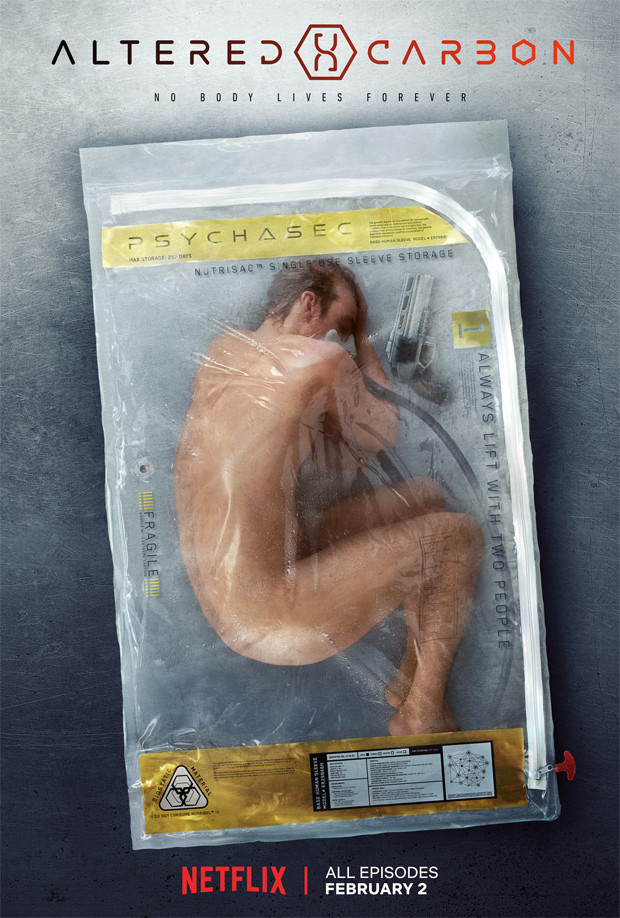 Here are some images from the series: