News
Altered Carbon Season 2 Release Date, Trailer, Cast and Details
Altered Carbon Season 2 returns to Netflix with a couple of notable changes to the show's cast and crew.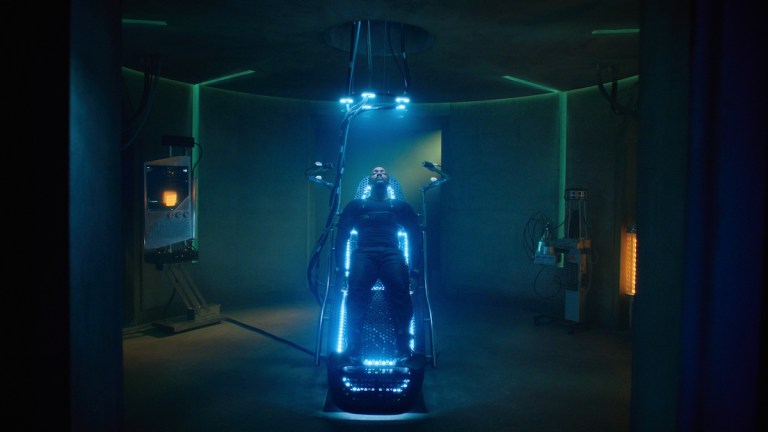 Altered Carbon Season 2 was never part of the plan for showrunner Laeta Kalogridis or Netflix, but the network went ahead and renewed the series anyway. It wasn't exactly a surprise, given its critical success here on Den of Geek and elsewhere. Although the next Richard K. Morgan book in the series might be of too large a scale to be adapted the way the first Takeshi Kovacs novel was, there are plenty of other planets in the settled worlds for the series to explore if that's the direction Kalogridis chooses to go.
Alison Schapker will take over for Kalogridis as showrunner and executive producer of Altered Carbon, bringing her wealth of genre TV credibility to the series. Schapker has produced on sci-fi juggernauts like Lost and Fringe as well as other geek favorites such as Charmed, The Flash, Alias, and Almost Human. Other executive producers include James Middleton, Mary Ross, David Ellison, and Dana Goldberg.
Altered Carbon Season 2 Trailer
The official trailer for Altered Carbon Season 2 is here! In it, we see the beginnings of Kovacs' search for Quell and a new Meth client that expects his cooperation by way of an upgraded sleeve.
The first teaser trailer for Altered Carbon Season 2 arrived recently as well, showing Kovacs in his new Anthony Mackie sleeve, preparing to chase ghosts of his past.
Here's Netflix's casting announcement video for Altered Carbon's second season; a clip so stylishly done that it can go ahead and elevate itself to trailer. We don't mind.
Altered Carbon Season 2 Release Date
Altered Carbon Season 2 arrives on Netflix on Thursday, February 27, 2020.
Altered Carbon Season 2 Episodes
The titles and credits for all eight episodes of Altered Carbon Season 2 are now available.
Ep 201 "Phantom Lady" – written by Laeta Kalogridis, directed by Ciaran Donnelly
Ep 202 "Payment Deferred" – written by Sarah Nicole James, directed by Ciaran Donnelly
Ep 203 "Nightmare Alley" – written by Michael R. Perry, directed by MJ Bassett
Ep 204 "Shadow of a Doubt" – written by Sang Kyu Kim, directed by MJ Bassett
Ep 205 "I Wake up Screaming" – written by Cortney Norris, directed by Jeremy Webb
Ep 206 "Bury Me Dead" – written by Adam Lash & Cori Uchida, directed by Jeremy Webb
Ep 207 "Experiment Perilous" – written by Nevin Densham, directed by Salli Richardson-Whitfield
Ep 208 "Broken Angels" – written by Alison Schapker & Elizabeth Padden, directed by Salli Richardson-Whitfield
Altered Carbon Season 2 Story
As the updated official logline for Altered Carbon Season 2 reads:
"Season 2 of the sophisticated and compelling sci-fi drama finds Takeshi Kovacs (Anthony Mackie), the lone surviving soldier of a group of elite interstellar warriors, continuing his centuries-old quest to find his lost love Quellcrist Falconer (Renée Elise Goldsberry). After decades of planet-hopping and searching the galaxy, Kovacs finds himself recruited back to his home planet of Harlan's World with the promise of finding Quell. Haunted by his past and responsible for investigating a series of brutal murders, Kovacs is stunned to discover his new mission to solve the crime and his pursuit to find Quell are one and the same. With the help of his loyal A.I. Poe (Chris Conner), Kovacs must now partner with new allies to outwit his enemies and find the truth: Who is Quellcrist Falconer?"
Before the renewal was confirmed, Kalogridis told EW that if Altered Carbon were to be renewed, everything could change. "We want to do something surprising with the second season that is not in the same place with the same people," she says. "I think the universe of these books gives you more latitude… Richard [K. Morgan] and I have a plan, I don't know how people will feel about the plan, but we do have one!"
Further Reading: Altered Carbon and The Price of Immortality
Altered Carbon Season 2 Cast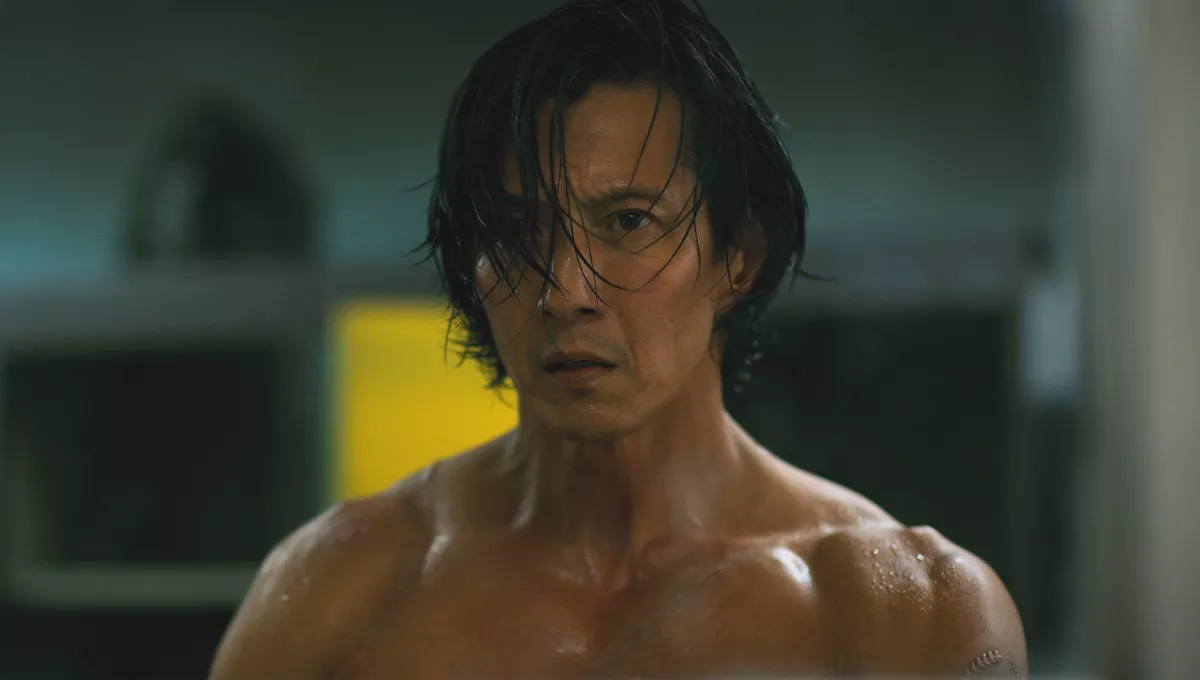 Will Yun Lee is returning for Altered Carbon's second season for a recurring role, according to Deadline. In keeping with the show's theme of people cheating death by occupying new bodies called "sleeves," Season 1 saw Lee play the original body of main character Takeshi Kovacs, who eventually transferred to a sleeve played by Joel Kinnaman. Yet, it has been known for quite a while now that Anthony Mackie is playing the character's newest bodily vessel in Season 2. While no details were revealed about Lee's return, the key word here is "recurring," since it implies that the tenure – be it as a new character or for Original Takeshi flashbacks – is intrinsically limited. Indeed, Lee is currently a main cast member on ABC drama The Good Doctor (now in its third season), having fielded several TV runs on shows like Hawaii Five-0, Falling Water, Strike Back, True Blood, Bionic Woman and Witchblade.
Netflix released its official cast roster for Altered Carbon Season 2 with an announcement heralded in the teaser video below.
While the news about Anthony Mackie taking over the starring role has been known for a while, there are plenty of new additions – notably the now-show-less former Misty Knight of Netflix's Luke Cage, Simone Missick – and even some returns from Season 1. Oh, and Teenage Mutant Ninja Turtles fans may also note that The Shredder (well, James Saito, who played the iconic villain in the 1990 movie,) has been cast!
More recently, THR announced that Lela Loren (Power) would be joining Altered Carbon season 2 as well. Loren will play the role of Danica Harlan, who is described as "the charming and ambitious governor of planet Harlan's World. She has the support of the people, but keeps an uneasy grip on the political players who surround her."
Check out the full cast list and character descriptions below!
Anthony Mackie (IO, Avengers: Infinity War) as Takeshi Kovacs
"A former Protectorate CTAC soldier who became a revolutionary Envoy, and then a mercenary for hire, Kovacs swears allegiance to no man or woman except one: Quellcrist Falconer. His undying quest to reconnect with her spans multiple centuries, planets and sleeves."
Renée Elise Goldsberry (The Get Down, The Good Wife) returns as Quellcrist Falconer
"A fierce revolutionary leader with a deep bond to Takeshi Kovacs, Quell is driven by her desire to reset the balance between life and death."
Chis Conner (American Crime Story, The SpongeBob Movie) returns as Poe
"A centuries-old, highly-evolved A.I. and loyal companion to Takeshi Kovacs, Poe strives to understand what it means to be human."
Simone Missick (Luke Cage, Tell Me a Story) debuts as Trepp
"An expert bounty hunter, Trepp is known for her ability to track down anyone in the Settled Worlds, for the right price."
Dina Shihabi (Daredevil, Tom Clancy's Jack Ryan) is Dig 301
"An out-of-work A.I. programmed to assist human archeologists, Dig finds a new purpose when she meets Poe."
Torben Liebrecht (Operation Finale, X Company) as Colonel Ivan Carrera
"The dogged leader of a Protectorate Special Forces unit known as the "Wedge," Colonel Carrera is on the hunt for Takeshi Kovacs."
James Saito (Iron Fist, Teenage Mutant Ninja Turtles) as Tanaseda Hideki
"A centuries-old Yakuza boss, Tanaseda controls organized crime on the planet of Harlan's World and shares a history with Takeshi Kovacs."
Further Reading: How Altered Carbon Made It To Netflix
Additionally, a report from Deadline points to some simmering speculation about the return of Reileen (Dichen Lachman). While the character, along with the hotel AI Poe, was killed off in season 1, the confirmed return of actor Chris Conner as Poe has opened the possibility. With the return of Renée Elise Goldsberry's Quellcrist Falconer serving as another example, the resurrection of Reileen is certainly a feasible scenario, especially seeing as the show's central concept circumvents death – evidenced by the casting Anthony Mackie as Takeshi Kovacs, whose bodily "sleeve" was played by Joel Kinnaman in season 1 (who's since moved on to Amazon's Hanna).