News
Alien News Desk: Syfy Announces Animated Topical Series
Syfy takes a topical plunge with the announcement of Alien News Desk, an animated satire series from SNL's Lorne Michaels.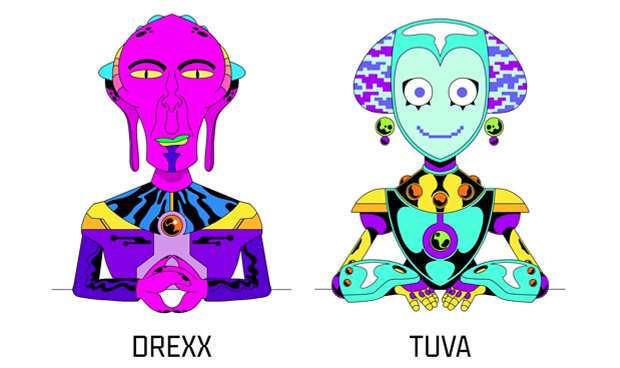 Alien News Desk, a developing animated satire series, is set to serve as cable outlet Syfy's foray into the literal fake news game. The series is pretty what the title implies, set to showcase a topical news broadcast delivered by extraterrestrial anchors. Moreover, it will be produced under the purview of a key visionary of satirical news in Saturday Night Live creator/perennial maestro Lorne Michaels.
Syfy has officially announced Alien News Desk, confirming an order for 12 episodes of the 30-minute series, set for a debut sometime in early-2019. With the presence of SNL's Michaels, a pair of alumni from that series have been tapped as the lead voicers in Will Forte (The Last Man on Earth) and Heidi Gardner (Life of the Party). They will headline, respectively, as alien anchors Drexx Drudlarr and Tuva Van Void (as previewed in the main image). According to the official statement, the show's intergalactic talking heads "will cover up-to-the-minute news and commentary about the universe's most baffling species – the inscrutable Humans of Planet Earth."
While the upcoming show may be a unique news-spoofing idea in the context of a standalone series, fans of Futurama (whose reruns now air on Syfy after a lucrative acquisition deal,) will point out that the concept is reminiscent of that show's "Channel √2" news anchors in belligerent, big-headed green alien Morbo and blonde-haired human newsreader Linda van Schoonhoven. However, the twist here is that while the anchors may be fake, the topics that they cover will be quite real.
As Chris McCumber, President, Entertainment Networks for NBCUniversal Cable Entertainment, explains of Alien News Desk in a statement:
"The expansion into original animation and late night marks the next step in the evolution of SYFY, and builds on the successes we've had bringing new, younger viewers to the network." He adds that the series will task itself with "tackling news, politics and entertainment from the perspective of alien newscasters completely puzzled by our human ways, Alien News Desk is a fun, irreverent way to put a uniquely 'SYFY' spin on the late night current affairs genre."
The day-to-day duties of Alien News Desk will be overseen by executive producer/showrunner Dennis McNicholas, who brings relevant experience as the head writer of SNL's "Weekend Update" segment. The series, a production of Broadway Video and Bento Box Entertainment, will see Lorne Michaels serve as executive producer, joined in that capacity by SNL's Erik Kenward, Bento Box's Joel Kuwahara and Scott Greenberg, and Broadway Video's Andrew Singer, joined by co-executive producers Scott Gairdner and Katy Jenson.
We'll have the latest on Alien News Desk as things develop!
Joseph Baxter is a contributor for Den of Geek and Syfy Wire. You can find his work here. Follow him on Twitter @josbaxter.