News
ALF Reboot in the Works
Let's hear it for Gordon Shumway! ALF is returning to TV.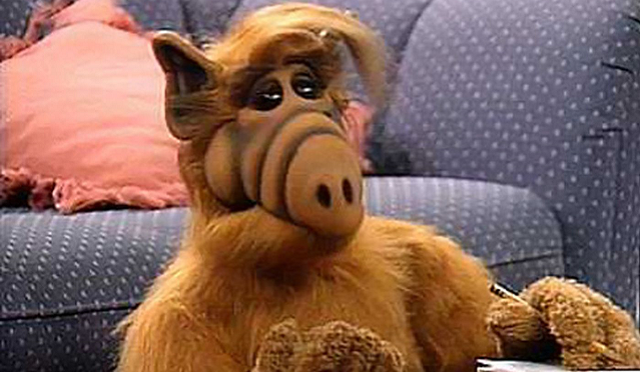 According to TV Line, Warner Bros. TV is "in the early stages" of getting an ALF reboot ready for prime time. ALF, in case you are under the age of 40, was an NBC sitcom that ran for four seasons between 1986-1990, at the height of the post-Yoda/Gremlins/ET/Dark Crystal practical alien/mystical creature puppet boom. Yes, there was actually a boom period for this.
There were countless sitcoms set in middle class family living rooms in the 1980s, and ALF added a furry wiseass from the planet Melmac to the mix. ALF stands for Alien Life Form, although his real name is Gordon Shumway, and he hides out from the government with the Tanner family and spends his time trying to eat their cat. It's funnier than it sounds, and the ALF puppet was a pretty cool achievement, one that made producing a traditional looking sitcom a real challenge.
ALF was a significant enough hit that it even spawned an animated spinoff, a prequel which dealt with his adventures back on Melmac. The character appeared on trading cards, bubblegum, and stuffed toys. These days, if you need some '80s cred for your period piece, just throw ALF and maybe Max Headroom in the background, and there you go.
Paul Fusco, the show's co-creator, writer, director, and executive producer, and also the puppeteer and voice of ALF himself, is said to be returning. No other details are available, and there's still no network lined up, and TV Line points out that they're still searching for a writer for the new show. THR adds that the new ALF isn't a typical reboot, and instead will see Gordon return to Earth to take up residence with a new family. So remember when the Buffy the Vampire Slayer reboot was announced and half the internet asked why we weren't instead getting Buffy: The Next Generation? That seems to be the case with ALF.
Now, as long as they do the right thing and don't turn the character into a CGI creation. Puppet or bust.
Read the latest Den of Geek Special Edition Magazine Here!