News
Agents of SHIELD Season 6 Episode 12 Trailer, Release Date, Episodes, Reviews, and News
Agents of SHIELD season 6 is nearing its end, and we've got the latest trailer, links to reviews, an episode guide, and the latest news.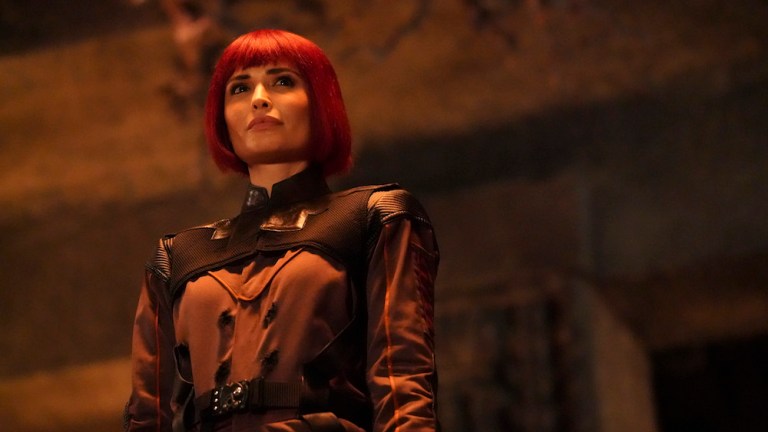 Last year, ABC announced that it would be renewing its flagship Marvel show for a sixth season of 13 episodes, rather than the usual 22-episode order it has gotten for previous seasons. The network has also renewed the show for a seventh season, and unfortunately for fans, it was confirmed at San Diego Comic Con that next year will be the show's final outing.
But let's not get ahead of ourselves! Here's the latest about Agents of SHIELD season 6, including the latest review:
Agents of SHIELD Season 6 Episode 12 Trailer & Release Date
The Agents of SHIELD season 6 premiered on May 10 in its new Friday timeslot at 8/7c on ABC. The next episode is the two-hour finale! The first episode is entitled, "The Sign," followed by "New Life," and the finale airs on August 2, 2019. Here's the promo:
Agents of SHIELD Season 6 Reviews & Episode Guide
Here's our guide to Agents of SHIELD season 6 episodes! We'll add links to reviews as they go live.
Agents of SHIELD Season 6 Episode 1: "Missing Pieces"
"Scattered across the galaxy, the team works to find their footing in the wake of losing Coulson in the spectacular Season 6 premiere of Marvel's Agents of SHIELD." (air date: May 10, 2019)
Read our review of "Missing Pieces" here.
Agents of SHIELD Season 6 Episode 2: "Window of Opportunity"
"While Fitz and Enoch struggle in space, Sarge and his team move forward with their mysterious mission on Earth." (air date: May 17, 2019)
Read our review of "Window of Opportunity" here.
Agents of SHIELD Season 6 Episode 3: "Fear and Loathing on the Planet of Kitson"
"It's a wild night out on the planet of Kitson for the agents. While Leo and Enoch try their luck at the casino, nearby, Daisy and Simmons find themselves in a much… groovier situation." (air date: May 24, 2019)
Agents of SHIELD Season 6 Episode 4: "Code Yellow"
"Yo-Yo and Keller take things public; parasitic aliens threaten the human race; and someone really needs boba…" (air date: May 31, 2019)
Read our review of "Code Yellow" here.
Agents of SHIELD Season 6 Episode 5: "The Other Thing"
Sarge has May; Altarah has Daisy, Enoch and Simmons; and now, there are two planets that need saving. (air date: June 14, 2019)
Read our review of "The Other Thing" here.
Agents of SHIELD Season 6 Episode 6: "Inescapable"
They've fought through space, time and alternate realities to find each other, and now, closer than ever, only their own demons can stop FitzSimmons' reunion. (air date: June 21, 2019)
Read our review of "Inescapable" here.
Agents of SHIELD Season 6 Episode 7: "Toldja"
After finding themselves in yet another gambling dilemma, a mysterious stranger offers Enoch and FitzSimmons a ride home where, it turns out, two shrikes aren't better than one. (air date: June 28, 2019)
Read our review of "Toldja" here.
Agents of SHIELD Season 6 Episode 8: "Collision Course (Part I)"
To face The Galaxy-Hopping Hate-Beast That Eats Planets, the team on Earth asks for help in all the wrong places. While back on the Lazy Comet, something weird is going on with Izel's crew, and it's not just the puffies. (air date: July 5, 2019)
Read our review of "Collision Course (Part I)" here.
Agents of SHIELD Season 6 Episode 9: "Collision Course (Part II)"
No time for the team to play catch-up, there's a planet to save. (air date: July 12, 2019)
With time running short, the team will have to go to hell and back to stop the end of everything. Who will survive? (air date: August 2, 2019)
Listen to our Clark Gregg interview on Sci Fi Fidelity:
Subscribe: Apple Podcasts | Spotify | Stitcher | Acast | RSS
Agents of SHIELD Season 6 Cast
TVLine announced the addition of some guest and recurring actors coming to Agents of SHIELD season 6. Karolina Wydra will play Izel, a mercenary from another galaxy who joins forces with the team in order to survive the perils of space; Christopher James Baker will join as Malachi, a mysterious assassin from a distant planet; and Barry Shabaka Henley will recur as Dr. Marcus Benson, a brilliant natural sciences professor recruited to offer his expertise to the SHIELD team.
With Coulson confirmed to be dead after the events of season 5, leaving Mack as SHIELD's new director (you can read more about that below), one may find the idea that Clark Gregg is set to return for Agents of SHIELD season 6 more than a little curious. However, in an interview with Marvel, Gregg teases that the character he'll portray is not Coulson, but a mysterious role. Calling the experience "very strange," Gregg explains:
"[The Coulson role] became a very familiar skin in a way, so to find myself playing this other, very mysterious person, who is not Phil Coulson – and the mystery of who that person is, and why he looks like that – is something they have done groundbreaking, wild stuff with, that I'm really lucky to play."
Indeed, the new iteration of Gregg's character is going by the official name, "Sarge," leaving us to speculate. Is he a Skrull Coulson doppelganger, dovetailing with the alien shapeshifters' recent Captain Marvel introduction? If not that, then what?
Revenge of the Fans revealed that Agents of SHIELD season 6 will have a notable guest star in the form of Anthony Michael Hall. Nothing is known about his role yet, but that's typical of Marvel casting announcements. Also set to recur, interestingly, is Joel Stoffer as Enoch, who in this new timeline is still very much alive and waiting for Fitz to wake up out in space. Fan favorite Briana Venskus will also return as Agent Piper.
Entertainment Weekly revealed that Lou Diamond Phillips is set to direct episode 5 of Agents of SHIELD season 6. The article notes that this marks a reunion for Phillips and Ming-Na Wen, both of whom were in Stargate Universe once upon a time as cast mates.
Agents of SHIELD Season 6 Story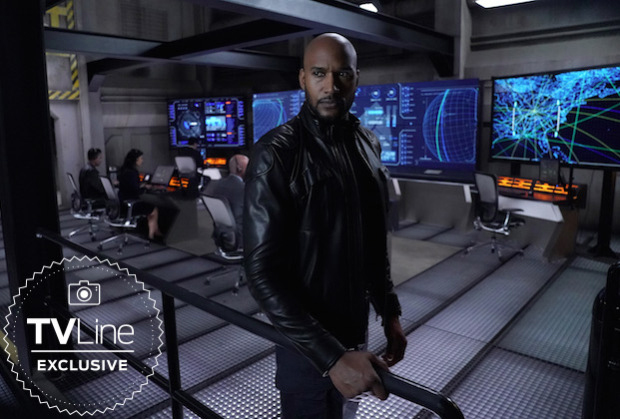 Arriving via TVLine, the above season 6 image shows longtime team member Alphonso "Mack" Mackenzie embracing the role that he took on at the end of Season 5, replacing the ailing Coulson as the new director of SHIELD.
read more: Agents of SHIELD Season 6 and the Future of the Marvel TV Universe
As Henry Simmons, who has played Mack on the series since the 2014 launch of season 2, explains to the outlet of his character's season 6 arc:
"Personally, I love the challenge of being the director of S.H.I.E.L.D., Mack has worked side-by-side with the people he now leads, and that works to his advantage — he's one of them." Adding, "But the one thing that can hinder Mack's ability to lead is his reluctance to put the people he loves in the line of danger. As a result, this may lead to Mack's toughest decision as director. What sacrifices will be made?"
It will certainly be interesting to see the state of the agency in Agents of SHIELD season 6, since, as the picture implies, the organization appears to be on the way back to restoring its fully-staffed high-tech glory after the events of 2014's Captain America: The Winter Soldier forced the team to operate in a more spartan existence from the underground.
Meanwhile, there are still plans to develop Marvel shows for ABC. "We continue to be very excited with what they're doing with SHIELD," Dungey had said at the time. "We've tried a few things that haven't worked out as well as we would've liked. We developed a couple things this season that we don't think are going to end up going forward, so we're going to look really carefully about what we do next, because the idea for us is to come up with something that works very well for both Marvel and ABC, so we're going to continue to try there."
So far, ABC hasn't had much luck with Marvel outside of Agents of SHIELD, though. A proposed spinoff, Marvel's Most Wanted, never got past the pilot stage, and there has long been talk of John Ridley developing a mystery Marvel show for the network, but that appears to have stalled entirely, with no mention of it in quite some time. Hopefully it's still alive. There was talk of a Damage Control TV series, too, but that may also be dead.
It sounds like they'll have to content themselves with Agents of SHIELD season 6 (and the recently confirmed season 7) until they can figure it all out. Of course, the big question is how will the events of Avengers: Endgame impact Agents of SHIELD season 6, right? Well, we're glad you asked, because we explain it all right here!
Read and download the Den of Geek SDCC 2019 Special Edition Magazine right here!
Michael Ahr is a writer, reviewer, and podcaster here at Den of Geek; you can check out his work here or follow him on Twitter (@mikescifi). Joseph Baxter is a contributor for Den of Geek and Syfy Wire. You can find his work here. Follow him on Twitter @josbaxter.