News
AEW Fyter Fest Results
Jon Moxley, the former Dean Ambrose, made his AEW in-ring debut against Joey Janela and it wasn't pretty. Here are the results!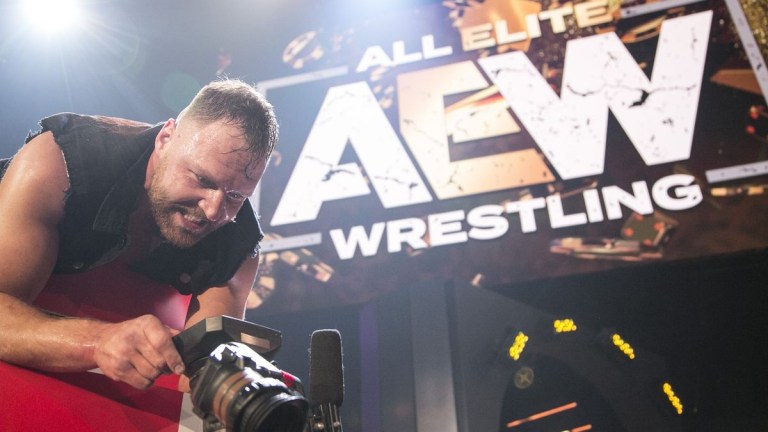 As an all-new wrestling promotion, All Elite Wrestling has been hitting all the right notes right out the gate. Their prototype show All In made waves, but not nearly as much as their first real show AEW Double or Nothing. The event was both a critical and financial success. They're a few months away from starting their weekly series on TNT. Their big August event All Out sold out in about fifteen minutes.
They're going to attempt to keep that momentum going with AEW Fyter Fest. The gag story behind the show is that the Young Bucks had fellow AEW wrestler/executive Kenny Omega watch one of the Fyre Fest documentaries. Only halfway into the doc, Omega was blown away by the very concept of Fyre Fest and became inspired to do a wrestling-based version of it. As he jumped into action, the Bucks frantically yelled at him to finish the documentary, for the love of God!
The show is part of Community Effort Orlando's weekend of fighting game tournaments.
AEW FYTER FEST RESULTS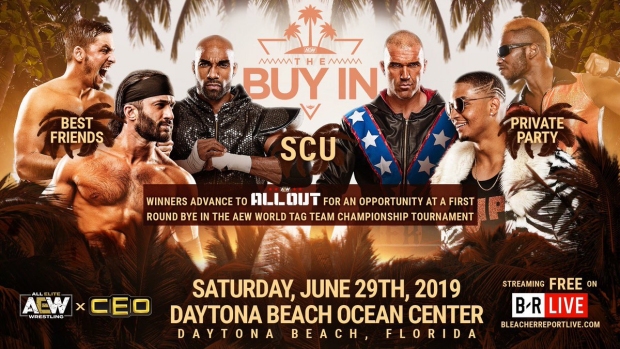 BEST FRIENDS VS. SOCAL UNCENSORED VS. PRIVATE PARTY
Winners advance to All Out for an opportunity at a first round bye in the AEW World Tag Team Championship tournament
Results: The high-flying opener ended with the Best Friends putting Isiah Kassidy away with the Strong Zero (a piledriver variation + top-rope stomp) to win. Afterwards, the Dark Order (formerly known in the indies as the Super Smash Bros.) appeared on the big screen to threaten the Best Friends. The lights turned out and when they turned back on, the Dark Order's masked henchmen surrounded the ring. The lights turned back off and on, this time with all the henchmen gone.
ALLIE VS. LEVA BATES
Results: Leva Bates reluctantly accepted the assistance of Peter Avalon, who also has a "wrestling librarian" gimmick. Avalon tried to help Bates by throwing a book into the ring, only for it to blow up in their face with Allie getting her hands on it first. Allie ended up getting the win with a superkick.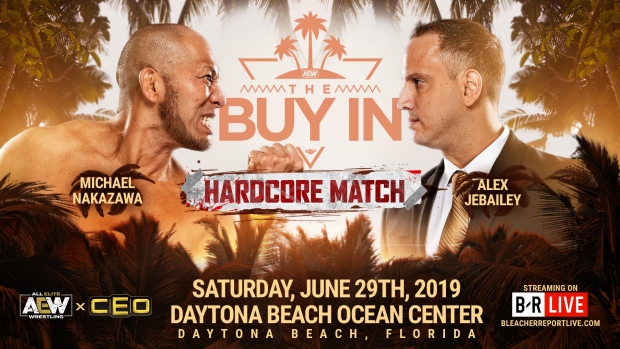 MICHAEL NAKAZAWA VS. ALEX JEBAILEY
Hardcore Match
Results: The match was full of ridiculous hardcore spots, including Jebailey hitting Nakazawa with an arcade stick and Nakazawa choking Jebailey with a Gamecube controller. Nakazawa removed his underwear from underneath his tights and tried to use it on Jebailey. He missed and caught the ref. Jebailey kicked Nakazawa in the crotch and went for the pin, but the distraught ref took too long to get his bearings. By the time he went for the count, Nakazawa was able to reverse it into his own pin while shoving his underwear into Jebailey's face.
CHRISTOPHER DANIELS VS. CIMA
Results: An even, if uneventful, match that ended with Cima beating Daniels with a diving Meteora.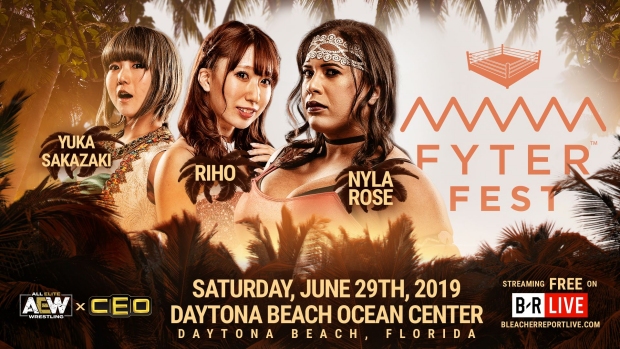 YUKA SAKAZAKI VS. RIHO VS. NYLA ROSE
Results: The match came off as mostly Sakazaki and Riho vs. Nyla. Riho was able to reverse a powerbomb attempt into something resembling the SOS, flash-pinning Nyla. After the match, Nyla attacked Riho. Sakazaki made the save, only for an angry Riho to knock her back in response.
ADAM "HANGMAN" PAGE VS. JUNGLE BOY VS. JIMMY HAVOC VS. MJF
Results: Hangman Page was the last man standing after putting Havoc away with the Dead Eye. After the match, he stared down MJF.
MJF's pre-match promo against the CEO players in attendance was hilarious, by the way.
read more: AEW will begin airing a weekly show on TNT later this year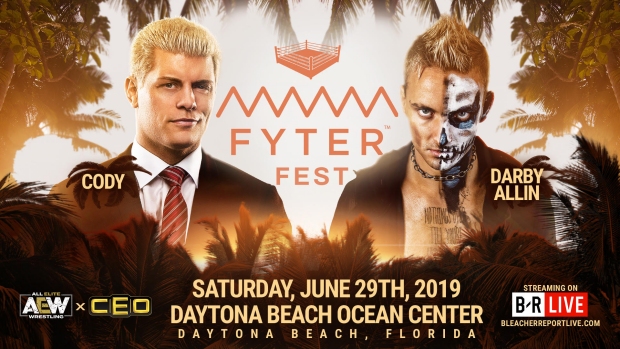 CODY VS. DARBY ALLIN
Results: The match was mostly Cody, but he couldn't keep Darby down and got frantic when he realized that there was only half a minute until the time limit draw ended. Cody ended up hitting CrossRhodes, but time ran out and it was deemed a draw.
After the match, Shawn Spears appeared out of nowhere with a chair and smashed it upside Cody's head. Cody was busted open hard (I'm talking "flap of skin" busted open) with officials, MJF, and SoCal Uncensored running in to check up on him. Later it was revealed that he received twelve staples, but no concussion.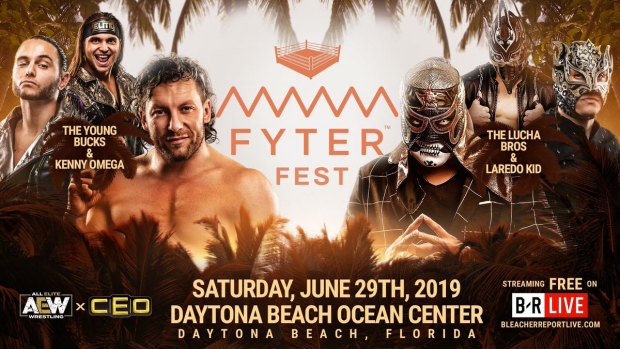 THE YOUNG BUCKS AND KENNY OMEGA VS. THE LUCHA BROS AND LAREDO KID
Results: The Elite came out with the Bucks dressed as Ryu and Ken from Street Fighter while Omega was Akuma, complete with the back tattoo. Amazing match between the six, ending with Omega putting down Laredo Kid with the One-Winged Angel. Afterwards, Omega and Pentagon got in each other's face.
The show was then announced to be "officially over" with the lights going out. The main event would be non-sanctioned, meaning AEW would show it, but not consider it an official part of the show.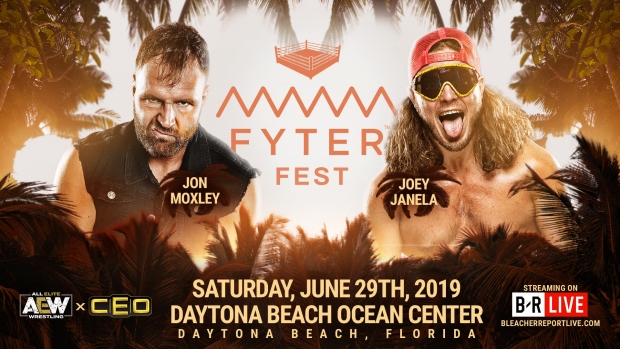 JON MOXLEY VS. JOEY JANELA
Results: A vicious and brutal battle that was mostly one-sided in Moxley's favor. Lots of tables and barbed wire involved. Moxley brought thumb tacks into the ring and not only threw Janela onto it, but also removed Janela's footwear and slammed him feet-first onto the tacks. Moxley won with a double-underhook DDT onto the tacks.
Afterwards, Omega appeared and beat down Moxley. He sandwiched him between two broken tables and did a stomp off the apron. Eventually, he stopped the beating and the refs tried to carry Moxley to the back. Moxley shoved the refs off of him, only for Omega to appear again with a garbage can. He smashed Moxley in the head with it, then DDT'd him onto it. Omega stormed off while a beaten Moxley smiled.
read more: AEW Double or Nothing Results
Gavin Jasper writes for Den of Geek and feels the show needs more Orange Cassidy. Honestly, every wrestling show needs more Orange Cassidy. Read more of Gavin's articles here and follow him on Twitter @Gavin4L