News
AEW Fight for the Fallen Results
In the latest All Elite Wrestling show, the Rhodes Brothers take on the Young Bucks in the name of charity. And it's free for US viewers!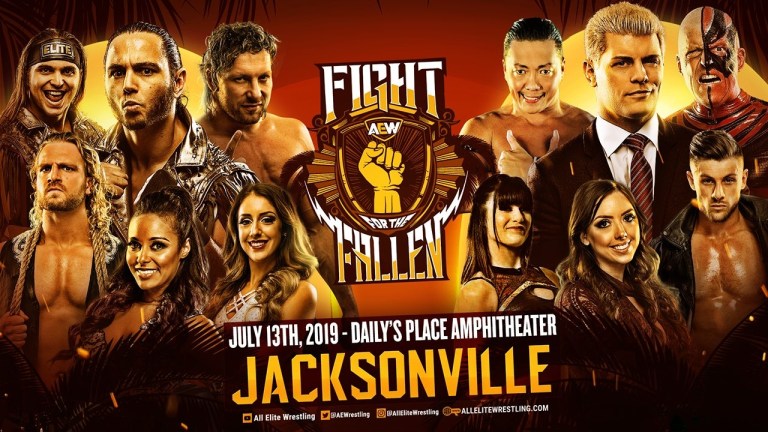 All Elite Wrestling continues its mission to get eyes on the product before its weekly TV show starts airing on TNT. We already had their big PPV debut Double or Nothing and their follow-up Fyter Fest. Now we're going with another cheap-to-free show with AEW Fight for the Fallen. This one's a charity show with the proceeds going to victims of gun violence, tying mainly into the Jacksonville Landing shooting from last year.
HOW TO WATCH AEW FIGHT FOR THE FALLEN?
In the US, it's available for free using Bleacher Report Live. Elsewhere, you can watch the show on Fite.TV.
AEW FIGHT FOR THE FALLEN RESULTS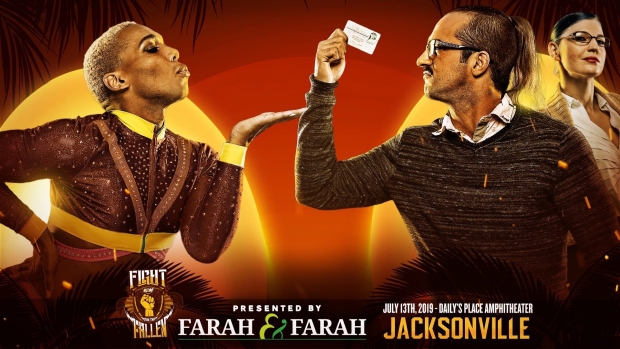 SONNY KISS VS. "THE LIBRARIAN" PETER AVALON
Results: Peter Avalon knocked out Sonny Kiss, but his will-they-won't-they fellow Librarian Leva Bates threw Kiss back into the ring in a failed attempt to be helpful. Kiss was able to put Avalon away with Kiss is It, a split legdrop off the ropes.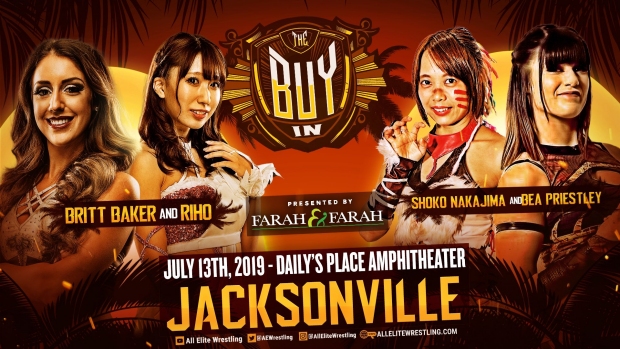 BRITT BAKER AND RIHO VS. SHOKO NAKAJIMA AND BEA PRIESTLEY
Results: Nakajima was able to pin Riho after a hurricanrana and the two teams seemed to want to fight it out more after the bell. Baker herself seemed a bit out of it, possibly from a concussion.
Hilariously enough, they screwed up on the feed and half-garbled closed captioning appeared for much of the match.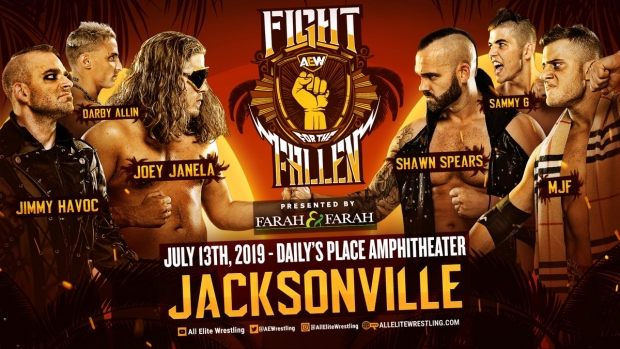 JIMMY HAVOC, DARBY ALLIN, AND JOEY JANELA VS. SHAWN SPEARS, SAMMY GUEVARA, AND MJF
Results: The face team seemed to have more cohesion than their opponents, especially since Spears and MJF openly hated each other. Regardless, once things broke down, Spears was able to pick the bones of Darby Allin with a Death Valley Driver and made the pin.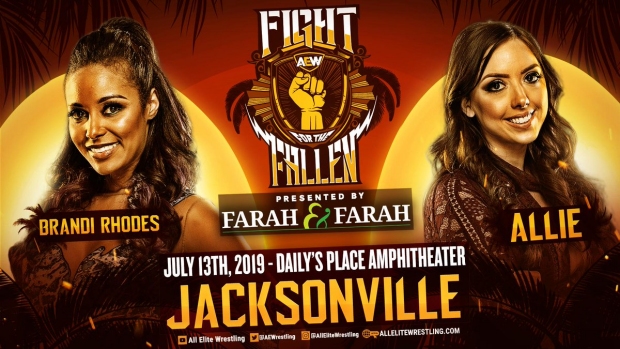 BRANDI RHODES VS. ALLIE
Results: Despite her claims of how important it was to prove herself, Brandi had Awesome Kong in her corner. Awesome Kong flat-out cheated to keep Brandi from losing several times, which increasingly frustrated Allie. Brandi beat Allie with a spear in the end. Afterwards, Brandi beat on Allie some more and handed her off to Awesome Kong. Before anything could happen with that, Aja Kong walked out to protect Allie. Awesome Kong wanted a piece of Aja, but Brandi led her away.
THE DARK ORDER VS. JACK EVANS AND ANGELICO VS. LUCHASAURUS AND JUNGLE BOY
Winning team advances to All Out to face Best Friends. Winner of that match gets a bye in the AEW World Tag Team Championship tournament.
Results: Luchasaurus singlehandedly fought through pretty much all of his opponents until the Dark Order got the better of him and started working over his partner, Jungle Boy. Although Jungle Boy kept kicking out of their pins, they finally kept him down with their double-team finisher the Fatality (Gory Bomb + top-rope stunner).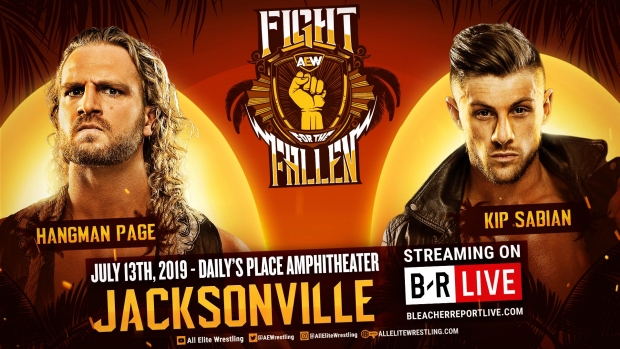 HANGMAN PAGE VS. KIP SABIAN
Results: A lengthy battle that ended with Page catching Sabian with the Dead Eye and pinning him. Afterwards, a man dressed as one of the Dark Order's "Creepers," entered the ring and attacked Page. He hit the Codebreaker and unmasked to reveal Chris Jericho. Jericho bloodied Page with the Judas Effect.
read more: AEW will begin airing a weekly show on TNT later this year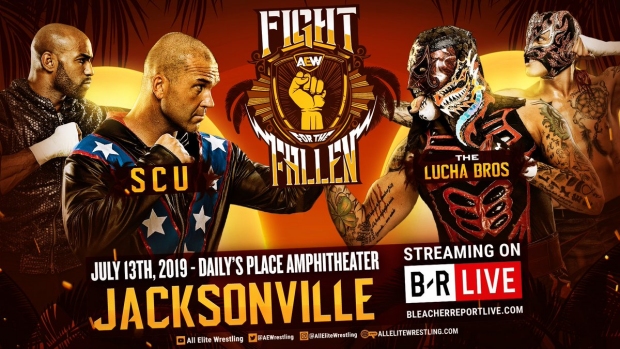 SOCAL UNCENSORED VS. THE LUCHA BROTHERS
Results: Even with Christopher Daniels hanging out at ringside, the Lucha Brothers overcame the odds and Pentagon put Scorpio Sky down with a package piledriver accompanied by Fenix doing a top-rope stomp. Afterwards, they beat up SoCal Uncensored with a ladder, climbed it, and cut a rather repetitive promo about how they want to face the Young Bucks in a ladder match at All Out.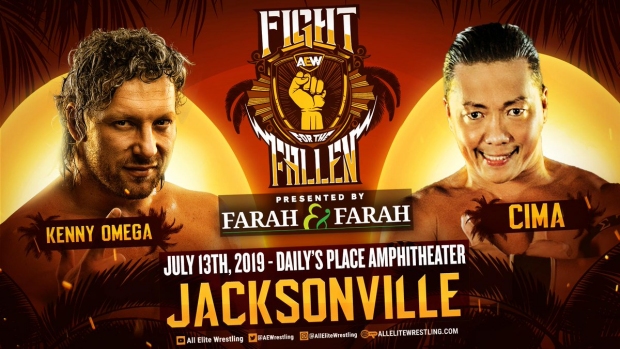 KENNY OMEGA VS. CIMA
Results: After nearly a half hour of back-and-forth, the two started slapping each other back and forth, heightening into stronger strikes and reversals until Omega caught Cima with the One-Winged Angel and won.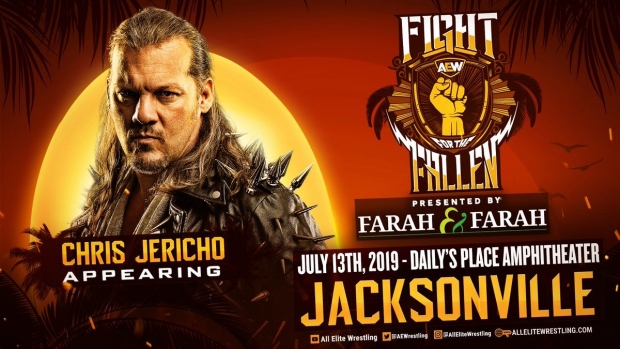 Chris Jericho showed up to cut a promo about how he watched the Casino Battle Royale at Double or Nothing to see who he'd be beating the crap out of at All Out for the AEW World Championship, leading to him running down Adam Page. Page, his face covered in blood and bruises, interrupted the promo and attacked Jericho. Officials and other wrestlers were brought in to break it up.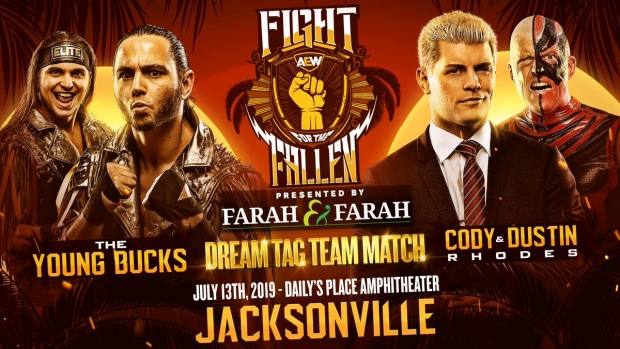 THE YOUNG BUCKS VS. CODY AND DUSTIN RHODES
Results: The Bucks attacked the Rhodes brothers with the classic Goldust ducking uppercut. In return, the Rhodes brothers superkicked the Bucks. Soon after, the Bucks knocked Dustin out of the ring, hit Cody with CrossRhodes, then finished him off with the Meltzer Driver. Afterwards, they talked about how the weeks of them being assholes has been in the name of competition and that although they weren't watching WWE when the Rhodes brothers were teaming up, they still respect them. This speech was interrupted by music and one of the Jacksons noted that they must have been running long.
The Khans and a few wrestlers walked out with a giant check made out to a charity for gun victims. Cody wasn't sure if they were still on the air, but talked up the charity stuff and also took a second to throw shade at WWE for counter-programming Fight for the Fallen with their Evolve anniversary show. Omega finished off the show by thanking everyone and saying goodbye while altering his catchphrase into something a little less in bad taste for a show about gun victims: "Goodbye and goodnight! Boing!"
read more: All Elite Wrestling: A Guide to Wrestling's New Contender