News
Aeon Flux Live-Action TV Series Reboot Set For MTV
MTV is reviving its 1990s animated series, Aeon Flux, as a live-action TV series.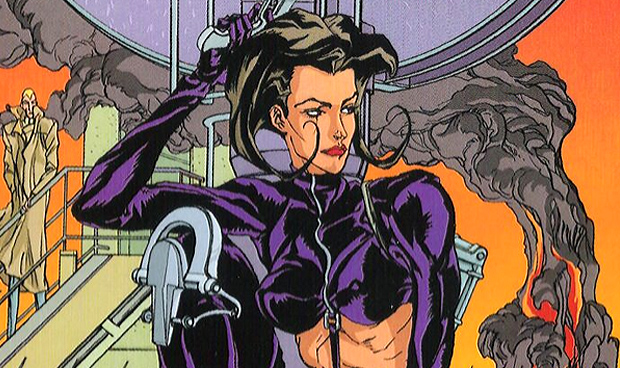 Aeon Flux will, once again, infiltrate the programming lineup of MTV!
MTV is reviving its 1990s animated classic, Aeon Flux, this time as a live-action series, according to THR. The formerly-music-minded cabler has tapped familiar talent in Jeff Davis to write the script and serve as executive producer. Davis served as showrunner for MTV's Teen Wolf throughout the entirety of its 2011-2017 run and is also known as the creator of the long-running CBS procedural, Criminal Minds. He'll be joined by executive producer Gale Anne Hurd, the veteran film and television producer, who serves as EP for The Walking Dead and Fear the Walking Dead. Hurd was also a producer for the 2005 Aeon Flux film adaptation.
Aeon Flux, created by Korean animator Peter Chung, launched back in 1991 as a segment of MTV's avant-garde animation variety series, Liquid Television. Showcasing stylistically ultraviolent aesthetics, Aeon Flux (or, more fancifully, Æon Flux,) is set in a dystopia of the far-future of 7698, in which most of the world's population has been wiped out by environmental catastrophe, leaving only two major city-states. The series focuses on the exploits of its scantily-clad titular assassin, who – when not capturing flies with her eyelashes – stealthily battles the forces of an oppressive dictator (who also happens to be her sometime-lover).
MTV, as it would eventually do for fellow Liquid Television-grown Beavis and Butt-Head, gave Aeon Flux its own series after its initial six segments, with five short episodes serving as "Season 2," followed by a run of 10 half-hour episodes in 1995 ("Season 3"). However, after years of other-media manifestations, notably a Dark Horse Comics limited series, Aeon Flux would be – after a decade of dormancy – revived with the 2005 live-action movie, directed by Karyn Kusama, in which Charlize Theron played Aeon. However, the film was a forgettable affair that bombed at the box office (it earned $52.3 million worldwide against a $62 million budget,) and was excoriated by critics, notably creator Peter Chung, who called the film "a travesty." – Plus, the movie had the misfortune of a December debut that put it up against Harry Potter and the Goblet of Fire.
It will be interesting to see if Aeon Flux can (finally) work in a live-action capacity, especially with the 2005 dud of a movie serving ignominiously as the only attempt. Chung's animated series was groundbreaking stuff, seemingly building upon the thematic focus of the renegade animation found in efforts like 1981's Heavy Metal, except put through a stylized cyberpunk lens that – in 1991 – was considered mind-blowing. The chaotic anarchic visuals failed to translate onscreen in the 2005 film, and its mistakes could easily be replicated in the upcoming series, should it fail to brandish a razor-sharp focus on aesthetics and madcap characters.
We'll keep you updated on MTV's Aeon Flux TV project as the news arrives!