News
Adult Swim: A Closer Look at the New Programming Slate
Now more than ever, Adult Swim is throwing innovative, risk-taking programming at us! Here's what's coming!
Adult Swim's 2015-2016 programming slate is poised to perhaps be their most intimidating schedule yet. The network has really outdone itself with 30 new series and entertainment specials set to air in the coming months.
Christina Miller, the president and general manager of Adult Swim (as well as Cartoon Network and Boomerang) commented that, "Adult Swim has always been known as a place for taking risks and for great talent trying interesting things. Mike (Lazzo) and his team continue to raise the bar, always knowing what the Adult Swim fan wants…" 
With a lot being thrown at fans from these crafty executives, here are some of the upcoming series and specials that have us the most excited.
TV Sucks  
TV Sucks is a new 15-minute animated sketch show from Brad Neely, and it looks like the network is championing it as its crown jewel. I'm so pleased that Neely has seemed to find "relative" mainstream success thanks to China, Il. He has such a distinct, baffling voice and I'm glad that Adult Swim is doubling down on him. This has the potential to play a lot more like Neely's Super Deluxe shorts too, which is never a bad thing. Maybe we'll even get more Queeblo.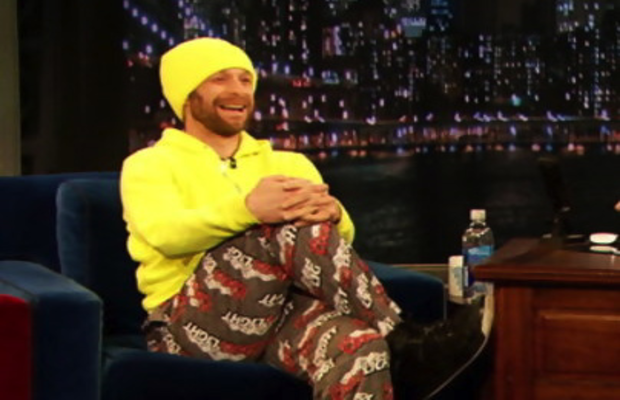 Neon Joe, Werewolf Hunter
I had the pleasure of watching Jon Glaser workshop this character at a live show and it's just as ridiculous and thinly drawn as you'd think it would be. He's basically a guy in a neon jumpsuit that hunts werewolves (and loves to drink Coors Light Silver Bullets because—yeah, you get it). Glaser has seen a lot of success due to his successful run on Parks and Recreation as the villainous Councilman Jamm, but Neon Joe will get him back to his weirder, more shoe-string roots.
PFFR, the people behind Glaser's previous foray into madness, Delocated, as well as his frequent haunt, The Heart, She Holler are back on board with him here. Plus, it's a miniseries, and those are all the rage these days!
Untitled Golf Special 
Adam Scott's Greatest Event in Television History specials were a lot more fun than they had any right to be and he proved he had a lot of skill behind the camera as well. Teaming up with Jon Daly is never a bad idea, so there's a lot of potential in this weird period piece that could be the driest thing of all time. Scott's production company Gettin' Rad doesn't seem to be involved here though, so maybe this will be more of Daly's brainchild than Scott's.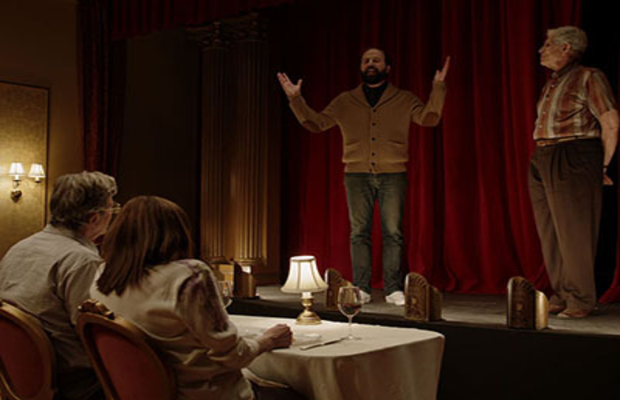 Untitled Brett Gelman Dinner Special
Gelman's second "Dinner Special" tremendously upped the already high quality that he and Jason Woliner achieved with their first one. I can only imagine what depths the third installment will scrape. Seriously, I wouldn't be surprised if an actor actually got murdered on camera or something. That's how unpredictable and shocking these things are, and the prospect more of them is encouraging.
Beyond the new series, there are a number of new pilots that Adult Swim will be testing out in their waters. Some of the most promising efforts here include:
Bad Guys
A quarter-hour animated series about terrorism, world domination, and vamping. Created by Paul Scheer, the series almost sounds like a combination of his previous Adult Swim offerings NTSF: SD: SUV:: and Filthy Sexy Teen$. Scheer is capable of super sharp parody and knows how to narrow in on a topic and mine the most out of it, and I'd assume Bad Guys won't be any different.
Between this, TV Sucks, and the eight other animated pilots getting a chance here, it's nice to see Adult Swim leaning on animation a little harder lately.
Untitled Million Dollar Extreme Project
This could go either way and we'll see what Million Dollar Extreme, a YouTube channel, is capable of. The fact that such a voice in the "community" has been given an opportunity like this is huge, but even more encouraging when the concept for their sketch show is one that's set in a "post apocalyptic nightmare world." There's a lot of potential in that, and it feels perfectly at home on Adult Swim. 
Neighbor's House
In what feels like the closest thing to Wonder Showzen in some time, Neighbor's House is basically Mr. Rogers' Neighborhood if Mr. Rogers was a borderline manic-depressive with heavy rage issues. Hosted by Brian Huskey, a rage suppressor extraordinaire, the program will lampoon the staples of children's programming in a very-not-for-children sort of way.
BALLMASTRZ 9669
Ever since the Rube Goldberg of a machine that was Superjail! ended, I've been curious as to what creator Christy Karacas would be up to next. BALLMASTRZ 9669 is the perfect follow-up series and feels like it's from the same twisted mold that Superjail! was. The series seems to be a take on Tron-esque societies where all that matters is the all-encompassing GAME.
Ballmastrz must fight for dominance of a dystopian tomorrow in an action-based premise that feels like nothing else on the block.
Cretaceous Caligula
JJ Villard's King Star King is a sight to behold and one of the most visually busy, chaotic series that I've ever encountered. Hopefully Cretaceous Caligula will operate in the same way, especially since it has a concept that lends itself to on-screen insanity at all times.
Ever wonder what it'd be like if a tidal wave of radioactive water decimated Los Angeles? Out from the La Brea tar pits have come a no-nonsense gang of dinosaurs, with their leader being none other than T-Rex Caligula. Can the newly dubbed Gross Angeles survive? 
OMG! Earth
In what will no doubt be a charming stop-animation endeavor, OMG! Earth is interested in taking wimpy plastic figures and transporting them to "larger than life adventures" while all of the go-to adventure staples are turned to. The people from Robot Chicken are also behind this, and you know they know how to do stop-motion right.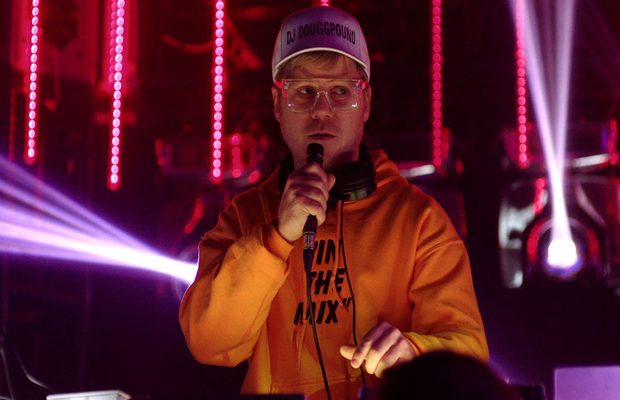 The Pound Hole
In Adult Swim's first ever late-night dance party, DJ Douggpound's (an Abso Lutely mainstay and Tim and Eric fav) The Pound Hole is offering you our generation's drug-addled take on Soul Train. The Pound Hole will be offering you intense visuals, unreal music, and situations that will always prove to be dance-worthy. It will be interesting to see just how loose The Pound Hole is (that was an unfortunate sentence) and how this sort of thing works exactly. With The Daniels ("Turn Down For What") helming the directing duties, they at least have the right talent involved.
You can also watch it right here. 
The most exciting about these pilots is that you can see Adult Swim is becoming deeply conscious of trying to create new types of shows and corner new sections of the market that don't even exist yet. By trying out things like game shows or late-night dance parties (or even their late-night New Years Eve Special for The Eric Andre Show) they truly appear to understand their demographic better than any other network. And due to the strong communication and synergy that Adult Swim has established between all of their channels, you're seeing more connected faces popping up and lending a hand.
Adult Swim committing to more of Tim and Eric's Bedtime Stories is great news as well, but just two specials feels weird; almost like they had two extra episodes lying around (we'll see if they're seasonally-based or something). If they decided to do these as specials, does that mean that this is happening instead of a second season? Hopefully that's not the case and we can have our melting nightmare cake and eat it too. 
I'm almost more excited that there seems to be another season of Check It Out! With Dr. Steve Brule happening though. The third season was such a surprise that it happened at all, and the fact that they were maybe the series best episodes was beyond encouraging. Obviously Tim, Eric, and John C. Reilly just can't say goodbye to this (I mean, they did a mock TV pilot with the character), and a fourth season is exciting news. 
It's also nice that we no longer have to worry about Adult Swim's weirder offerings being on the chopping block. For once it feels like everything is being encouraged and supported, and when you add returning seasons from Rick and Morty, China, Il, The Venture Bros., The Eric Andre Show, Mike Tyson Mysteries, The Jack and Triumph Show, and Your Pretty Face is Going to Hell to the list of all of these new productions, Adult Swim is kind of killing it. This has the potential to be their biggest year yet, and with all of the recent shifts and rumblings in terms of Hulu, Amazon, and Yahoo! Screen, it couldn't be happening at a better time.
It's unclear exactly when Adult Swim will begin to start rolling out all of this new content, but they've got a very large window to play around with. We'll be sure to keep you informed and giving you the latest on them all as we learn more information. Until then, keep reading those charming bumpers on the channel. You never know when they'll have some hidden nugget in them.