News
Absentia Trailer, Cast and News for Stana Katic Thriller Series
Former Castle co-star Stana Katic plays an amnesia-afflicted FBI agent in the TV series Absentia.
While viewers generally agreed that the cancellation of ABC's long-running, romantic-chemistry-centric, police procedural Castle was justified after eight seasons, the abrupt, arguably sloppy, way it occurred left a bad taste in many mouths. However, fans who enjoyed that show's flirty interplay between Nathan Fillion's eccentric writer and Stana Katic's badass cop will be delighted to see that Katic has a new, moodier, more action-packed, television home with Absentia.
Absentia will manifest with a 10-episode debut season, produced by Sony Pictures Television, under its international branding AXN.
Absentia Release Date
Absentia will manifest in the U.S. as an exclusive for Amazon Prime, with all 10 episodes available to binge on February 2.
The Sony Pictures Television-produced series already made its international debut this past fall season, self-distributed under the AXN channel, on which it topped time slots in Spain, Portugal, Romania and Poland.
Absentia Trailer
With Amazon's confirmation of Abesentia's U.S. release date on Amazon comes a new trailer.
The first proper Absentia trailer puts the water-tank-set teaser into context. It seems that the 6-year disappearance of Stana Katic's amnesia-stricken FBI agent Emily Byrne is (somehow,) tied to her nightmarish water tank experience. However, what's arguably just as nightmarish for Emily is the reunion with her husband Nick (Patrick Heusinger) and the always-awkward revelation that your spouse has remarried, in this case, to Alice (Cara Theobold). However, don't expect Absentia to focus on amnesia-addled domestic drama, since the series will bring its share of slick action sequences and dark, surreal scenery.
The debut Absentia teaser trailer set a dark tone. The clip, focusing solely on Katic's FBI agent Emily Byrne, uses a tried and true trope, with imagery of her drowning to convey her unique predicament. However, metaphor aside, it does appear that the clip is depicting the frightening, Houdini-like scenario in which Emily is (literally) drowning inside a glass box!
Absentia Poster
A promo poster for Absentia sets the show's premise effectively, with Stana Katic's Emily Byrne, deprived of key elements of her own life and forced to go on the run.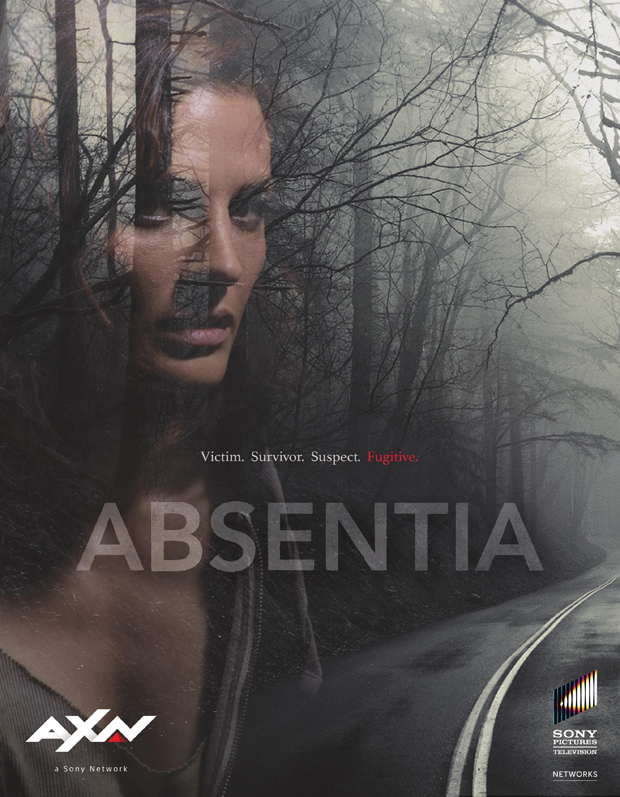 Absentia Cast
Stana Katic stars in the dramatic action thriller series Absentia. Katic will be in familiar law enforcement form, playing an FBI agent, named Emily Byrne who – during a hunt for a Boston-based serial killer – mysteriously disappeared and was declared dead. However, six years later, she's found clinging to life in a cabin in the woods, deprived of any memory of the years-long ordeal. Thus, the series will see Katic's character juggle solving murders while re-assimilating to life, learning that her husband Nick Durand (Patrick Heusinger) is remarried to a woman named Alice (Cara Theobold) and seeing her son raised by another woman.
Amber Aga, Bruno Bichir, Angel Bonanni, Paul Freeman, Ralph Ineson, Neil Jackson and Patrick McAuley also appear on the series.
Absentia represents a rather quick turnaround for the Canadian actress Katic, since Castle wrapped things up back in May 2016 with controversial brevity that became a potent topic in the news cycle. Katic started with various television appearances on shows such as Alias, The Shield, ER, 24 and Heroes, until eventually nabbing the co-starring role in ABC's Castle, riding that from 2009 to 2016. While Katic has fielded a few roles in small film dramas since the show's end, Absentia has potential to be another prominent small screen platform akin to her Castle days.
Absentia Crew
Absentia is run by writer and executive producer Matt Cirulnick, creator of the short-lived 2006 UPN drama South Beach, which featured names like Giancarlo Esposito, Megan Ory, Odette Annable, Adrianne Palicki, Vanessa Williams and the late Rizzoli & Isles star Lee Thompson Young. Additionally, Oded Ruskin, director of the Israeli series False Flag, will helm all 10 episodes.